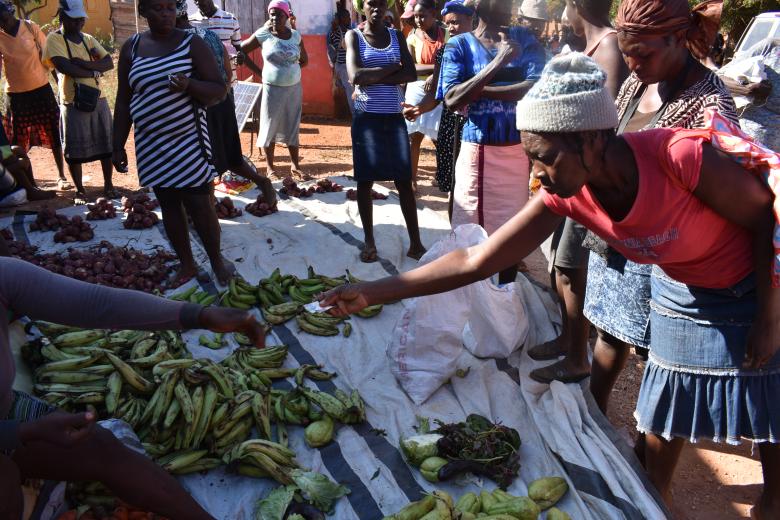 Vouchers energise despite devastating drought
Monday, June 5, 2017
Hundreds of thousands of people are facing hunger as an El Niño-related drought takes its toll in the Island of La Gonave, Haiti. To reduce its impact, World Vision Haiti with the support of USAID, is distributing vouchers used to purchase food to enhance nutrition of the most vulnerable children and families.
Several thousand affected people–including female-headed households, families with children under age 5 and the elderly–are now receiving a voucher that they can take to selected local retailers to purchase food commodities.
Dachena, 24, a widow and her son are grateful beneficiaries ©World Vision/Guy Vital-Herne
Energised
"Ever since my husband died, I haven't had any support. I rely on collecting charcoal to take care of my children. I'm both the man and the woman of the house," explains Dachena, a young mother.
She is one of some 1,666 households on the Island of La Gonave to whom World Vision has given vouchers in the amount of 1,500 Haitian Gourdes (the equivalent of US $25) per household, per month. Of this, $16 is allocated to purchase staple food items, while $9 is allocated to purchase fresh food, as a means to boost the local agriculture sector and economy. These vouchers are used to buy food for their families as part of the Kore Lavi Development Food Assistance Programme to reduce chronic food insecurity and assist those most-affected by the El Niño-related drought.
Kore Lavi is supporting 17,784 households with monthly food vouchers in five out of the ten departments across Haiti. The programme is being led by CARE and the Government of Haiti, in partnership with WFP, Action Contre la Faim and World Vision, with funding from USAID. This four year long programme has the goal of strengthening the Haitian national social safety net and improving the food security and nutritional status of vulnerable populations.
In addition to the ongoing voucher programme, Kore Lavi was reinforced with a "crisis modifier" following the impact of Hurricane Matthew. For 3 months post-hurricane, some 1,100 families received 3,000 Haitian Gourdes (the equivalent of US $50) per household, per month. This crisis modifier injects emergency funding into existing development programmes as a means to rapidly address emerging humanitarian needs. Furthermore, it is meant to protect development gains by enhancing resilience made in disaster prone areas with high levels of vulnerability, and in this way helps to address the humanitarian-development divide.
"The program is really helpful for the boys and me. It has allowed me to feed them better with the rice, beans, oil and vegetables that I buy," shares Dachena. "I have observed an improvement in their physical health and energy. They are gaining some weight," she adds with a smile.
Devastating drought
According to a report released by the Haitian National Agency for Food Security (CNSA) and World Food Program, approximately 1.5 million people, or 300,000 households, are severely food insecure. Most concerning is that 76,000 children are acutely malnourished and 37,500 children are severely malnourished. The study identifies the Island of La Gonave, the Central Plateau and parts of the North Department, as some of the areas hardest hit with food insecurity—one of the reasons these are all World Vision operational areas.
This drought, the second in two years, has had a severe impact on people's food security, nutrition and livelihoods. Households' resilience has deteriorated and communities have resorted to severe coping mechanisms, such as cutting down fruit trees for charcoal and eating their seeds. While this staves off immediate hunger, it has devastating longer-term consequences for the environment, and the people who depend on it for survival. 
Blinded by hunger
Odette, 53, is the grandmother of five children–four boys and a girl–left behind by her daughter who died at sea. When she is able, Odette collects and sorts charcoal to earn a meager living. "Sometimes I'm so hungry, I can't see. The children would often be crying from hunger. I would go out to pick trash and clean up for people," she recalls.
Odette cares for her five grandchildren with the vouchers provided by World Vision and USAID ©World Vision/Guy Vital-Herne
Gratitude & grace
"Ever since World Vision has started giving us this food, I'm a rich lady with no shoes on her feet," she exuberantly shares. "I make patties for the children in the morning, I cook my rice and beans, we also get our vegetables and we get great service from the merchants."
"I pray for the donors and the staff of World Vision, that God may give them strength and grace and keep them under His wings. I'm really grateful to all of them," explains Odette.
This project is made possible by the generous support of the American people through the United States Agency for International Development (USAID). The contents of this webpage are the responsibility of World Vision, Inc. and do not necessarily reflect the views of USAID or the United States Government.