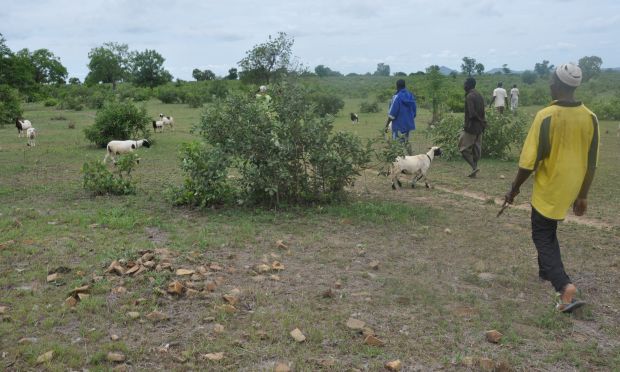 Written by: Marian Roberts
Navio is a community in the Kassena District that has been transformed over the past four years. The small farming community started practicing Farmer Managed Natural Regeneration (FMNR) and their community hasn't been the same since. FMNR is allowing natural regrowth of vegetation which enables the sprouting up of lost farm resources such as wild fruits, rodents, medicinal plants to regrow with farmers being in control.
Previously farmers would cut down all tree shrubs and burn them, when clearing land, which had a detrimental effect on the land.
In Navio, a group of ten female and ten male farmers managed the FMNR site. According to the group, they used to cut down all tree shrubs and burned them when clearing their land. This deprived their animals of requisite grass to graze and had detrimental effect on the land. But now, they see the essence of protecting tree shrubs and so rather prune them.
"As children we would have to walk long distances in search of grass for our animals to graze and even sometimes we lose some of them to thieves. But now, we are able to keep watch over them as they graze on our farms" Abass Mohammed, a 17 year old Junior High School student said.
Gladys, a member of the FMNR group recalled that they did not know how to manage their farm lands until they were trained at a workshop organized by World Vision (WV) and the Ministry of Food and Agriculture (MOFA) on the need to protect and sustain their environment in order to get more yield.
What excited Gladys were the wild fruits and medicinal plants that were now being produced. In view of this, she cited selling pruned branches of trees to enable her buy some ingredients such as 'dawadawa', a local spice, to cook for her family.
She added, "We were also even taught how to make a local coal pot which uses less firewood and so now we don't have to walk long distance looking for firewood because we can now get them from our own farm."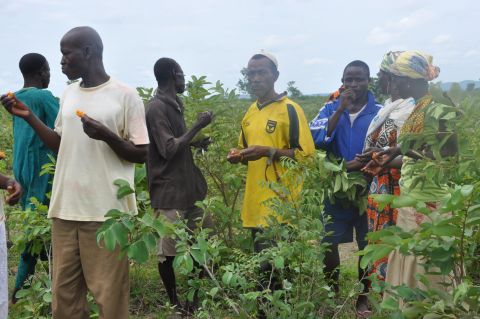 Community members eating fruit from an FMNR site.
The group also confirmed discovering the natural re-germination of some ancestral plants with medicinal properties. Elijah Kwara leader of the group related that in order to ensure the adherence to FMNR, bye-laws and sanctions had been set against cutting down trees. He emphasized the project had also sought to preserve trees as well as enhanced soil fertility.
Parents are assured that they are leaving a sustainable way of livelihood and guarding the environment for their children in the near future by practicing FMNR. "Our children will grow up and still reap the benefits in terms of getting medicinal herbs, fruits and materials to build their future homes" Elijah Kwara, leader of the group noted delightfully.