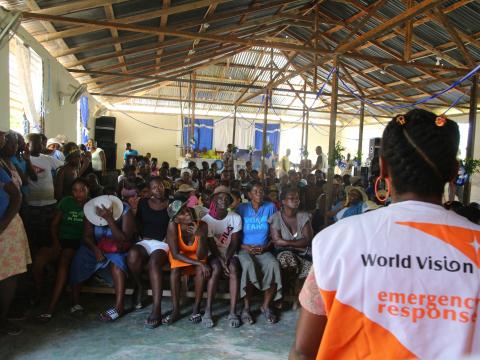 The threat of cholera
Friday, December 2, 2016
World Health Organization estimates, cholera cases in Haiti have doubled each day in the last weeks since Hurricane Matthew tore through the Southern peninsula. More than 3,500 cases have been confirmed in the departments of the South, Grand'Anse and Nippes. Reports claim that in the hospitals, there are not enough beds for the patients who are coming in.
Following the Category 4 storm that destroyed countless buildings, including cholera treatment centers, the water-borne illness has flared in the hardest hit areas after floods contaminated drinking water in the southwest.
"The water point got damaged, now the water is no longer safe to drink."
Gerda, a mother of three in the community of Saint Louis du Sud, shares her concern for her children by saying, "the water point got damaged, now the water is no longer safe to drink."
Since 2010, cholera has been prevalent in Haiti with spikes around the country particularly during the hurricane season and Haiti has been battling with the epidemic ever since. According to a 2016 report in the American Medical Association Journal of Ethics, the devastating outbreak infected hundreds of thousands causing an estimated 770,000 infections in the years since and approximately 9,200 related deaths.
One month after the storm, World Vision has reached about 75,000 people with jerry cans, blankets, emergency lights and water treatment tablets.
Distribution of hygiene kits to affected families
"This will be followed up by hygiene promotion and latrine re/construction using Community Led Total Sanitation (CLTS) in affected communities," explains John Hasse, National Director of World Vision Haiti.
"World Vision is addressing not only water contaminants but traditional practices that exacerbate water-borne illnesses," stated John Hasse. To facilitate healthy drinking water, World Vision is providing water purification tablets (aquatabs), water bucket filters and water storage devices (buckets and jerry cans) to people without access to chlorinated water. Our teams are conducting water testing and identifying water points that need rehabilitation. One water treatment unit will be installed in the Nippes while distributions of water filters and trainings on proper usages are ongoing.
"World Vision is addressing not only water contaminants

but traditional practices that exacerbate water-borne illnesses."
World Vision believes that prevention is the best cure and will conduct behavior change communication activities such as hygiene and cholera prevention education through distribution of reader friendly materials (posters and banners), child-friendly messaging in Child Friendly Spaces, rally post, door-to-door campaigns and distribution of hygiene kits with soap to those unable to purchase in order to facilitate adoptions of healthy practices.
At Child friendly spaces monitors conduct hygiene education for the children attending. They learn the importance of washing their hands and how to keep themselves clean.
Our Water, Sanitation and Hygiene interventions will be implemented in Nippes, La Gonave and in the South in collaboration with the government regional Directorates, in conjunction with other Non-Government Organizations (NGO), Community Based Organizations (CBO) and active actors.
Gislène, a mother of four, living in the community of Dupuy, greatly affected by Hurricane Matthew, shares her concern about the water sources, "Many houses have been damaged and destroyed. Many toilets have been flooded. We don't know how it's going to affect the river water we are using to wash our clothes and cook our food."
Hurricane damaged houses
World Vision will work to increase access to sanitation through community training in the CLTS approach followed by construction of pit latrines in coordination with shelter/roof rehabilitation. Broken water points will be selected from the different communes where World Vision is working with the community, to assess and identify broken water points that will be repaired.