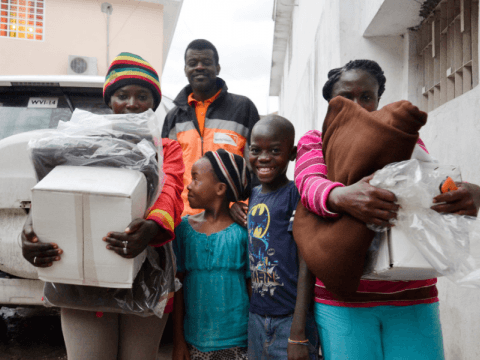 World Vision is delivering supplies in Haiti after Hurricane Matthew
Wednesday, October 5, 2016
Powerful Hurricane Matthew swept across Haiti on 4 October leaving widespread destruction in its wake. Authorities are still trying to determine the number of people killed and injured by the storm in Haiti and the Dominican Republic.
The Category Four hurricane hit the region with 230 km/h winds, heavy rain and storm surges. Many roads are flooded, and a bridge connecting a portion of the country with the capital of Port-au-Prince collapsed making relief efforts difficult.
World Vision staff in Haiti had prepared relief supplies before the storm hit and is responding quickly. There is an urgent need for help. The UN reports at least 10,000 people are crowded into shelters and there are reports of shortages of fresh water. The spread of disease is a major concern.
"We are also really concerned about the flooding because that not only causes problems around clean water but we still have cholera in the country," says John Hasse, National Director of World Vision's programmes in Haiti. 
"We also expect this will exacerbate things like Zika and Malaria and Dengue which are things that as we know are killers of children."
World Vision priorities for Haiti recovery:
Clean water
Hygiene
Getting children back to school
Setting up Child Friendly Spaces
World Vision has been working in Haiti for 38 years and has worked with the Haitian government to prepare for – and protect people from – hurricanes in its rural long-term development program areas, which are far more likely to see damage from a hurricane.
Each year, World Vision works with the Department of Civil Protection in hurricane planning. Following a hurricane, World Vision helps local and national authorities conduct damage assessments and responds according to the scope and severity of the damage, as well as availability of resources, in collaboration with other humanitarian agencies.