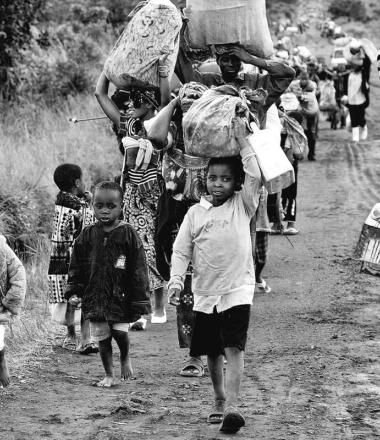 World Refugee Day
25.9 million people live as refugees
In an instant, the pandemic changed us all
Across the globe our lives have changed. In an instant we were instructed to stay within the safety of our homes, required to keep our distance and be vigilant about hygiene. But for millions living in dangerous places, instability, conflict and violence already changed their lives and now they face the COVID-19 pandemic. There are 25.9 million refugees globally, that's the highest number in human history! Can you imagine trying to social distance in an overcrowded refugee camp? Keeping safe at home when you live in a war zone? Or washing your hands when you lack clean water and soap? This is the reality for millions of vulnerable children, but in an instant, we can help.
This World Refugee Day join with us in fighting for the future of refugee children and their families. It will take the effort of ordinary people rising up to make an extraordinary impact. We're calling on you to be a hidden hero in the fight to help vulnerable children survive, recover and build a petition. 
We respond. And we stay.
World Vision is a leader in emergency responses. We respond with life-saving essentials and we stay to help rebuild. We have the infrastructure, experience and global network to help the world's most vulnerable children in the world's most dangerous places - especially in times of unexpected crisis.We're on the ground providing:
Food distributions and assistance
Health, nutrition, water, and hygiene support
Access to medical care and support
Child-Friendly Spaces for children to learn and play
Vocational training and livelihood programmes
Together with our global community of dedicated supporters, we are able to continue to respond to the magnitude and the rapidly changing nature of the COVID-19 crisis. This requires agility, flexibility and collaboration. It also requires accelerated data collection, real time analysis and remote programme management which we have been pioneering through our unique Fragile Context Programme Approach.
Real stories. Real lives. Real hope.
Protect child refugees from COVID-19
Demand Action!
A child refugee has almost no defence against COVID-19.
Living in cramped, unsafe conditions they are deeply exposed to the cruel effects of this pandemic - more likely to experience violence, with no means of escape and no-one to turn to for support.
As part of its global response to the pandemic World Vision is working to reach as many vulnerable refugee children as possible.
We need governments to step up and protect more than 12 million refugee children around the world at risk from the impact of this pandemic both now and in the future.
Please sign our petition calling on governments to urgently increase funding for health, education and other social services that protect children from all forms of violence and abuse, especially for refugee girls and boys who are at greater risk due to the impacts of COVID-19.
Demand Action!
59%
26494 actions taken so far
Mailchimp Subscription Form: It Takes a World Signup
Privacy Statement
World Vision International ("WVI", 800 W Chestnut Ave, Monrovia, CA 91016, U.S.A.) handles your contact details in accordance with its Privacy Policy, which can be found here https://www.wvi.org/privacy, as well as applicable privacy and data protection laws in the U.S.A., where the level of data protection may be different from that in your country.
The personal data you provide, such as your contact information (e.g., first and last name, country of residence, and e-mail address), will be consolidated and stored by WVI using a third party online platform MailChimp, whose official name is The Rocket Science Group, LLC in accordance with its Terms of Service. Please consult the website of MailChimp directly to learn more about its privacy and data protection practices.
If you have requested to receive more information about the petition, we will share your contact details with a World Vision office in your country of residence so that they can follow up with you directly. That office will be solely responsible for any further processing of your information, in accordance with the privacy and data protection laws in your country. If you would like to learn more about how the local World Vision office protects your information, or how to exercise any data protection rights against the office, please review the office's online privacy policy.