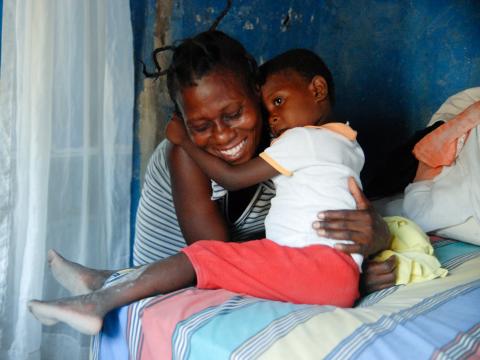 Haiti- (General/OVC)
Tuesday, June 28, 2016
La Gonave is a small island off the North West coast of Port au Prince and the home to about 40,000 people. The island boasts a total of 743km2, barren and hilly making it hard for agricultural production, transportation, and strong infrastructure.  Currently the island has 13 clinics and one hospital that are poorly staffed and have limited health supplies. Of those facilities only two provide HIV/AIDS care and condom distribution: Ti Palmiste Health Centre and La Source Health Centre. This is the context where World Vision Haiti is focusing HIV programming implementation. The three areas that have been the focus of programming are training of project staff to support people infected and affected by HIV/AIDS, mobilizing and strengthening communities to provide care and support PLWHA, OVC and affected households, and ensuring greater availability of and access to services and care.
BCC
This programme has strengthened staff capacity through training professionals who work with PLWHAs through Behavioural Change Communications (BCC). The trainings have given professionals the ability to use the CD4 count test and also a greater understanding of how to treat all people with dignity and respect regardless of their status. The CD4 count test is a tool required for follow up and used to identify those who are eligible for ART. In 2015 more than 2,300 people were screened and received their results during 30 mobile clinic sessions on La Gonave. The mobile clinics have been critical for educating the community about their HIV status and enrolling them in the program. Providing services directly in the community minimized the challenge of commuting individuals faced due to a lack of infrastructure and finances due to the limited facilities that provide HIV services.
Community meetings held by the trained social workers also assisted in mobilization and strengthening of communities to provide care and support for PLWHA, OVC and affected households. A total of 12 community meetings were held with about 200 community members in attendance. These meetings informed the community about the HIV/AIDS and worked to destigmatized those infected and affected. Additionally, in partnership with the Federation of Community Associations for Economic and Social Progress (FCASP) and the Grand Lagoon ADP, 32 individual patients receiving HIV treatment at Ti Palmiste Health Centre received two goats giving families a means of income and a job within their community.  The community meetings helped promote their inclusion and strengthened the community as a whole.