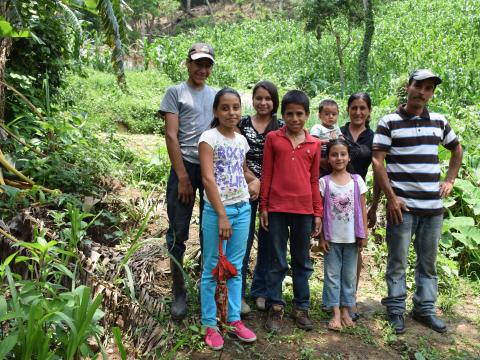 Farming Field Schools
Thursday, May 28, 2015
By Claudia Ordoñez
My siblings and I did not have a good diet before, because my parents only harvested corn and beans. I remember that from first to sixth grade, we only ate corn tortillas and beans every day. I was a really bad student. I was malnourished and my sister, Jessica Lizeth, was also," said Yorleni Abigail (13), daughter of Sergio Mena (36) and Ana Santa (37).
Brothers and sisters of Yorleni are: Rudys (18), Jessica (11), Carol (7), and Jose (1). They live with their parents in Banderillas, a community in the western region of Honduras, about 550 kilometres from Tegucigalpa, the capital city.
"I was a child labourer. I worked in the farms of neighbours for a little pay per day. I liked to save it, and I would go to town to buy food for my family during the weekend. It was not hard to purchase the food, pay transportation, and a meal for the way, but earning the money was the tough part," remembered Sergio.
"I practiced the traditional farming methods, which consisted in burning the fields and use chemicals without considering the damage done to the land. More than 50 small farmers of Banderillas cut the trees of the forest to plant, including the water sources. We worked dumbly."
Sergio, the father, shares: "Now, we use the latest technology. We optimize land resources and water. Instead of using products that are toxic and can damage our health; we work with friendly products for the environment. We obtain more production of crops."
"I am happy. Currently, we have enough food at home, thanks to training workshops my dad Sergio, my mom Ana, and I received at the World Vision Honduras Farming Field School. There were 35 adults and 15 school-age students in the course. We learned to harvest vegetables, such as: cilantro, radishes, mustard, lettuce, tomato, squash, cabbage, carrots, and beets, among others. We also learned to strengthen the land by using chemicals, but that we should not use poisonous products when planting; since, they can be harmful to our health and the environment," added Yorleni, who is a 9th grader.
"I feel that we have improved so much. We have good health, a good diet, and good income due to extra sales. Now, I feel that I work less and there are better results. We have food nearby, and we save money," declared Sergio.
Ana, the mom of the family, is proud that she also was a student of the Farming Field School. "The sour days are in the past, when there was no food security, and we did not take advantage of the few things we had; and, we endured hunger, especially our children. The World Vision volunteer showed us how to cook nutritious food. Now, I can make soups in many different ways in order to improve the health of my family."
She added: "the help given by World Vision to my family has been integral. We have received training and seeds/ food, the water and drainage project, and relative interventions of health and nutrition through the Farming Field School." 
"We are very grateful with World Vision and the sponsors. Thanks to them, we have access to food, and we are a healthy family. We are not rich, but at least we are not in misery," mentioned Ana.
On his behalf, Engelbert Garcia, Mercedes Program facilitator, explained that World Vision Honduras promoted the nutritional diagnosis in Banderillas and all the influence area with support from the Municipal Mayor of Mercedes and the Secretary of Health.
He added that they took anthropometric measurements on children under five years of age. They found high levels of malnutrition in girls, boys, and their families. So, some methods were promoted, such as: organizing production in backyards, which is the reason families were given improved local seeds for production, including: medicine, aromatic, and edible plants. Seven Farming Field Schools were also promoted, impacting 180 students from all the program.
"We have not ended food insecurity, but we are diminishing the rate of malnutrition in this region. We work with families to build a culture of harvesting and eating what they grow. We need to strengthen this methodology in more families, and promote changes of behaviour in order to combat food insecurity," concluded Engelbert.