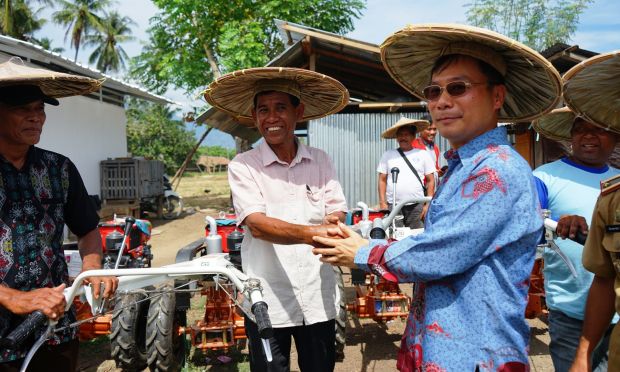 The economy of Sigi Regency is supported by a potential agricultural sector for food, crops, and horticulture. This was also supported by land experts from ICDF Taiwan who were supported by the Sigi Regency Food Crops, Horticulture, and Plantation Agency in identifying land through a land survey process. Wahana Visi Indonesia (WVI) , through support from ICDF Taiwan, opened a livelihood recovery program for community affected in Lolu Village to rise again after the disaster that hit their region 6 months ago.
Based on data from the Sigi Regency Food Crops, Horticulture, and Plantation Agency, the contribution of the agricultural sector to the Product Domestic Regional Bruto (PDRB) in Sigi Regency recent years ranged from 45-47%. This certainly indicates that the agricultural sector is more instrumental in encouraging the economic development of the community in Sigi Regency.
Disaster that hit Central Sulawesi six months ago turned out to give grief to the government and the people of Taiwan, considering the bilateral relations between the two countries were quite close. Even today there are around 300,000 Indonesians in Taiwan both for work and school. In his remarks, Peter, who is also the grandson of a farmer, gave encouragement to the farmers who were present to rise again.
"I represent the Taiwan government, express our hope that the support we provide really helps the recovery of the community as a result of the previous disaster," said Peter SL Lan, Deputy Representative of Taipei Economic and Trade Office in Indonesia who was the representative of the Taiwan government during his visit to Lolu Village, Sigi Regency.
Thirty five farmers attended this event. They have recently completed cash for work activities for land clearing, before the planting process and digging of wells began. After the disaster, the condition of agricultural land in Lolu Village was damaged, and the soil structure was bumpy. This of course makes agricultural activities stalled because they cannot be replanted.
"This program is certainly not only to help the economic recovery of the community, but also to support growth for children," said Yacobus Runtuwene, Manager Response of the Central Sulawesi Disaster Response Program Wahana Visi Indonesia.
The Taiwanese government representative's visit also helped open a field school for farmers group and also officially handed over seven hand tractor units which were expected to help farmer groups to cultivate agricultural land. Tarmin Haero, Head of Lolu Village also invited community to be actively involved in this program, considering that food needs are increasing every year, so that agricultural production must also be increased.
The field school that was given to farmer group is to provide knowledge about processing land and how to grow horticulture plants well, so that it will not only increase the quantity of production but also the quality of its production.
Written by: Melya Findi Astuti, Communication Officer of CENTRE Wahana Visi Indonesia