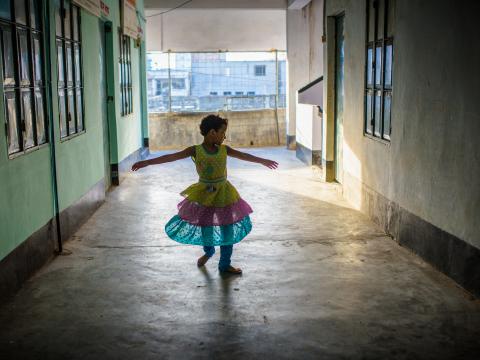 Intervention 10: Prevention, care seeking and treatment for pediatric HIV
Prevention, care seeking and treatment for pediatric HIV (including ARVs and cotrimoxazole prophylaxis)
Children and youth compose an undeserved key population in the struggle against HIV. In 2012, there were 3.3 million children under 15 years of age living with HIV worldwide and in the same year 260,000 new infections in children and 210,000 children died of HIV-related illnesses.
Declining survival rates...
There persists a steep decline in survival rates of HIV+ children between 0-8 years in the absence of anti-retroviral treatment; however, there is overwhelming evidence to suggest pediatrics initiated on ART tend to respond well to treatment. 
Despite the scale-up of PMTCT (Prevention of Maternal-to-Child Transmission) in low and middle-income countries, there is an estimated shortfall of 1.9 million children who are eligible yet not recieving ART. The median age of initiation of ART for children living with HIV in many countries is 4.6 years of age. 
Cotrimoxazole Prophylaxis
Cotrimoxazole Prophylaxis can also reduce mortality in children living with HIV by 67% and yet coverage in low and middle-income countries is 44%.Only 39% of HIV exposed infants in 2012 accessed early infant diagnoses (EID) within the first two months of life. The 'Double Dividend: Paediatric HIV Action Framework' recently launched by UNICEF, WHO and EGPAF will be working to increase paediatric HIV coverage by strengthening HIV-sensitivity of child health services, especially immunisation, nutrition and sick-child clinics entry points for HIV testing and treatment.
World Vision is well placed to support these initiatives through supporting the integration of community structures to child health services, strengthening and integrating cPMTCT and by increasing demand for EID and access to pediatric ART.