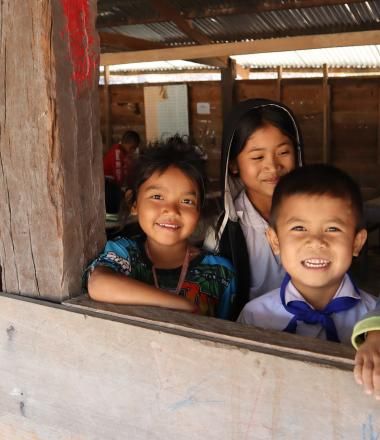 Child Rights & Climate Change
It Starts With Me
Children's Right to a Healthy Planet
On this International Children's Day, World Vision, the World Wide Fund for Nature (WWF), civil society and development partners in Laos call out for our moral duty to fulfill our children's right to a healthy planet. With the It Starts With Me campaign, we aim at raising the awareness of Lao citizens on climate change issues in order to change behaviours and bring about a better future for children, the environment, and our planet.  This six-month campaign will also actively create platforms for children to express their concerns and directly engage with decision-makers, and propose simple, doable actions that anyone can take to reduce our contribution and mitigate the impact of climate change.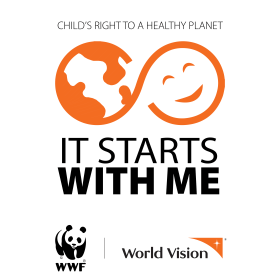 Our position
Climate change is creating a crisis for children and disproportionately impacts and burdens the world's most vulnerable people despite their being the least responsible for it.
Joint efforts are needed to face the challenges posed by climate change. But we, as individuals, also have a role to play in addressing these challenges: reducing our consumption of single-use plastic, planting trees, re-using our goods, and recycling what we can… small changes can make a big difference.
News Stories
The stories of change brought by the campaign and joint calls for climate justice for Lao children.
They commit for a more sustainable future for Lao children
Led by World Vision and the World Wide Fund for Nature (WWF) in Laos, the children's right to a healthy planet is also supported by: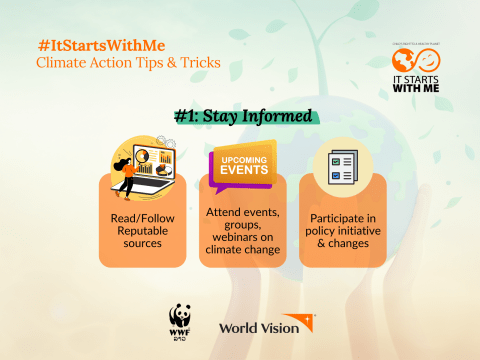 Climate Tip
#1 - Stay Informed
Let's start with the fundamental and essential
tip #1: Stay Informed
- Read reputable sources by following relevant experts, scientists, and organisations  
- Attend talks/webinars, groups, events, and support campaigns on the topic 
- Follow and participate in policy initiatives and changes on the matter  
Knowledge is power in the fight against climate change!
Climate Tip
#2 Don't Burn our Future Away
Open waste burning is harmful to our planet. Sadly, it is still a common practice in the Lao PDR, where approximately 4,400 people die from household air pollution annually according to the World Bank. It negatively impacts:
- Our environment: it releases harmful gases (e.g., nitrogen oxides, dioxins, furans, etc.) into the air, leading to air pollution. These chemicals cause various health problems, environmental damage and climate change. 
- Our health: the toxic pollutants irritate the respiratory system, and can cause long-term health problems such as cancer, heart disease, and damage to our immune system. Children, pregnant women, and people with pre-existing health conditions are particularly vulnerable.  
- Our future: burning trash is not sustainable as it depletes natural resources and generates more waste in the form of ash, which is very costly to dispose of.
For these reasons, it is time we stop burning our future away! And start finding more sustainable ways to reduce, reuse, and recycle our waste.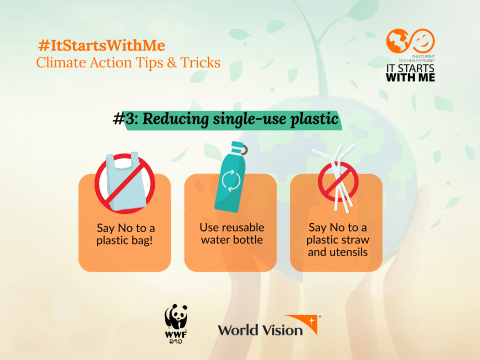 Climate Tip
#3 - Reducing single-use plastic
❔#DYK, it takes 500-1000 years for plastic to degrade. Even then, it becomes microplastics without full breakdown, contributing to our global waste and pollution problem significantly.  
🇱🇦 In Laos, 95% of plastic pollution is caused by single-use plastic items such as beverage bottles, cups and lids, and shopping bags...affecting our environment, health and economy. However, we can all join hands to tackle this issue:  
🔸Say no to plastic bags when buying items that you can fit in your bag/vehicle or carry over a short distance, or bring your reusable bag when shopping. 
🔸 Use a reusable water bottle: invest in a quality reusable water bottle instead of buying bottled water. Fill it with water from home/office and refill it throughout the day - less waste, save money. You can also bring your reusable coffee cup to your local coffee shop to reduce the single-use cups and lids. 
🔸Say no to plastic straws/utensils: refuse them (unless necessary) at the restaurant or when ordering delivery. Or bring your own reusable metal, bamboo, or silicone straws.  
♻️These simple tricks can reduce pollution caused by single-use plastic, and remember, your every little action counts!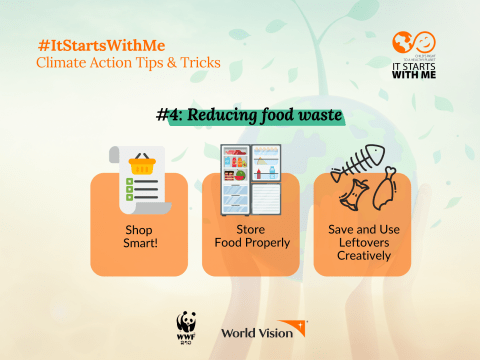 #4 Reduce Food Waste
 Food waste has a significant greenhouse gas footprint that amplifies the climate change crisis. Reducing food waste is an easy and effective way to tackle climate change, and below are #ClimateAction #Tips you can adopt:


Shop Smart: planning meals, making a shopping list and checking your pantry before shopping to help you buy only what you need, reducing the risk of buying too much or buying what you already own and wasting leftovers.


Store Food Properly: proper storage can extend food shelf life, such as storing perishable goods in the fridge and placing fruits in a fruit bowl to stay fresh longer than in the refrigerator.


Save and Use Leftovers Creatively: create delicious meals with leftover ingredients: making broth from vegetable scraps/seafood shells/ bones or freezing leftovers for later use.


Less food waste in your everyday life means a step forward towards tackling climate change.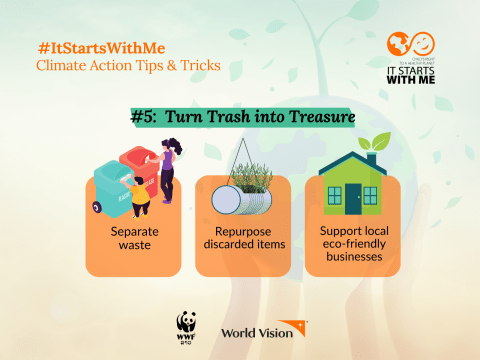 #5 Turn Trash into Treasure
Turning trash into treasure is not only possible but an important step towards building a more sustainable future. Recycling, upcycling, and repurposing waste can reduce waste in landfills, conserve resources, or even generate income by:


Separate waste into different categories: paper, recyclable plastic bottles, food, and non-recyclable waste, and sell your sorted bottles or compost biofertilizer from your food waste.

 Get creative with repurposing discarded items into functional and beautiful objects by exploring DIY projects, for example, using plastic bottles as planters.

 Support local businesses - Look for companies and artists in your community specializing in repurposing waste materials. Not only does this support a local economy, but it also encourages sustainability and creativity.


Turning trash into treasure can be fun, practical, and beneficial for the environment - get started today!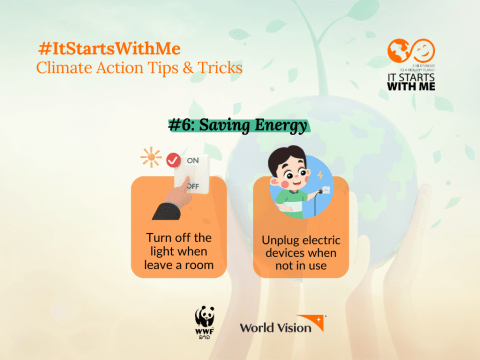 #6 Save Energy
#SavingEnergy doesn't have to be complicated!


Did you know that you're already making a difference for our planet by simply turning off your lights when you leave a room? Other easy tips include unplugging electronics when not in use.


With small efforts from each of us, we can make a BIG difference and create a brighter future for ourselves and future generations. Join the energy-saving revolution today and start making a positive impact!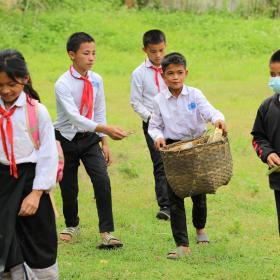 It Starts With Me
Children's Right to a Healthy Planet
It will take all of us to reduce our carbon footprint.
But It Starts With Me taking action now, at my level, to be the change that I want for this planet.