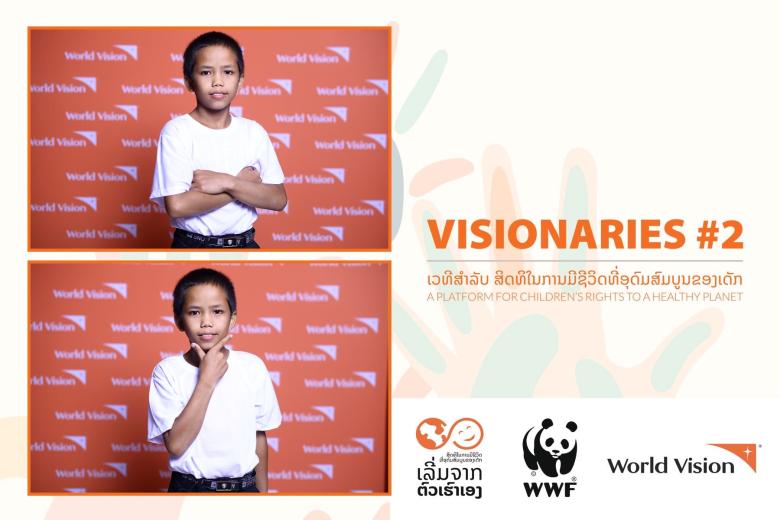 A dream for my community environment in the future
Tuesday, October 10, 2023
In rural areas of Laos, many families live in houses made of bamboo and thatch, which offer little protection from the elements and can be easily damaged by natural disasters such as floods and storms. In these areas, many children live in unsanitary conditions.
"My family's reliance on non-timber forest products for daily meals exacerbates the issue, as we lack sufficient rice and produce to sustain ourselves throughout the year," said Mr. Pern, 13 years old.
Pern lives in a family of seven members, in the rural area of the middle part of Laos. His parents' occupation is farming, planting rice and crops, and sometimes being a labourer to earn income to support the family's members.
Climate Change conditions can lead to various problems for children and their families, including respiratory infections due to the slash and burns activities and unhealthy air to breathe, diarrhoea, malnutrition, lack of access to education, and hunger.
"In the past, my family was affected by flooding; the flood damaged our paddy rice and crops, and some animals died. My family didn't have enough food to eat. I was worried about my children's future because of the climate change affecting our income. I might not be able to support their education," said Pern's father, Mr. Kanya, 35 years old.
In a fast-changing environment for the Lao population, we must realize that climate change is real, and will impact the rest of our lives and those of the next generations. While those changes immediately impact us, children are and will be the most affected.  Yet, their future is not in their control, it lies in the hands of adults.
During the International Children's Day Celebration, the "It Starts With Me" Campaign was led by our project staff in our target communities in May-June, 2023. The team imparts essential Climate Change and West management knowledge, emphasizing child protection to communities and children who attended the event. Alongside providing that awareness, the project staff conducted the "Drawing Contest" on the topic of "Draw your dream environment in your community in the future?"
Pern is one of the 3,314 children from 10 target districts across Laos who participated in the It Starts With Me community campaign. "I am very happy that I have a chance to participate in this event. It's the first time for me to learn about climate change and waste management and how all these affected my daily life, and it's conducive and useful for me and my family to know and be aware of it" said Pern, 13 years old.
Pern is also the winner of the "Drawing Contest" activity from his district and he was chosen to represent his province at the national level of the "It Starts With Me" Campaign. The online public vote on World Vision's social media went to Pern's imaginative drawing.
"I am very proud of myself that I was able to present my dream community environment in the future and I am happy that my drawing conquered many people's hearts," Pern shared. He continues: "Thank you for organizing this event, I received a new bicycle and a set of school uniforms with study materials. What I plan to do after the campaign is plant more fruit trees and separate the garbage at home".
Pern's parents participated in the World Vision activities on Community Change and attended the animal raising. These activities strengthened the community's capacity to be sustainable and support their children with good food and good education.
As we see climate change as a justice issue threatening children's rights, and as we celebrate this year's Children's Day, it is time for them to share their dream that they would like to see in their community environment and protect the future of their planet.
Protecting our children and their future starts with us. Protecting nature and its resources starts with us. The child's right to a healthy planet: It Starts With Me.