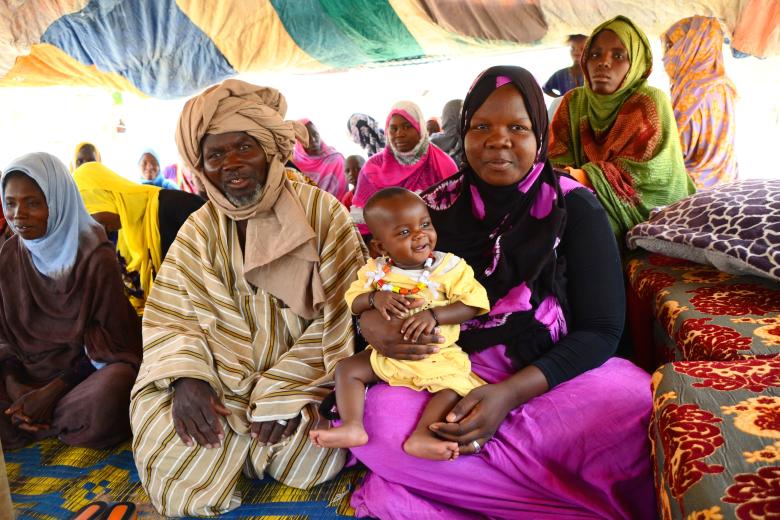 AIM HEALTH PROJECT: Transforming mindsets and promoting family planning and child well being with faith leaders
Wednesday, May 11, 2016
We travelled to M'Beidia (USB), a remote village in the department of M'Bagne, wilaya of the Brakna, where the project has been implemented since its beginning by World Vision Mauritania AIM HEALTH project manager Zeine Abidine Ba and his team.   
We received the testimonies from religious leader, Imam Mohamed Ould Salim, who helped in the successful implementation of the program in his community, and a young mother, Aminetou Mint M'Boyrick, who gave us insights in how the program and the Imam help in the process changed her family life.
Imam Mohamed Ould Salim: 
"I have received in 2015 a training in community health, in the framework of the project aim health of World Vision, focused on the TTC (7/11), in the locality of Niabina Mauritania.
Following this training I have found it very useful for the needs of the community and therefore initiated awareness meetings to improve maternal and child health which targeted pregnant women, lactating women and children 0-5 years of age.
Every 15 days, I complete awareness program completed by door-to-door meetings in every homes in the village, accompanied by the COMMs teams composed of 6 people.
Every Friday, I preach sermons at the mosque regarding maternal and Child Health, the necessity of hygiene (WASH), and enlightens about the different risks associated with childhood diseases, and push the inhabitants of the village to go to visit the Health Centre for Prenatal consultations, post-natal visits, vaccinations, etc.
I am engaging discussions with the whole families, when I go to door to door visitations, i.e. all the members of the household - (father, mother, grandfather, grandmother etc.), and not only to the mother, because obviously, the health of children and the mother will first pass through a good involvement of all members of the family.
Since the AIM Health training and the awareness visitation program to families, children are in better health, there is a better hygiene and a better sanitation at the village level, parents are more alerts on the health of their children."
Aminetou Mint M'Boyrick, young mother of three children:
"Since the Imam started home visitation (HV) accompanied by the visits of the CHW, I came to realize that the whole village is involved in maternal health and infant mortality awareness, and that the immunization schedule is respected in accordance with the national health policy and that the husbands are getting more concerned about the state of nutritional health of their wives during pregnancy or the period of exclusive breastfeeding.
At the beginning, my husband and I were a little skeptical because we did not understand how the assistance of an imam could allow him to have a child in better health especially after the last periods of successive weldings, and after the loss of our child due to illness few years ago. 
But after having seen a remarkable improvement on the health of our own children, and on the health of the children within village in general, with the support of the CHW of the village which has produced an exceptional effort in the framework of the awareness, we sincerely admire the work of the Imam and his team of COMMs (community committee of health)."