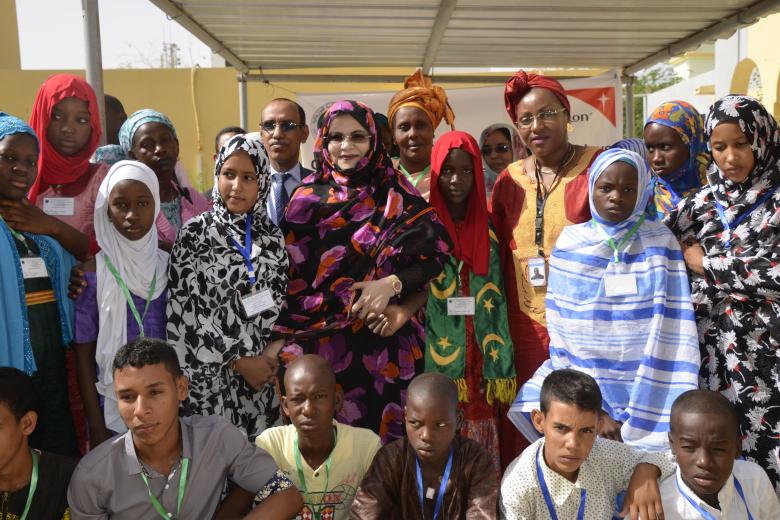 An exchange and advocacy visit by children members of Child Municipal Councils in Kaedi, Bababé and Aghorat from 4 to 6 April.
Monday, April 10, 2017
World Vision Mauritania through its department for Child Protection and Participation, organized an advocacy and exchange visit from 3 to 6 April 2017 for Child Municipal Councils of three communes: Bababé, Kaédi and Aghorat. This caravan was made possible thanks to the collaboration between World Vision Mauritania through its Child Participation project and the Ministry of Social Affairs, Childhood and Family.
The main objective of this caravan was sharing the experiences of these councils with their colleagues in Nouakchott and advocate for their ideas at the Ministry of Social Affairs, of Childhood and Family, the UNICEF and World Vision Mauritanie, on issues regarding the well-being of Mauritanian children and particularly those from Bababé, Kaédi and Aghorat.
The first day was the occasion for the children to have an exchange, advocacy and a welcome meeting at the ministry of Social Affairs with the presence of the minister Maimouna Mohamed Taghi and her team. The minister welcomed the children and expressed her proudness and happiness to see engaged children and full of hope that come to Nouakchott to shed light on their problems on local level, a first in the history of child participation in Mauritania. The minister also underlined how necessary it is to for children to have competent representatives capable of speaking on their behalf and that these ones should multiply their visits to the capitol and the other cities as well for more exchange with the authorities.
 "The municipal council of Bababé was created in June 2016 and our principal activities are based on sensitization on various themes like children with no birth certificates that are not able to go to school, hygiene, education and health, early and forced marriage along with any other form of violence which children can be subject to. The 20th of every month, we organize meetings in the presence of our monitor and all the members of the council. We agree on the activities and how to conduct them and then we start sensitizing people, neighbor to neighbor and sometimes even door to door. Today, I feel that there is a slight change in the mentality of people in Bababé thanks to our activities and I am proud of it, like when there is a neighbor cleaning activity, the adults participate with us. In the end, I think that we are all lucky to participate in this visit and to have the chance to meet the minister of Social Affairs in person, and to talk about children of Bababé's problems and to visit many sights like the National Museum and the national aeroport of Oumtounssy", declared Abou Amadou Sow, a member in the CMC of Bababé.
The next thing to do for children was to visit the National Museum where they had an insight on the history and culture of Mauritania.
"The child council of Aghorat was created in late 2016 from an idea initiated by three local school directors in the commune. Today we are able to express our thoughts on our issues after several training sessions and guiding. We have many requests like constructing a wall for one of the schools, the water access issue which is a major problem especially for in the school, knowing that it is up to the director to go fetch water from wells and finally the construction of latrines that respects gender with full hygiene kits. Personally, I find it excellent and constructive to bring the three children municipal councils to the capitol for a visit because it will allow us to have more experience and guidance in the domain of child protection and participation and give us more courage to express our ideas in the future.
We have certainly learned many things from this visit that we will definitely share with our peers in Aghorat. We thank infinitely the ministry of Social Affairs, Childhood and Family, World Vision and the UNICEF for all what they have done for us during this visit", said Moustava ould Abdallahi, secretary general of Aghorat child municipal council.
Children have also discovered the brand new Oumtounssy International airport of Nouakchott and had an exclusive access to the waiting room where they admired some landing runways and saw few stationed airplanes.
The visit continued its course with a meeting at the bureau of the UNICEF where children received explanations on the mission of this structure and how it works to protect and support children in this country. Then, they met the representative of the UNICEF in Mauritania, Mr. Souleymane Diabaté who expressed the immense joy of his organization to receive them in their bureau.
"This visit had taught us many things on the rights of children to protection and participation and it was rich in ideas and interesting meetings. The Kaedi child municipal council is very young, being created in July 2016, even though we received many training and monitoring in communication and advocacy and we have a dynamic monitor. Both meetings with the minister of Social Affairs and the representative of UNICEF were interesting and they had listened carefully to what we had to say. I had never thought this would happen with me one day and we were all happy and proud during both meetings. This visit allowed us to meet the minister and speak about our problems and request and I hope that it will be heard and would like to see this caravan happen again soon", said Raki Adama Pam, a member in the CMC of Kaedi.
The sights visit ended at the Port of Nouakchott with a guided visit inside the structure where they met the General Director and they were able to see the docks.
A closing ceremony was organized at the beach beside hotel Terjit, and children received school furniture as gifts to encourage them to excel at school. Encouragement words were also given by persons in charge of childhood from the ministry of Social Affairs, and those from the department in charge of child protection and participation in World Vision Mauritania.