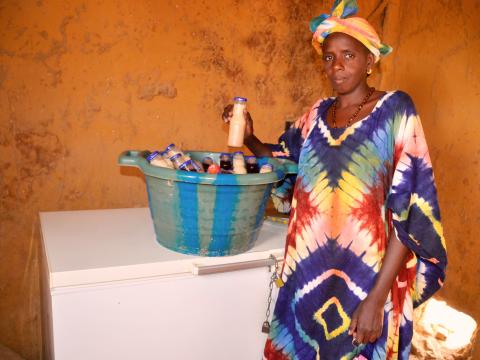 World Vision Mauritania contributes to community development and households resiliency in the village of Thielaw
Monday, June 5, 2017
Located in the extreme south of the country in the Brakna region totally isolated and far from any urban sign, stands the village of Thielaw in Dar El barka district. The first thing we can notice is the difficulty to access this village in the middle of nowhere. The local primary school does not have enough rooms for all children and there is also the lack of teachers.
"There was no kindergarten for children in the village which made it difficult for parents to keep an eye on them. There is a Qur'anic school in place but once the course is over, children are left by themselves and can go wherever they want. Some parents take their children with them to the farming fields just to be able to watch them", confessed the Thielaw development center supervisor, Gadio Amadou.
With 2267 sponsored children out of 3437 registered, World Vision's development program in Dar el Barka set in place a community development center as a kindergarten and also to ensure a preschool education for children under-6 years.
"The advent of this center has certainly changed many things in a significant way in the village, improving these children's life conditions. The center was equipped with seat benches and screening boards and children receive preschool education including reading courses among others. In addition, they are guided through theatrical and sketch activities. Moreover, children are nourished thanks to the nutritional home in the center ensured by their mothers' food contributions and the support of World Vision. In the name of these children, I would like to thank the organization and we value its actions that allowed the parents to hope for their children's future", continued the supervisor.
This center can be considered as a pole that gathers several community development activities. For children in the village, it is a kindergarten that holds a preschool step for education and a nutritional home that works with the active participations of their mothers and the support of World Vision with two volunteers. For the village, it is a source of income since it contains an income generating activity in the form of a refrigerator with an equipped solar unit set in place by World Vision Mauritania, which helps local women to gain their lives with dignity and contribute to the well-being of their Children.
Here we mention the success of this solar refrigerator activity, so successful that it allowed the local community to buy another refrigerator with a solar unit thanks to their financial contributions and a partnership with GRET and World Vision Mauritania NGOs.
"My child is very interested in this center because she feels better there and she is able to play with the other kids and also learn at the same time. This center also brought new positive habits like the fact that children refuse to go there unless they are cleaned up and well dressed. My child refuses to eat unless her hands are well cleaned with soap. Children learn things that they did not know before thanks to this center and they get ready for education. On the other hand, it is not only our children that benefit from this center which improved our lives for good but also the whole community", stated Djeinaba Boubou, the mother of little girl Nene who benefit from the center. 
However, the village still faces the lack of clean water issue since the only source is an old well, and the only alternative is the lake water, an unsafe choice and a source of many diseases, sometimes deadly for children. The local vegetables garden also lacks a permanent water source, among other obstacles.    This is one of the reasons why the local women cooperative requested the support of World Vision to build a close fence around the garden.
"World Vision has worked tirelessly for the well-being of our children for many long years. They gave our children school furniture for their education, and distributed mosquito nets to fight Malaria and other fatal diseases. In addition, the organization built a kindergarten for little children and brought us a refrigerator with a solar unit which had a significant impact on our children the most. I can testify that World Vision's interventions had a huge impact on our village and I hope that this will continue", confessed Aissata Boubou Ya, president of the management committee for the center.
Thiélaw, like many other villages, benefited from many interventions, especially in the domains of health and education. In reality, impregnated mosquitos were distributed in the village, and a two classrooms school was built there with a bloc of latrines just to facilitate access to education for local children. World Vision also brought preschool materials for children and mats that they can sit on in class. Besides, two volunteers from the village handle the preparation of food for children in the center both in the morning and the afternoon.