Laxmi was only 20 when she gave birth to her son. The delivery happened at home and her mother-in-law oversaw the whole process. "Institutional delivery of babies was almost unheard of back then. Women would deliver at home with the support of family members, which is quite unsafe. It was so prevalent that health institutions would provide home delivery kits to expecting mothers," shares Laxmi, recalling her experience ten years ago.
Many government programmes and upgrades after, there has been some changes in recent times, but it is not enough. According to the National Demographic Health Survey 2016, only 58 percent of deliveries were performed by a trained health worker; the remaining 42 percent still relying on relatives/friends or traditional birth attendants or going through the process alone. This data is still unsatisfactory.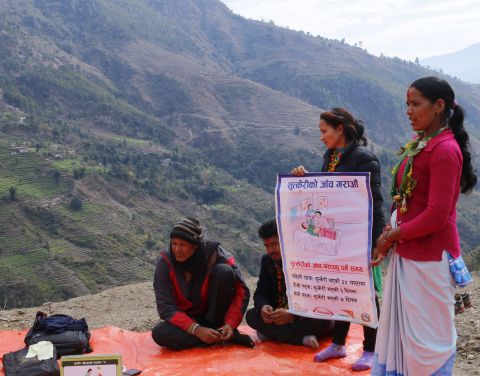 Much of it has to do with the lack of accessibility to health institutions and low awareness of the need for professional help at childbirth. "Expectant mothers would rather not go to the Health Post because they had to walk hours to reach it. 'What will we get by going there?' they would ask. It was difficult to convince them," shares Laxmi.
One way the Government kept a vigilant eye on the remote villages' health status was through a group of all-female volunteers, formally referred to as Female Community Health Volunteers (FCHV). Laxmi was one of them. But due to the lack of technical support, Laxmi began to lose motivation in her work.
A turnaround for Banjhkakani village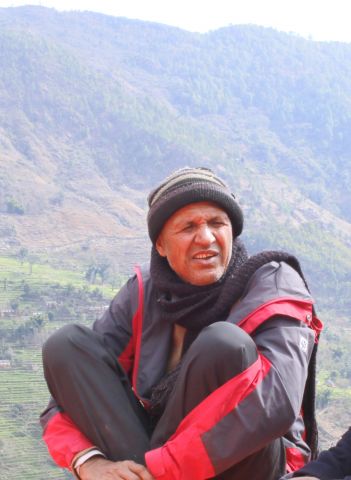 Hailing from Laxmi's village, Chetraj Ojha first joined Banjhkakani Health Post four years ago as the In Charge. At that time, the Health Post was in a deplorable state.
"The health post was poorly equipped and the area around the health post was badly managed. The toilet was so dirty that people hardly used it. The tipping point for me came when a local journalist commented in the papers that our Health Post was comparable to a cowshed," recalls 58-year-old Chetraj, who has been a health professional for over three decades. There were only 12 babies delivered in the Health Post that year.
In the following years, Chetraj contacted the District Health Office and international organisations in the district for support. His solace came in the form of a comprehensive health project funded by Takeda Japan. Implementation began in 2016 in seven villages across Doti, including Banjhkakani.
The Health Post was supported with complete sets of equipment necessary for growth monitoring, perinatal tests, and child delivery. Female Community Health Volunteers (FCHV), like Laxmi, were trained and made accountable to spread awareness among mothers about the importance of visiting health institutions. An Outreach Clinic was also constructed, making health facilities accessible to communities which are far away from the Health Post. This resulted in a gradual increase in visits by mothers for ANC, PNC and delivery.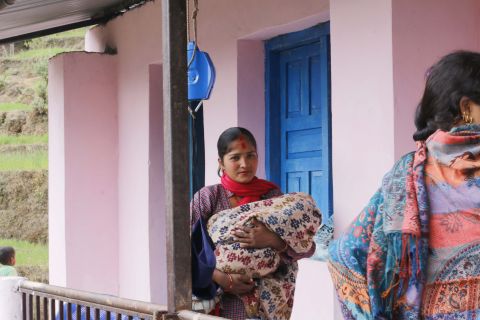 In 2018, 100 babies were delivered at the Health Post and the Ward was declared to have full institutional delivery coverage. This was a proud moment for Chetraj in his substantial career span. Laxmi also feels the difference: "due to the support from the project, not only were health institutions and health workers strengthened, but mothers were also encouraged to seek the available services. Beginning last year, attendance in mothers' group meetings has increased and the discussions are more effective. Also, the new ORC has made it easier to run regular health check-ups in more remote places. Previously they were run from any person's house or in open spaces," she shares.
Acknowledging the project's contribution in Adarsha Rural Municipality, Bam Bahadur Khadka, Health Coordinator at the Health Division shares, "through joint coordination we have already declared two Wards, including Banjhkakani, in the Rural Municipality as having 100% institutional delivery. As a government representative, I am extremely thankful to all the much-needed support. I am committed to do my best in my role," he explained.
---
Featured image: