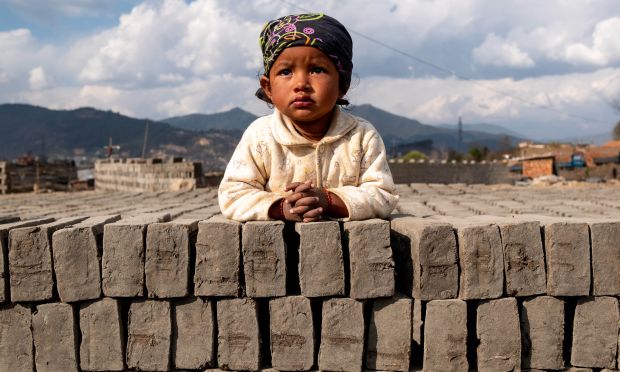 "Sushma fell into a four feet deep pond while playing with her friends last year! Fortunately, someone saw her and rescued her on time," shares Goma.
The incident Goma is talking about is any mother's worst nightmare. However, where Goma works such incidents are quite common.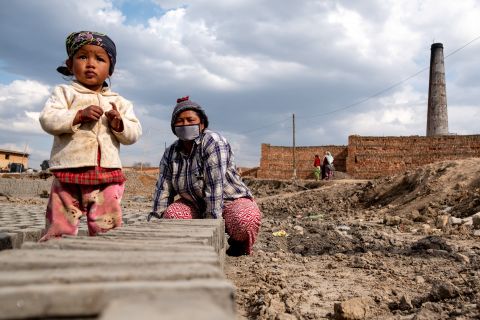 Goma has worked in a brick kiln all her life, it was something she learnt from her father ever since she was 12. "The pay is decent and we don't have to spend on housing, water or electricity which is provided by the brick kiln owner," she shares. Her husband, Jit Bahadur followed the same course six years ago, after their marriage. Both of them make bricks at Jyoti Brick Industry in Chandragiri Municipality, with two daughters, six-year-old Subina who is a pre-primary student and two-year-old Sushma.
Originally from a rural village outside of Kathmandu, Goma now lives with her family inside the brick industry. They work at the brick industry during brick-making season which typically lasts for six months and look for menial wage-paying jobs in nearby communities in the remaining months.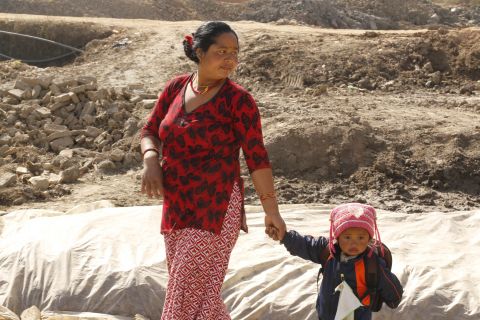 With passing time, Goma has come to realise that the brick industry is not a safe place for small children specially because she hardly has the time to check on them. This is quite common for most brick kiln workers, who are so focused on earning more money by making more bricks, working long hours that they pay very little attention to their children. They cannot even afford to hire help. This puts children at risk of getting hurt or even lose their lives.
Goma's concerns especially grew after the drowning incident with Sushma. She was constantly worried about her child's safety, so much so that she wasn't able to sleep properly for a while.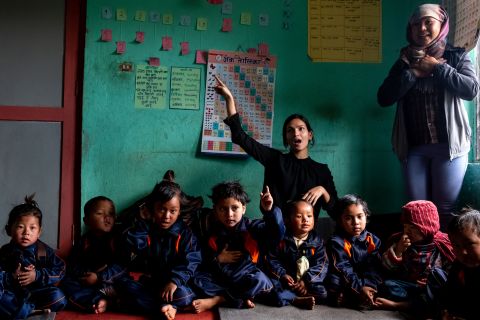 Her solace came in 2018, when World Vision International Nepal, along with its local partner, Child Development Society introduced the Building Resilience with the Children working in Kathmandu's brick Kilns (BRiCKK) project in six brick kilns of Kathmandu, Jyoti Brick Industry being one of them. A day care centre was set up in each of these kilns, facilitated by a trained volunteer for small children of brick kiln workers.
Sushma began attending Jyoti Day Care Centre where she enjoys learning the alphabets, numbers and singing rhymes. Furthermore, now that her parents are trained on hygiene and sanitation, she is kept neat and tidy, and loves spending time at the day care centre with her friends. She is also, much more confident and enthusiastic, and is one of the most active children at the centre.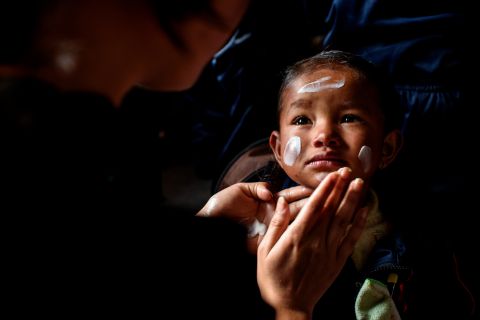 More importantly, since Sushma is at the day care centre from 10 AM to 4 PM, Goma can work in peace, not worried about her daughter's safety. "My daughter Sushma has been attending the day care centre everyday where she receives proper care from teachers throughout the day. We no longer have to worry about her falling in ditches or drowning in ponds. I can focus completely on my work and can earn and save more money for the future," she shares.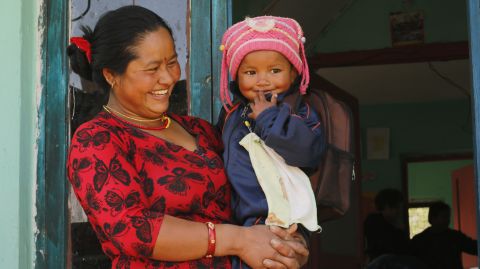 In addition, Goma's elder daughter, Subina was also supported with educational material such as school uniforms, bags and stationery items. She has been going to school regularly ever since.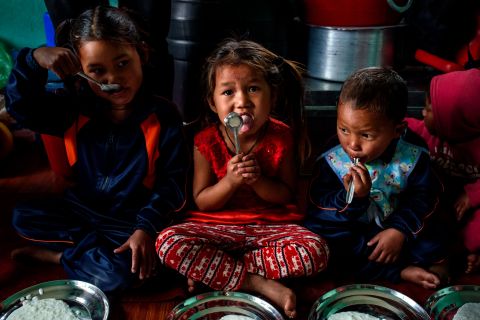 The day care centres have been able to provide a safe learning environment with nutritious food to 210 children in brick kiln premises, providing a breath of relief to their parents, who are now encouraged to work with undivided attention for their children's future.
-Pictures by Corina Oghina