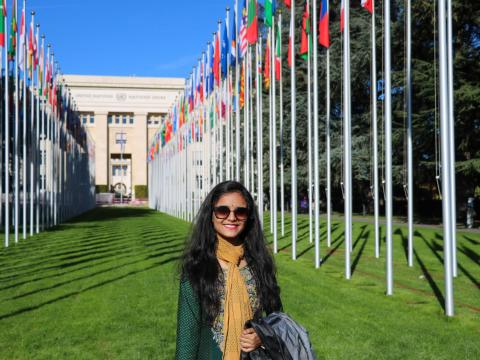 Child Forums in Bangladesh stop child marriages in their communities
Friday, October 11, 2019
Children in Bangladesh stop over 70 child marriages in their communities over two years.
650 million girls and women alive today,

[1]

and 115 million boys and men,

[2]

were married before they turned 18.
Bangladesh has one of the highest child marriage rates - 52 per cent of girls are married before the age 18 and 18 per cent before the age of 15.

[3]

Dola, 15, and Joint Secretary of the Child Forum, is currently at United Nations to help present research into the children's success as part of International Day of the Girl Child celebrations
October 11, 2019 – Child activists in Bangladesh report stopping 72 child marriages over the past two years as part of World Vision supported Child Forums. The children's successes are the subject of a new report, Children's participation in ending child marriage: Exploring child activism in Bangladesh.
Released today, the report shares how children are taking it upon themselves to educate their community on child marriage laws and girls' rights. In many cases, children are filling in the gaps for overstretched local officials, jumping into action when girls stop coming to school, investigating reported ages and securing birth certificates where necessary to stop a marriage.
"The Child Forum is working hard to stop child marriage and we have been successful, but there are too many additional things needed to protect girls. We, as children, engage in actions to end child marriage because we know other children's pain and how much they suffer. When a child gets married under the age of 18, they face many challenges including increased risk of child and mother mortality, school dropout, domestic violence and abuse." Dola, 15.
Children are fighting child marriage in two ways – by teaching families about child rights and the law, and also by finding the original birth certificates or school enrolment papers for would-be brides. Children reported widespread practice of falsifying birth certificates in order to conduct an early marriage.
Child Forums are now working as the first line of defence against child marriages, and have earned the respect of officials, who work with the children to follow up on cases where they have not been successful on their own.
"As an organisation we embrace children as active agents of change in their communities and countries. This research shows that children are not only capable of identifying problems, but also of proposing and implementing solutions to the issues that are relevant to them." Daniela Buzducea, Partnership Leader, Advocacy and External Engagement, World Vision International
"These findings are in line with a growing body of evidence that suggests a strong relationship between children's participation and positive outcomes for children and society as a whole. The research shows that while advocating for their rights, children learn to work cooperatively and engage with other key partners to make a change in their lives."
ENDS
Editor's note: Spokespersons, photos and video are available.
The publication is part of a two-year research partnership looking at child participation, between University of Edinburgh and World Vision. Other publications have examined the potential of child-led research. A follow up study into child activism against child marriage in Ghana will be published in 2020.
The report is based on the testimonies of 36 child forum members in two communities in Bangladesh, as well as parents, schoolteachers, and local government officials. Although child marriage is illegal in Bangladesh for girls under the age of 18 (and boys under 21), parents are allowed to marry their daughters in 'exceptional circumstances' with permission from the courts.
About World Vision
World Vision is a Christian humanitarian organization dedicated to working with children, families, and their communities to reach their full potential by tackling the root causes of poverty and injustice. World Vision serves all people, regardless of religion, race, ethnicity, or gender. For more information, please visit www.wvi.org or follow us on Twitter @WorldVision
[1] UNICEF data https://data.unicef.org/resources/child-marriage-latest-trends-and-future-prospects/
[2] UNICEF data https://data.unicef.org/topic/child-protection/child-marriage/
[3] Wodon et al., 2017.