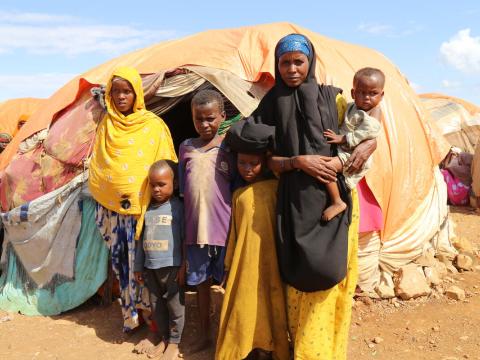 Vulnerable children will suffer from G7 leaders tunnel vision
Thursday, June 30, 2022
International aid agency World Vision said today that the G7 Summit has been too focused on a single crisis and failed to offer long-term solutions for the world's most vulnerable children.   
 The children's charity said that while leaders inevitably prioritised the war in Ukraine they allowed it to dominate, resulting in a final communiqué filled with short-term thinking and plans. 
"The G7 needed to 'walk and chew gum at the same time'," said Kristina Kreuzer, World Vision's Child Rights and Child Protection Advocacy Advisor. "Ukraine should have been discussed as part of a broader, longer-term agenda that included other crises impacting so many of the world's poor. 
Ms. Kreuzer said that the fallout of the Ukraine conflict not only impacted millions of Ukrainians but has also had a terrible knock-on effect on millions of people already living in emergency situations worldwide: "Vulnerable children and their families in Yemen, the Horn of Africa, Central Sahel, Venezuela or Cox's Bazaar in Bangladesh for example also needed the G7 to announce sufficient investment in long-term, sustainable solutions to the problems facing them."  
Sheri Arnott, World Vision's Director of Policy, Disaster Management, also expressed disappointment at the G7 leaders' commitments to fighting global hunger. 
"Given the spike in global hunger and in the number of countries where people are on the edge of starvation, World Vision believes that the $4.5bn pledge to address this threat to 49 million people, doesn't go nearly far enough. That's only $5.63 per hungry person—hardly an investment that will meet urgent lifesaving needs, and it certainly won't make hunger crises a thing of the past."  
Ms Kreuzer added that, like previous years, the G7 had "barely considered" children's rights in their deliberations or the final communiqué. "World Vision recently researched how often children were mentioned in the outcome documents of the last few G7 Summits and were astonished by the low consideration of children and their portrayal as victims," she said. "This year was no better.  
"Especially in times of crisis, it is vital for groups like the G7 to proactively consider the rights and protection of children when making major decisions with international implications, and to actively include the younger generation in those deliberations." 
ENDS 
Notes to Editors 
For more information or an interview with World Vision contact Dirk Bathe in Germany on +49 175 1879525 or via Dirk.Bathe@wveu.org or Jan Butter in the UK on +44 7889400889 or jan_butter@wvi.org  
World Vision  is a Christian humanitarian organisation dedicated to working with children, families and their communities to reach their full potential by tackling the root causes of poverty and injustice. World Vision serves all people, regardless of religion, race, ethnicity or gender.  For more information, please visit www.wvi.org or follow us on Twitter @WorldVision .