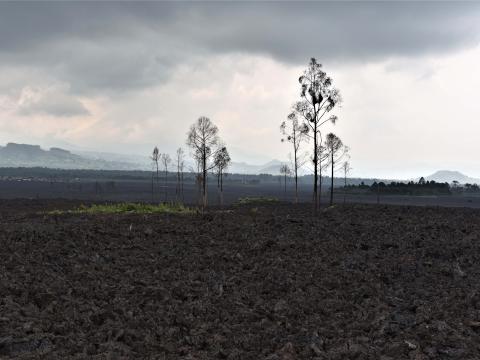 One year since Nyiragongo eruption, World Vision warns on a potential hunger crisis in DRC
Tuesday, May 24, 2022
Millions of vulnerable children and poor families are still in need of humanitarian aid in the Democratic Republic of Congo (DRC), including households affected by the Nyiragongo volcano eruption last year, amidst a deadly-mix of the impacts of climate change, conflict and COVID-19.
24 May 2022, DRC: Christian, child-focused humanitarian aid agency, World Vision, warns that economic shocks due to food hikes and a deadly combination of conflict, climate change and COVID-19 may push children and families into a hunger crisis.
"Increase in prices of food and fuel may have a catastrophic impact on thousands of children and families one year after the Nyiragongo volcano eruption that displaced 450,000 people", says World Vision's National Director Aline Napon.
"Children are reporting reduced meals a day as families' incomes are reduced, triggering stress among parents and guardians as they cope with the aftershocks of the volcano eruption. Children, lactating and pregnant women are the most vulnerable as families adopt reduced meal intakes as a coping mechanism", adds Aline.  
One year after the volcano eruption, the cost of food and fuel has increase. "A bowl of cassava flour which used to cost 1,000 Congolese Francs (US$ 0.50) now goes for 1,500 (US$ 0.75) while a similar bowl of maize floor is now at 2,000 (US$ 1) francs up from 1,200 francs (US$ 0.60). Life is more difficult for the internally displaced people, many of whom can barely manage a meal a day", remarks John Banyene, Civil Society President for North Kivu.
"Many children and families are still living in collective centres, temporary sites, or with host families in the wider Goma area, while others opted to construct temporary make-shift houses", adds John.
In February 2022, International NGOs in the DRC report that 27 million people are in humanitarian need and US$ 1.88 billion is required to respond to the most pressing needs of 8.8 million people, out of which 49.9% are children and 15% people with disabilities.
For media inquiries, contact:
David Munkley, East Zone Director, Email: David_Munkley@wvi.org
Geoffrey K. Denye , Communications Specialist Email: Geoffrey_Denye@wvi.org