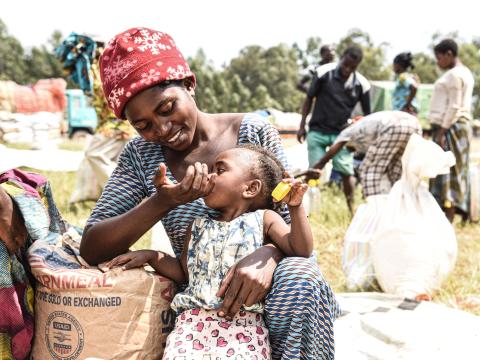 Urgent action needed to avert hunger wide-scale catastrophe in the Democratic Republic of Congo
Thursday, October 20, 2022
On Sunday, October16, the country joined the international community to celebrated the World Food Day, a day that highlights the millions of people worldwide who cannot afford a healthy diet and the need for regular access to nutritious food. The theme for 2022 was Leave NO ONE behind.
This commemoration presents an opportunity to highlight the plight of millions of the most vulnerable communities in DRC affected by the Global Hunger Crisis. Increase in conflict, displacement, persistent drought and water scarcity are threatening lives and driving a massive humanitarian crisis in DRC.
In DRC, 25.9 million people are food insecure and require urgent intervention and 25% of these who require an urgent intervention[1]. A total of 5.4 million (5% of the population assessed) are in Emergency (IPC Phase 4) according to the World Food Program.
Nearly 64 % of Congolese, just under 60 million people, lived on less than $2.15 a day according to the World Bank[2].
Impact of food hikes in poor communities
Despite the marginal increase of the cost of the food basket from 25,511 CDF ($12) to 26,004 CDF ($13) between July and August 2022, our findings in the communities we serve indicates that food prices have more than trebled placing children at increased risk of death. "Most of the poor communities are still grappling with the triple crisis of COVID-19, conflict, and climate change. If we act now, we can prevent children from dying, but time is running out." said Aline Napon World Vision DRC National Director. 
 "The most vulnerable communities are facing the brunt of the global hunger crisis – the plight of millions of children is heart-breaking and is further exacerbated by the war in Ukraine. In the health centres and camps for Internally Displaced People, the number of children with malnutrition has increased," said Aline
Globally 345 million children and families are acutely hungry and struggling to get enough to eat. Hunger is widespread, but children living in a conflict zone such as the east DRC are two times more likely to be malnourished.
World Vision's response to the DRC hunger crises reached at least 1 366 512 1million people, more than half of whom are children (393 086 girls and 293 467 boys), in 10 provinces of urgent concern through programs valued at US$40 million. Our work includes cash and vouchers assistance, food distribution, prevention and treatment of child malnutrition, school meals, livelihoods support and psychosocial support.
Recommendations
In this regard, we as International INGO, focused on children make the following recommendations. 
 We call on national government
·      To strengthen the political will to end conflicts and fight climate change – and prevent famine, to provide the lifesaving aid children and family's need to survive in the immediate term.
·      Create the foundations for improved security and humanitarian access by engaging with all parties to conflict, particularly in insecure and inaccessible areas. 
·      Scale-up national response and capacity to address the severity of the crisis, including increased domestic funding and national budget allocation for the response. increased support to local authorities, investing in infrastructure and basic service provision and supporting sustainable livelihoods, 
 We call on donors: 
·      To increase funding to the DRC humanitarian response plans to meet immediate needs and address the scale of the hunger crisis. Urgent and well-targeted humanitarian assistance must be provided in the worst affected areas of DRC to save lives.  Innovative financing and flexible programs are needed to respond to fluid changes in the context and to meet people's needs as access to the worst affected areas increases.
·      The international community must urgently scale up life-saving aid efforts to reach the 25.9 million people who are food insecure and require urgent intervention. 
We call on local communities and affected population: 
·      To hold governments and all local actors accountable, in the provision of basic needs such as health and strong system necessary to build local level resilience. 
Together, we must urgently act now to meet the needs of children in crisis and work jointly and actively to avert the Congolese hunger crisis, save lives, and build resilience.
Contact(s) : 
-       Aline Napon, National Director  Aline_napon@wvi.org
-       Patrick Saah, Sustained Humanitarian Response Director patrick_saah@wvi.org
-       Farida Eliaka, Advocacy and Communications Associate Director Farida_Eliaka@wvi.org
[1] SADC RVAA Synthesis Report 2022 - FR | SADC