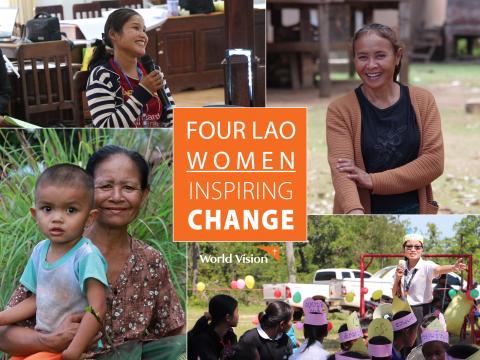 Four women inspiring change in Laos
Tuesday, March 7, 2023
The 8th of March marks the celebrations of Women around the world.
While progress has been recorded in Laos over the past decade, gender norms are still challenging women in rural areas (including in literacy, households' labour distribution). However, the international non-governmental organization World Vision sends a message of hope this week, sharing the inspiring stories of four women from different backgrounds, ages and perspectives who are proving that everyone, everywhere can step forward to embrace equity and ignite change in the world for improved gender equality.
At age 53, Mae Phaivan has become an influential voice in her community and a key driver for nutritional behavior change in a rural village of Saravane province. She is now a symbol of women's empowerment to inspire other women to speak up and take initiative. With the support of the Accelerating Healthy Agriculture and Nutrition project, funded by the European Union and the Australian Department of Foreign Affairs and Trade, she has been leading Mothers' Nutrition Group, Farmer Group, participating in the Village Water and Sanitation Management Committee, and sharing her voice through Community-Change group meetings:
The project has brought us so many changes: water pipes directly connected to our houses, home gardens, chickens, fishes that let us eat diversified food every day, a stronger sense of hygiene with toilets flourishing in every house, more peaceful relations between husbands and wives, parents and children. But most of all, I feel that now my voice counts more than ever, and it's a special feeling.
Close to the Vietnamese border, in Samoui district, Saravane Province, Arork is also progressively leading the change in her community, by guiding youth through the "stress and storm" of adolescence. Aged 24, the young mother is the Adolescent group facilitator of her community. While she was once shy, she now doesn't hesitate to speak up and raise awareness on taboos in her ethnic group, especially on sexual and reproductive health:
I firmly believe the information will be beneficial for adolescents. I will ensure to share this knowledge with them, so they will not get involved with drugs or get married too early
Not far from Saravane, in Champasack province, Mae Tui is another role model and inspiring woman who has been carrying the weight for her family after her husband passed away. Living in a district where food access and diversity are a luxury, Mae Tui received much-needed support from World Vision, with the provision of fingerlings that are already positively impacting her daily routine and improving the nutrition of her grandchildren:
I had given up hope for a better future. But today, I am confident in what is yet to come because this is our source of food. After my family received the fingerlings from the project, it helped us to ensure that my children and grandchildren have more food to eat.
Last but not least, Kongkham, a 24-year-old woman, has shown that a brighter future is possible for children supported by World Vision. Once a World Vision-sponsored child, she joined the aid agency in 2021 as Education Coordinator for the iREAD project, which significantly improved the literacy skills of Lao primary school students in Thapangthong district, Savannakhet, in the past three years. After fulfilling one of her dreams by joining World Vision, she is now eager to give back what she has been given once: the power of change.
I believe that there are many young people in rural communities, facing many difficulties to keep studying. To those young people, and especially the girls, I hope that my story can be a motivation for them to keep believing in their dreams
World Vision serves the most vulnerable children and their families for 39 years in Lao PDR. In close partnership with the Government of Lao PDR and development partners, the aid agency has directly impacted the lives of more than 67,000 Lao women and girls in 2022, with activities related to nutrition, health, food security, access to water and better hygiene, education, and child rights and equity. World Vision commits every day to support the Government of Lao PDR in reaching Sustainable Development Goal #5 to achieve gender equality and empower all women and girls in Laos.