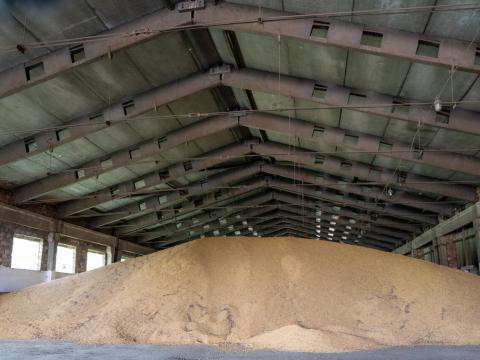 World Vision welcomes first grain shipment leaving Ukraine, hopes it is a step towards peace and tackling global hunger
Tuesday, August 2, 2022
World Vision hopes cooperation over grain exports will open the door to an urgent scale-up in shipments
August 1, 2022 – International humanitarian organisation, World Vision, has welcomed the departure of the first shipment of grain from Ukraine's Odessa sea port, and hopes it will be the first of many that are urgently needed to tackle a global starvation crisis.
The ship, which left today at 9.30 local Ukraine time, is heading to Lebanon which is currently embroiled in a deteriorating humanitarian crisis. More than 2 million people in Lebanon require emergency aid in addition to 1.5 million Syrian refugees who do not have access to basic lifesaving services. In June last year about a third of the children in Lebanon went without a meal or had sleep for dinner and with the worsening hunger crisis/grain shortage World Vision fear that it will become the way of life for the majority of children living there.
 "Millions of people around the world rely on Ukranian grain. Without it, children and their families face increased food shortages and worrying price spikes." says Jennifer Neelsen, World Vision's Ukraine Crisis Response Director. "For months, the conflict has prevented any sea shipments, so humanitarian agencies, including World Vision are hopeful that this is only the first of a regular flow of further shipments. Right now, some 20 million tons of grain are bottlenecked in Ukraine. Hopefully it can begin to flow out."
Around the world almost 50 million people are caught up in a global hunger crisis and are one step away from famine that would put vulnerable children at risk of severe malnutrition or even death. The dire situation has been exacerbated by the conflict in Ukraine, conflicts across the globe, the COVID pandemic, climate change and other shocks.
Jennifer Neelsen says: "Grain export cannot solve all the hunger problems resulting from climate change and conflict, but it will hopefully deescalate the crisis and contribute to more affordable prices for those worst affected. The shipment is a drop in the ocean of what is required, but it's a start. We hope the shipping agreement holds. Food flows need to be scaled up immediately if lives are to be saved."
World Vision is currently responding to the largest ever humanitarian response in its 70-year-history and aims to reach 22 million people in 25 worst-affected countries with food and life-saving assistance.
For information about the World Vision Ukraine Crisis Response, visit: www.wvi.org/emergencies/ukraine
For information about World Vision's Global Hunger Response, visit: https://www.wvi.org/emergencies/hunger-crisis
To organise an interview or get further information, please contact: Iris Manner, World Vision International Media Manager, iris.manner@wveu.org +49 172 916 0878
Notes to Editor  
World Vision is a Christian humanitarian organisation dedicated to working with children, families and their communities to reach their full potential by tackling the root causes of poverty and injustice. World Vision serves all people, regardless of religion, race, ethnicity or gender.  For more information, please visit www.wvi.org or follow us on Twitter @WorldVision.