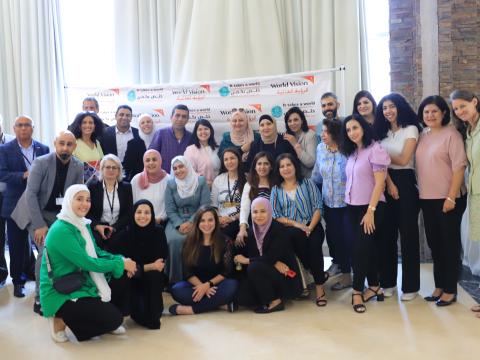 World Vision Celebrates 15 Years of Successful Interventions in West Ramallah Area Program
Thursday, September 22, 2022
World Vision Jerusalem - West-Bank - Gaza closed its Area Programme in West Ramallah on Monday 19 September, 2022 after 15 years of successful operations.
Looking back to those years World Vision made a remarkable effort to support the most vulnerable children living in seven vulnerable villages in West Ramallah, to live their life to its fullness.
World Vision implemented projects in different developmental areas such as; education, health, social emotional, and social change.
None of this could be done without the partnership with the local partners and local initiatives in those villages, the collaboration with the government and of course the generous contributions from sponsors and World Vision USA, all of them united together to make the world a better place for children, as a result West Ramallah targeted communities are now more sustainable.
World Vision worked with 19,000 students and 4,000 caregivers participated in Education in Emergency "EIE", early childhood developmental programme such as Learning Roots.
Isra a mother from one of the villages in West Ramallah AP, participated in Learning Roots programme. She explained, "before knowing World Vision we used to neglect the simple educational tools around us, but now I have learned how to use the simple tools such as using popsicle sticks for educational purposes, and not throwing them."
42,000 children and 7,000 adults participated in Positive Discipline, Student parliaments, awareness campaigns, or received support for child protection incidences. Ahmed is a former parliament student who said: "World Vision taught us our rights, developed our understanding and reinforced our spirit".
40,000 children, 7,800 mothers, and 120 health service providers received enhanced health services through Go Baby Go, child friendly clinics, school hygiene promotion and environmental protection programmes.
There is a legacy of well-educated and committed community health workers in each village.
In total 7,000 children 6 to 18 participated in various clubs – whether IMPACT, Sky, or Makani to improve their life skills.
Closing Day Celebration
The closing ceremony was an opportunity not only to jointly look back on the work that has been done and the results achieved, but also to celebrate the long-term impact the programmes have, and acknowledge the willingness of the people living in these communities to take ownership in all initiatives.
"Due to the partnership and close collaboration with our partners we were able to serve and contribute, fulfilling our own mission as a Christian organisation to make the world a better place for children. It is hard to leave. We leave knowing there are still gaps in economic development. We hope we have built an environment which supports students through PSS activities as well as equipping the communities with Disaster Risk Reduction tools. I hope you can understand that many villages in the West Bank have never received such support and it is time for us to help them as well." says Ms. Lauren Taylor, National Director for World Vision Jerusalem West-Bank Gaza.
ENDS.
For further information or to organize an interview, please contact: info_jwg@wvi.org

World Vision is a Christian humanitarian and development organization dedicated to working with children, families and their communities to reach their full potential by tackling the root causes of poverty and injustice.
World Vision serves all people, regardless of religion, race, ethnicity or gender.  For more information, please visit www.wvi.org