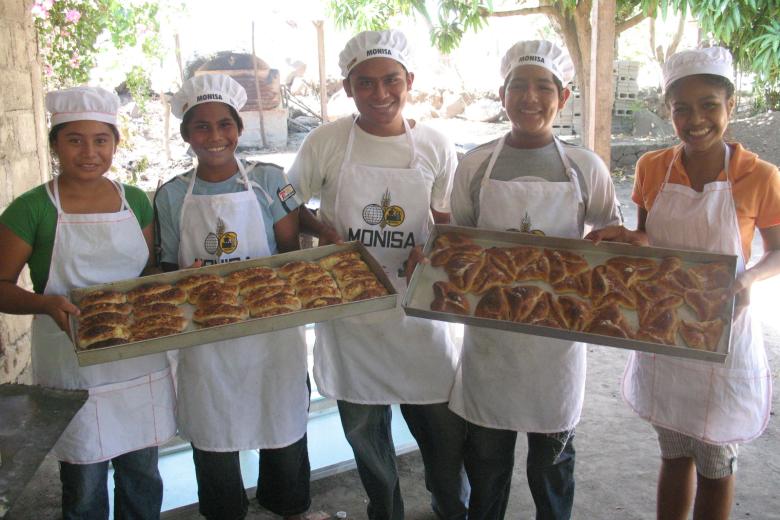 A group of entrepreneurs from Playa Grande: Example of determination and delivery
Thursday, October 4, 2012
It's Thursday, it's 9 am in Playa Grande, where we found five young enthusiasts. Flour, pans, laughter and pleasant conversations are part of the environment that is enjoyed in the house that runs the bakery San Antonio.
The house where the bakery is the community leader, Ms. Maribel Barrios, which has provided support to young people and enjoying an ideal location for the sale of fresh bread and warm that occurs every day .
About five months ago, a group of teenagers and young adults between 14 and 22 years old, were organized and asked World Vision training to jump-start a bakery project in community Playa Grande, located in Granada. In this community there is a business of this nature so that young people thought that would be a point in its favor and help them to be self-sustaining.
"We started ten, but now we are only eight" says Betty. They meet two to three times per week, depending on product demand and the sales performance.
Betty, a 18 year old, thin, dark, enthusiastic and eager to get ahead is a member of this group of entrepreneurs. "I want to beat and not be here no more, I'm sure that this learning will help me reach my goals," he emphasizes.
Besides working during the week with the group, she studied in the evenings its fourth year of secondary school in the community. He comes from a family of eight children, "I am the greatest, my sisters are 14, 15 and I 18" Betty explains.
"At first I found it difficult to study and participate in the group, but I have the support of my parents, and most importantly is that I can contribute something in the house," he says with a smile. His father Don Wilfredo Alvarez, has been the breadwinner, who works as a welder and doing craft boats.
Like Betty, the other young people feel that the community supports this initiative. About one in the afternoon the bread is ready and people will slowly reaching to buy, but these young people go to the grocery stores in the community to offer the bread.
World Vision is supporting initiatives like these, especially when those involved are young and eager entrepreneurs succeed. Some members of the group of bakers have completed their secondary education, but have been unable to continue studying at the lack of resources. Today, being in a new activity and it also generates some resources are motivated.
During this time, World Vision has supported the group with the raw materials and utensils own bakery. Asking young people about the sustainability of the group, quick smile and say "we're selling." It is a dream of all the profits that can help sustain and buy whatever you need them.
Ruben, 18, another of the young members of the bakery, says they want to change the products: "We have requested that we train in baking, to improve the product and have something more novel" highlights.
In the community of Playa Grande, World Vision supports initiatives with young entrepreneurs, and bakery group, are one of hammocks and other crafts.