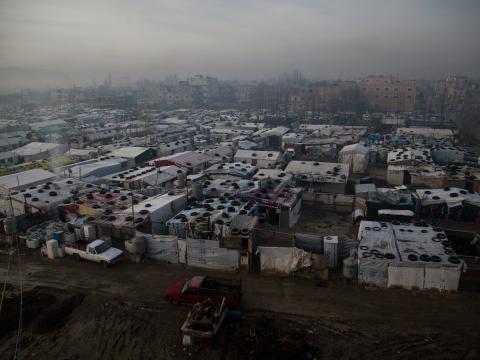 World Refugee Day
Never before have the immediate needs of vulnerable children and their families been so great. Some 20 million refugees, half of whom are children, have been forced to flee violence in places such as Syria, Somalia, South Sudan and Central African Republic. According to the United Nations, only one per cent have been resettled.
It is easy to get overwhelmed by the numbers, but it is important to remember they represent children like 13-year-old Batoul, a Syrian refugee now living in Lebanon, who wanted to be a lawyer but was instead forced into early marriage because her family felt they could not protect her, let alone feed or educate her.
During a protracted crisis, it is important to ensure children still have access to education. After all, if children are the future, they must be able to read and write. However, less than two per cent of emergency response funding goes toward education. One of World Vision's most successful literacy programmes in Iraq, may soon have to close for this very reason.
Children like 8-year-old Hassan are at real risk of becoming a lost generation. He would love to go to school and learn to write his name, but intead spends long hours working; collecting garbage to support his family.
Education is a life-saving intervention and should be guaranteed for every child. That's why this World Refugee Day, we're advocating for Governments and donor agencies to priortise education. You can help by tweeting the following message:
Only 2% of emergency funds go 2 education. @worldvision says kids like Kaima suffering consequences http://bit.ly/24UNoZN #withrefugees 
World Vision is providing aid in many ways- directly to refugees, working with partner NGOs, and with government agencies. Our interventions include:
We're also involved in the effort to overcome the root causes of conflict through our peacebuilding initiatives. Learn more about how World Vision's peacebuilding helps communities protect and empower children affected by violence. Peacebuilding and Conflict Sensitivity
World Vision recently partnered with Frontier Economics to evaluate the economic losses to Syria, Lebanon, Jordan and Turkey, to provide insight into what life might have looked like for these children if there had been no conflict and into what future impacts are likely to be if the conflict continues. Read and download the report for a greater understanding of the true costs of conflict.
News release: Intensifying displacement flows will create an uncertain future for children
Nairobi, Kenya (2016-6-17):  As the world marks World Refugee Day, forced displacement flows due to the closure of the globe's largest refugee camp, the growing impact of El Nino, and the Syrian crisis, are likely to intensify with especially harmful impacts on children, warns a leading international humanitarian agency....Read more.