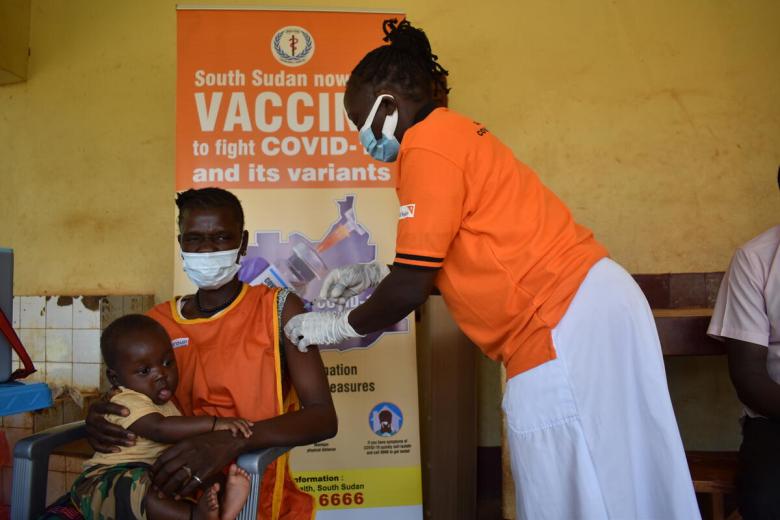 COVID vaccination math should make us uncomfortable
Dan reflects on the COVAX Platform in Year 3 and says that a pandemic that threatens the global population requires a global collective response.
I feel like it just needs to be said up front: 'fair and equitable' vaccine distribution at the global level, in the context of the COVID-19 pandemic, was never going to happen.  
In reality, the world was just not prepared in any meaningful way – legally, logistically, or politically – to manifest it. Also, despite the right ethos, calls for a 'People's Vaccine' were more appropriate for the next pandemic – there was no feasible way the global architecture was going to be restructured overnight for COVID-19 vaccines. Beyond just global supply chain challenges, it was projectable from the outset that national and sub-national actors would struggle to get risk communications and demand creation right, as has always been the case with mass immunisation campaigns. It's not easy to ensure fair and equitable distribution when whole countries denounce vaccines and influencers at every level capitalise on vaccination sensitivity to gain political power.   
Into this void stepped the Access to COVID-19 Tools Accelerator's (ACT-A) Alliance, with a bold middle-of-the-road solution to promoting as much global equity in COVID-19 vaccine distribution as possible: COVAX – a global collaboration focused on providing innovative and equitable vaccine access. Building on GAVI the Vaccine Alliance's 20 years' experience promoting routine childhood vaccines, COVAX established a pooled funding mechanism through which it would attempt to achieve immunisation coverage of the most vulnerable 20% of the world's population across 92 low-income countries as rapidly as possible.
The World Health Organization's (WHO) Strategic Advisory Group of Experts' (SAGE) then provided targeting guidance and recommendations for how to prioritise distributions to populations fairly and equitably. By and large, early budgets for this work were met by donor countries and advance procurement contracts signed. However, it is now quite an interesting matter of perspective to evaluate how successful this venture has been. On the one hand, the 20% coverage target has not been met in the participating countries, while vastly greater coverage has been achieved across high-income countries. On the other hand, distributing 1.3 billion vaccines is no mean feat.  
Regardless, COVAX is the right answer to the global vaccine distribution equity question.  
While bilateral deals between donors and developing countries may have resulted in greater transfers for unused COVID-19 vaccines, they do not promote international equity, proven by the current vaccination coverage status across low-income countries. We find many of the poorest countries have yet to reach 20% coverage, with the 25 least wealthy only having 1.2% of vaccines, affirming that the geopolitically or economically disadvantaged will not benefit from that system.
An infectious disease that threatens the global population requires a global collective response.
Had wealthy countries and pharmaceutical companies assimilated that fact, COVAX would have been much better enabled to manage an effective global vaccine distribution. Yet, currently the math should make us all a bit uncomfortable:  
11.3 billion COVID-19 vaccines have been administered globally to date – enough to fully vaccinate 101% of people over-18 (or 72% of the entire global population).  
However, only 58% of people have received a complete initial protocol.  
Furthermore, by 2021, global manufacture capacity was approximately 12 million doses. So, it stands to reason that by now more than three-quarters of the world's total population could have been fully vaccinated if the vaccine pool was equitably and efficiently managed. Such a scenario is impossible without COVAX.   
Thus it is time to double down on COVAX investment, both for the continued work on COVID-19 vaccination and to refine a model for doing better when the next pandemic rolls around. There is no better mechanism for achieving economy of scale (ironically, wealthy countries could save a lot of money through COVAX procurement), for negotiating across diverse actors and systems, and for coming into alignment with equity guidelines.
While COVAX is imperfect and may not be able to address end-to-end supply chain challenges – notably demand – it is the right prototype. Noting that demand and vaccine trust is a critical and predictable prerequisite for success, the Act-A Alliance must also ensure adequate coordination and investment into that end of the supply chain in order to get arms to vaccines. Civil society actors are essential for that work and must be well represented in planning and implementation.     
Nearly half a billion people have already been infected with the virus, maybe more, and more than 6 million people have died from COVID-19. Millions more, including children around the world, have been severely affected by the social disruptions and aftershocks though. Is that a sufficient level of preventable tragedy to galvanise global commitment to make each of us safe? We will soon find out in the upcoming COVAX replenishment summit to be held in Germany this month. 
Learn more about World Vision's response to the COVID-19 emergency here 
Dan Irvine is World Vision's Senior Director, Sustainable Health. His career spans years working as an aquaculture extension in the Republic of Congo with the U.S. Peace Corps; managing national programmes in Congo and Zambia, and within government ministries; and working as a consultant providing technical training, assessment and evaluation, grant writing and programme start-up.  He is currently highly engaged in global policy setting, and leading World Vision's engagements with a host of global organisations and bodies include the World Health Organisation, PMNCH, Scaling Up Nutrition, the Ebola Vaccine Deployment Acceptance and Compliance programme, the Global Schistosomiasis Alliance and more.
Subscribe to see more content like this