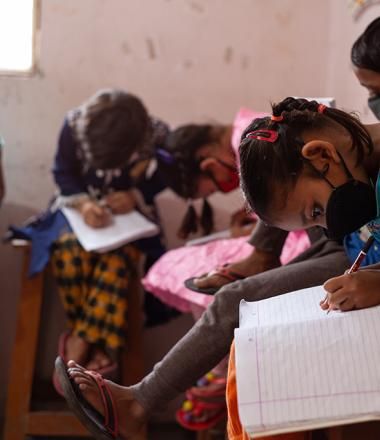 COVID-19 Emergency Response
Across the globe, World Vision teams are working to limit the spread of COVID-19 and reduce its impact on at least 72 million vulnerable people, including 36 million children. We urgently need $350 million to reach those at greatest risk.
Donate Now
A global pandemic requires a global response. At World Vision, we are united across every operational area, programme and office.
For the past 70 years, when disaster strikes, we are on the ground, quickly providing immediate support: COVID-19 is no different.
We are responding in every country where we work in one form or another, our global COVID-19 emergency response, aims to provide targeted support to reach at least 72 million vulnerable people - including 36 million children - focusing on situations of pre-existing vulnerability and fragility, where children are most at risk - conflict affected contexts, urban slums and refugee settings.
The devastating aftershocks of the crisis are putting at least 30 million children's lives at risk while putting 85 million more children are likely to experience violence. We urgently need to address both the direct health impacts of the virus and the indirect impacts brought about by viral containment measures
In every country and community where we work, we are committed to both limiting the spread of COVID-19 and also reducing its impact (physical, emotional and economical) on vulnerable children their families by: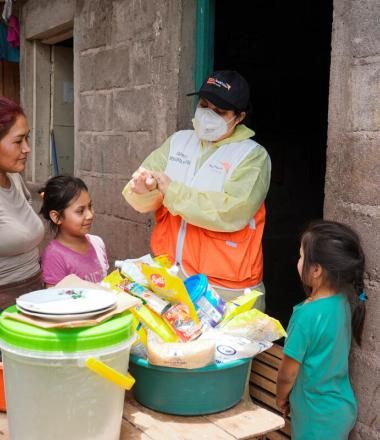 Our Impact
59,592,488 people reached and counting
See how our efforts are helping us: 
Limit the spread of COVID-19. Strengthen health systems and workers. Support children affected by COVID-19. Ensure the most vulnerable children are protected.
Protecting vulnerable children from COVID-19
World Vision Responds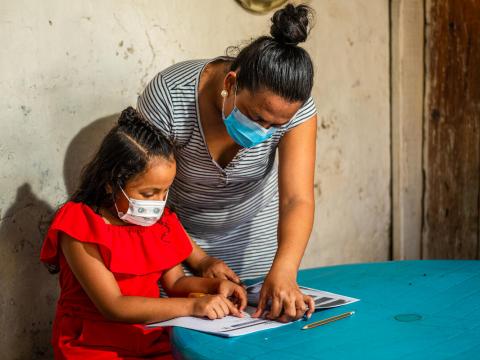 Distributing study guides in Honduras
World Vision is providing education assistance to girls and boys who do not have access to the internet so they continue their studies and not be left behind.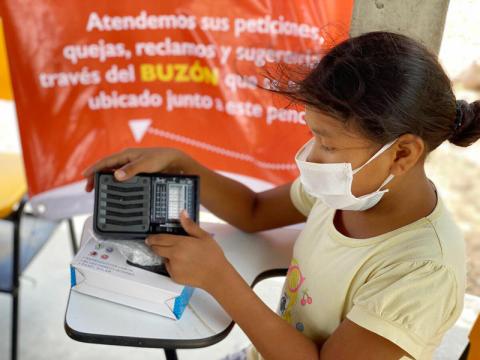 Providing radios to ensure children can continue learning in Colombia
In partnership with Education Cannot Wait, Ana is receiving a radio from World Vision so she can receive lessons at home while schools are closed due to COVID-19.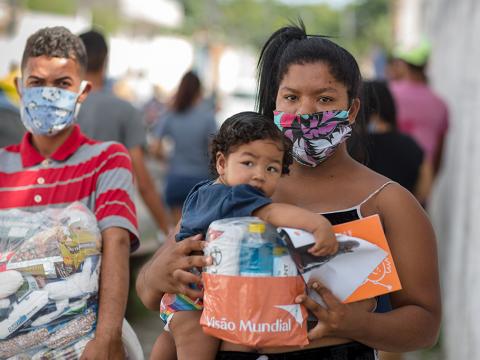 Supporting families with food baskets and hygiene education in Brazil
In partnership with XP Inc. and local organizations, we have helped 1,800 vulnerable families in Maceió city to limit the impact of COVID-19.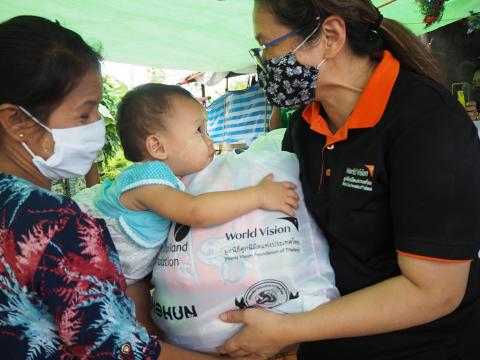 Bringing hope to vulnerable migrant workers in Thailand
With support from the Pfizer Foundation, we are distributing survival kits packed with rice, canned fish, cooking oil, milk, and dried food, as well as soap and alcohol sanitising gel.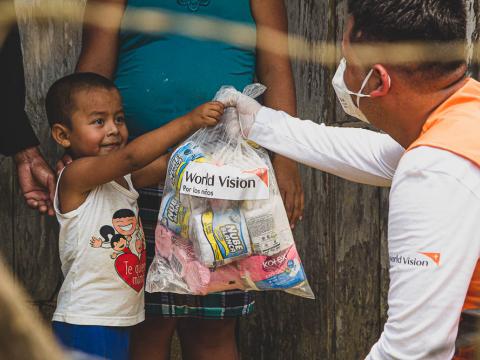 Delivering food and hygiene kits to families in Honduras
We're delivering food and hygiene kits in Florida and Copán Ruinas, as a response to vulnerable families affected by COVID19.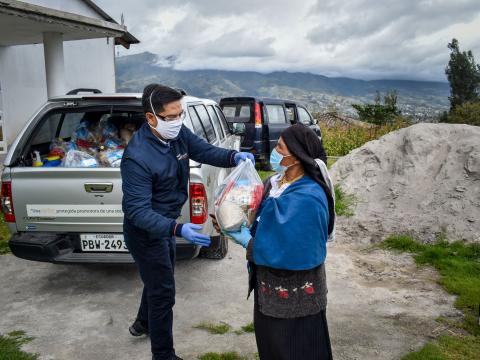 Distributing food kits in Ecuador
We're providing food kits to the most vulnerable families in Otavalo, Ecuador, many of whom are unable to work and have lost their regular incomes due to the lockdown in the community. The food kits include tuna, cooking oil, rice, sanitary towels, dried lentils, salt, sugar, and other essential items.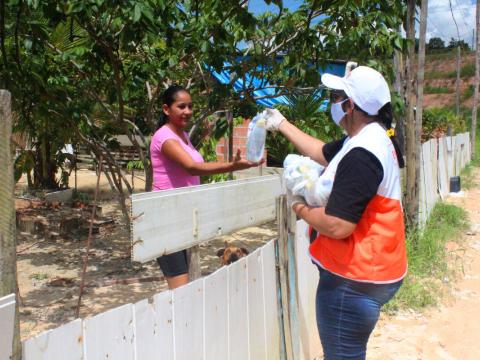 In Brazil, World Vision staff distribute hygiene kits to protect children and families and limit the spread of COVID-19
In Manaus, the city hardest-hit by the COVID-19 pandemic, together with local churches and leaders, World Vision staff distributed 5,000 hygiene kits and masks to families in need. Léia a single mother of three who lives in a neighbhourhood with little access to drinking water, was especially grateful. "The hygiene kit also comes when I need it most," she said.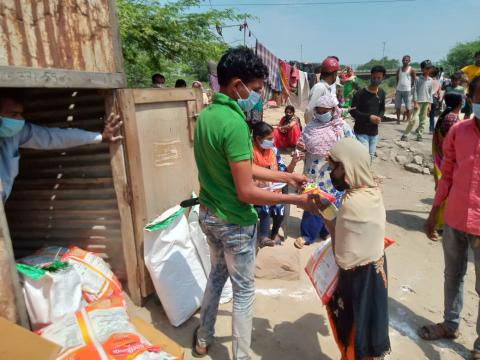 Distributing meals to families in India
For many children, COVID-19 has made their families' existence more precarious, and when they aren't eating well, children are at an increased risk of malnutrition. World Vision has responded to this threat. As of May 2020, we have provided over 200,000 cooked food packages for families in Delhi, India, and we are supporting over 18,000 households with dry rations.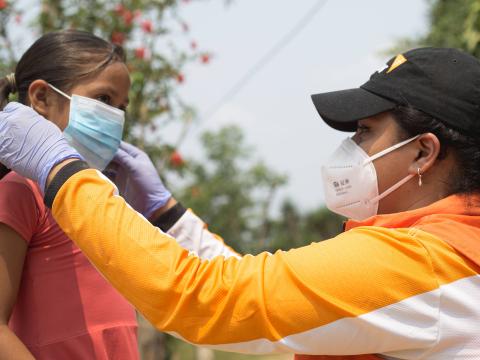 Staff takes care of children in Honduras
While food rations, agricultural packages and hygiene kits are delivered in Honduras, World Vision staff also gives care and attention to children, providing face masks and encouragement during the COVID19 pandemic.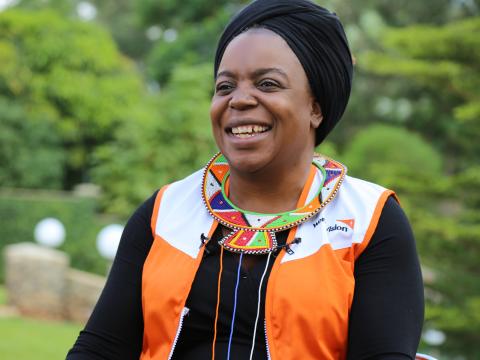 Keeping Hope Alive Amidst COVID-19 in Kenya
Keeping hope alive in Kenya entails: protecting oneself and others from getting the disease, tackling the spread of rumours, staying informed about current trends or progress in the COVID-19 fight, and maintaining healthy relationships during social distancing. 
Read More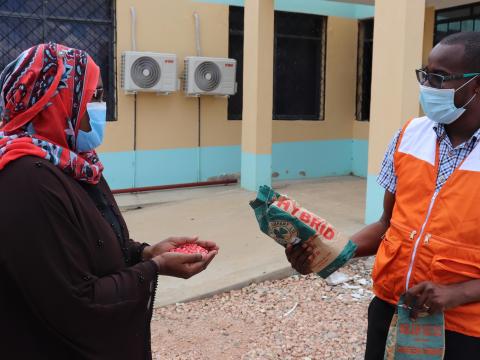 Providing for communities through seed distribution during COVID-19 food insecurity
"The seeds distributed are part of World Vision's initiative in Tana River County to improve food access for families and reduce malnutrition in children by increasing and improving agricultural productivity and food security," said Emmanuel Mkoba, the World Vision Area Programme Manager for Lamu and Tana River cluster in Kenya.
Read more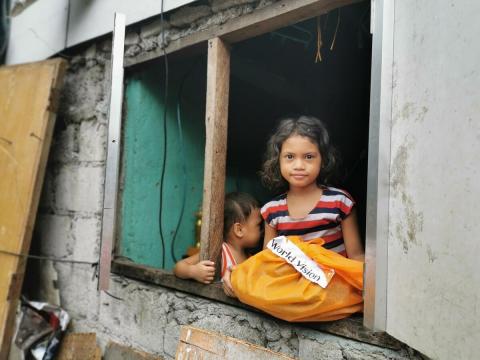 Providing nutritional support for vulnerable families in Philippines
While our staff work to limit the spread of COVID-19, we are equally concerned about the secondary impacts the virus can and is having on vulnerable families, many of whom live day-to-day. Our report, looking at the secondary impacts of COVID-19 found that as many as 5 million children are at increased risk of malnutrition. To help combat that threat, our team in Philippines 3.8 tonnes of vegetable to support the nutritional needs of vulnerable children and their families.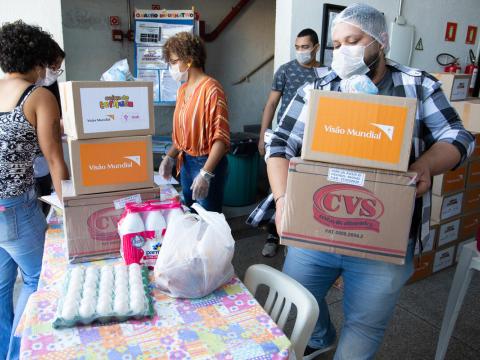 Helping keep children healthy and continue learning in Brazil
World Vision teams in Brazil partnered with churches to pack and distribute 1,000 tenderness boxes to vulnerable children. The boxes included school materials to help children continue their learning while at home, food to guard against malnutrition as well as hygiene materials (soap and hand sanitizer) and information on what children and their families can do to protect themselves from the virus.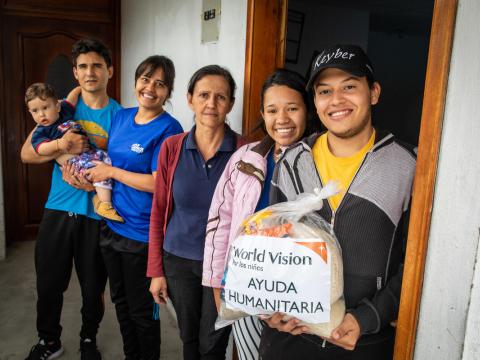 Distributing food to vulnerable Venezuelan migrants and their families
Although we are responding in every country we work in in one form or another, our global COVID-19 emergency response focuses on situations of pre-existing vulnerability and fragility. One group of particular concern are migrants who often live day-to-day like Keyber, 20, and Valentina, 18. Keyber is unable to work during the quarantine and worries about how he will provide for his wife who is 7 months pregnant.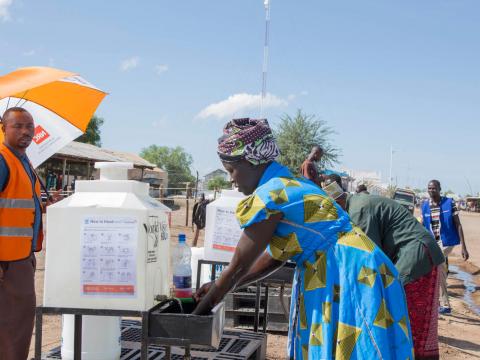 Preventing COVID-19 while continuing life-sustaining work in Kenya
Around the world, we are working to limit the spread of COVID-19 while also protecting vulnerable populations from the secondary affects, such as increased malnutrition. In Kenya, our dedicated staff members have altered processes to include handwashing stations and social distancing measures in order to continue to provide life-sustaining food through distributions to refugees.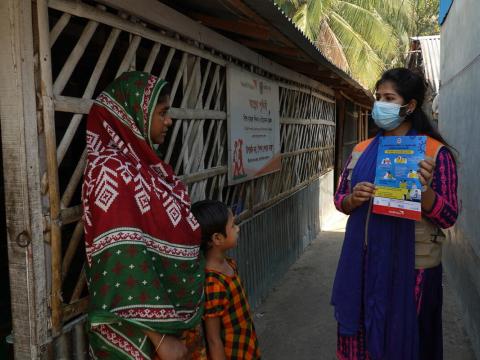 Helping communities understand what the coronavirus is and how they can protect themselves
Mili, 28, a trained World Vision staff member, goes door-to-door (to avoid large gatherings) educating families about the coronavirus and how they can protect themselves.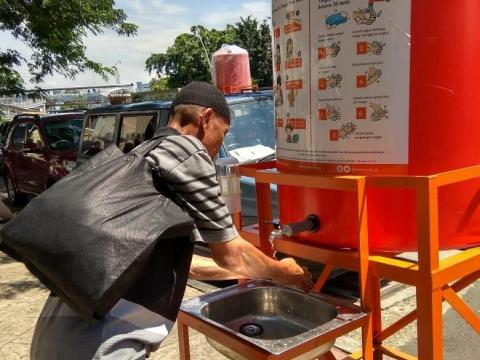 Providing public handwashing stations in Indonesia
In Indonesia, World Vision teams are installing public hand-washing stations with instructions on proper hand-washing proceedures in public areas. Handwashing is one of the main ways individuals and communities can protect themselves but in many communities regular access to facilities is challenging.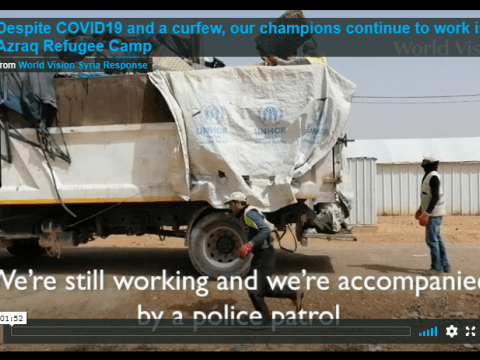 Providing Sanitation in Jordan amid COVID-19 Lockdown
In response to the Coronavirus outbreak, the Jordanian government imposed a curfew four days ago across the country preceded by a lockdown on most movements. 
Our champions went above and beyond and stayed inside Azraq Refugee Camp to continue collecting solid waste as part of World Vision's Solid Waste Management project.
Watch Video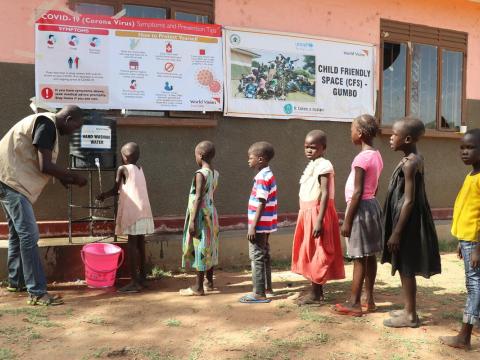 Preventing COVID-19 in South Sudan
Sebit James, World Vision's Child protection social worker in South Sudan, guides children at one of the child friendly spaces on how to wash their hands properly to avoid diseases, including COVID-19.
Learn More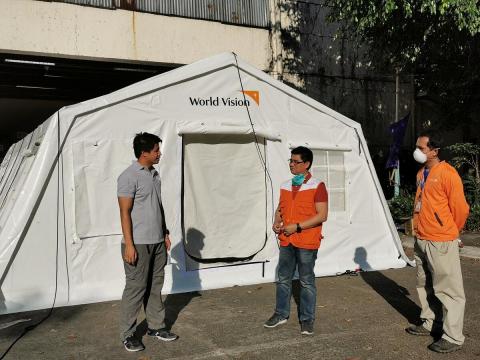 World Vision donates tents to hospitals in the Philippines
To support government efforts and protect health workers and other vulnerable populations, World Vision provided three tents to one of the COVID-19 referral hospitals, identified by the government. According. The tents will be used as an extension of the emergency room and triage areas where individuals with suspected cases of the coronavirus will be tested before entering the hospital setting, helping to protect patients with other sicknesses and also frontline medical staff.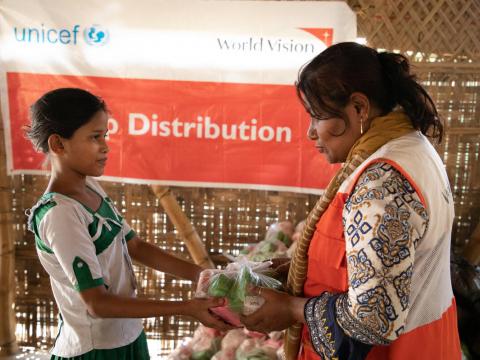 Protecting refugees from the coronavirus (COVID-19) by distributing soap
Nurankis, 11, understands the danger the coronavirus could bring to her or her family. "People can die if infected by the Corona virus. I need to avoid dirty places, crowds and going outside unnecessarily," she said. For this reason, she happily receives soap for her family from World Vision.
In partnership with UNICEF, World Vision staff are distributing 10 pieces of bathing soap and 5 pieces of laundry soap per family per month so that they can properly wash their hands to protect themselves.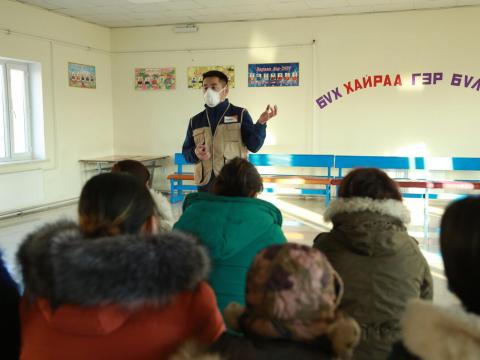 In Mongolia, World Vision staff members equip parents to protect their families
World Vision staff member educates parents of sponsored children about the coronavirus (COVID-19) and helps them understand steps they can take to protect themselves and their families from contracting the virus.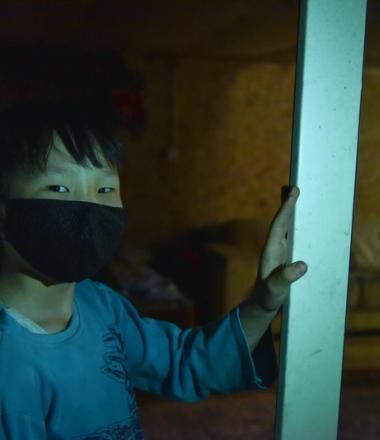 COVID-19 Aftershocks
Deadly Waves: Multiple waves of COVID-19 threatens millions of lives if leaders fail to prioritise vulnerable people
As many countries begin to ease lockdowns and reopen their economies and schools, they face potentially new waves of COVID-19 if effective steps are not taken to tackle the disease everywhere. This report looks at the findings of surveys, historical trends of pandemics and what a second wave of COVID-19 may look like as well as providing recommendations to prevent or mitigate additional waves.