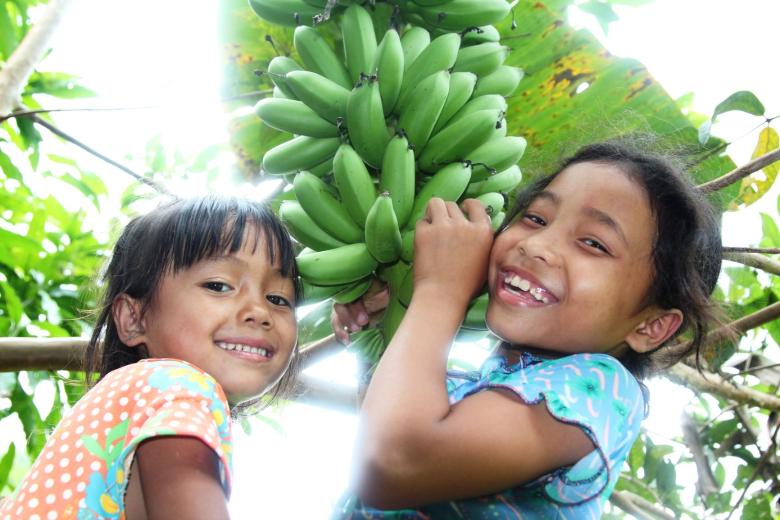 #DayOfTheGirl: So much still to do.
World Vision experts in gender equality and social inclusion are proud to see programming that protects and equips girls to thrive, but call for more to be done.
By Abigail Howe-Will, Julia Smith-Brake, Sarah Shteir
Despite major strides, girls and women in countries all around the world still face monumental challenges. It is nothing short of an outrage that, for so many girls, discrimination starts at birth and can affect their whole life course.
Adolescence is a particularly important life stage for girls' well-being. Their lives are increasingly marked by inequitable gender norms and practices, enforced by parents, peers, and within schools as well as other community and social institutions.
For example, adolescent girls are more likely than boys to experience harmful practices like child marriage. UNICEF estimates that one in five adolescent girls is married before the age of 18. Starting in early adolescence, girls face increased risk of death from "HIV/AIDS, complications associated with early pregnancy, childbearing and unsafe abortions, unintentional injuries, and suicide."
Research has also found that girls are less likely to complete secondary school or access secure employment and are more likely to be exposed to intimate partner violence and sexual abuse than adolescent boys. Many of these differences are driven by gender norms.
It's not right and it shouldn't be the norm.
On International Day of the Girl Child the three of us think back to our own experiences as girls, recognising our incredible privilege and the way our life trajectories were shaped by supportive people, systems and attitudes. We are now raising boys and girls of our own, committed to helping them support the shared global vision of gender equality, transform gender relationships, acknowledge their own privilege, and make space for different voices. 
We are excited to be part of an organisation committed to partner with girls, their families, communities and leaders to address gender inequality and its impacts on girls' lives. World Vision's programming benefits millions of children each year, yet we recognise we cannot fully contribute to vulnerable girls' and boys' well-being within families and communities unless we too understand and address in our strategy planning harmful gender norms and exclusion.
To this end, World Vision has made ending violence against children, particularly girls, the focus of its global campaign, It Takes a World to Address Violence against Children. Over recent years, work on this campaign has led to reports like  'COVID-19 and Child Marriage: How COVID-19's impact on hunger and education is forcing children into marriage'. 
It has also led us to spotlight programming that helps to address violence and discrimination against girls. It has led us to engage children and youth to build positive and equitable gender norms and relationships, to empower them to advocate for equality with their families and communities as well as to focus on girls' education, which is an important protective factor against child marriage, pregnancy and intimate partner violence. Education has been linked to increasing girls' well-being, empowerment and access to opportunities as they become adults as well as to better health and education outcomes for any children they may have in adulthood.
In Zimbabwe, World Vision is supporting the Improving Girls' Access through Transforming Education  (IGATE) Project, funded through the UK's Girls Education Challenge. This programme seeks to identify and reduce barriers that limit and hinder girls' access to education, retention and learning outcomes, working at all levels from individual to government.
Alongside formal education, informal learning and life skills training can be helpful to support girls' well-being and education outcomes too. Through youth clubs, like IMPACT+, World Vision is supporting adolescent girls to develop skills, relationships, and confidence to lead initiatives in their communities and to participate in community governance. Girls are more likely than boys to participate in civic life and advocacy; we have an opportunity to amplify their voices on issues important to them.
We are, however, just one organisation. Our hope and prayer is that people who share our vision of a just society that treats all girls and boys fairly and with respect with join us, and the girls themselves, to bring about lasting and meaningful change for every child. So that perhaps, in time, we won't need to mark International Day of the Girl Child at all.
Abigail Howe-Will is World Vision's Technical Director -  Gender Equality and Social Inclusion
Julia Smith-Brake is World Vision's Senior Adolescent Programming Specialist
Sarah Shteir is World Vision's Senior Gender Equality Advisor
Subscribe to see more content like this