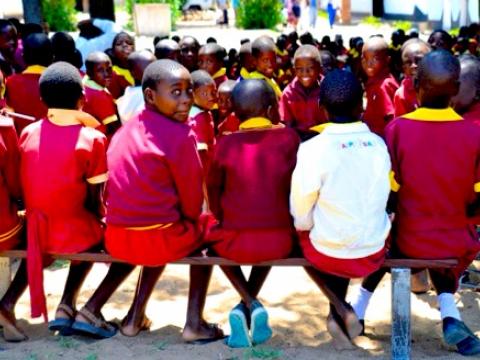 IGATE: Improving Girls' Access through Transforming Education
The Improving Girls' Access through Transforming Education (IGATE) programme aims to identify and reduce the barriers that limit and hinder girls' educational access, retention and learning outcomes.
Funded by the Girls Education Challenge Fund through the UK Department for International Development, this four-year programme (2013 – 2017) will reach approximately 101,448 marginalised girls from 467 schools located in four provinces in Zimbabwe.
Read the IGATE 2014 - 2015 Annual Report
IGATE works with all stakeholders in a girl's life – government, families, schools, churches, traditional leadership, boys and men and the girls themselves – to create a multi-layered, holistic and sustainable programme that targets the nine major barriersto girl's access to education, retention in school and learning outcomes.
Read about the nine main barriers to girls' education success
Projects like "Power Within" clubs for girls, Mothers' Groups, Village Savings and Lending Groups, Religious and Traditional Leader Education and local and government advocacy, along with others, address the barriers to girls' education success and support the aims of the programme.
Learn more about how the programme benefits girls and entire communities:
Approach to gender and education
IGATE's multi-layered approach is a critical strategy for implementation in a sector as complex and interconnected as gender and education. Looking at current barriers and trends within third world communities, single focused gender initiatives are no longer targeting barriers comprehensively leaving girls in empowered but still disadvantaged states far beyond programming exit.  IGATE also focuses on a variety of key emerging trends in gender programming today such as:
Highlighting gender disparities
The effects of marginalisation
Religious beliefs
Sanitation practices
Innovations in income generation
Measuring IGATE's impact
In addition to the programme interventions, IGATE uses a quasi-experimental design, with the tracking of a cohort of girls through both treatment and control schools, using a monitoring and evaluation strategy that will allow the project to report gains, impacts, successes and lessons learnt through proven tracking methods and tools.
Related links:
 ________________________
Consortium partners include: World Vision UK, World Vision Zimbabwe, CARE International in Zimbabwe, SNV, Evangelical Fellowship of Zimbabwe, Union for the Development of the Apostolic Church in Zimbabwe Africa (UDACIZA), World Bicycle Relief, Happy Readers and Emthonjeni Women's Forum.