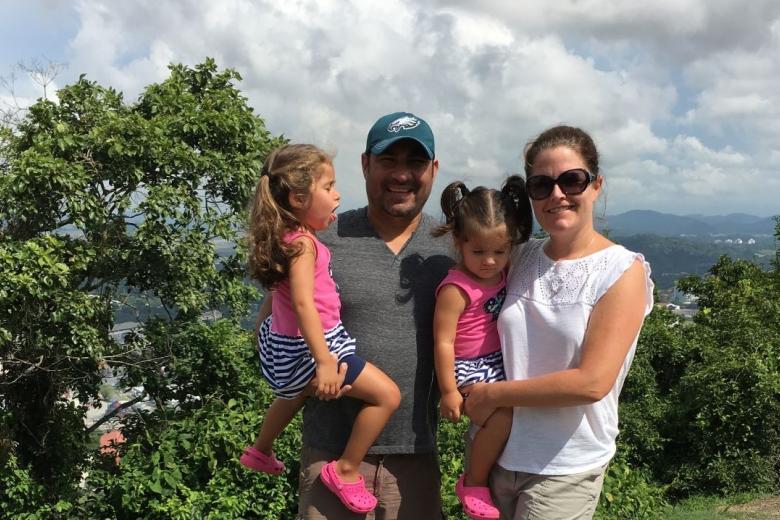 Sister Warriors: What I learned from Venezuelan girls and young women fighting for a better future during COVID-19
By Amanda Rives Argeñal
(Picture: Amanda with her family living in Panama)
COVID-19 has affected every facet of our work and personal lives this year. This is probably an understatement. We have lost family members and friends, or been sick ourselves. Many of us are working from home, isolated from colleagues and friends, and suffering from Zoom fatigue, (I hear it is a real thing). At times unpredictable remote learning schedules mean that we are also worried about our children's screen time and lack of social interaction. We worry about finances, our national health systems, and the future of multilateralism. Routine, daily decisions are crippling. Is today the day I prepare to go to the grocery store? Should I insist on an outside visit to elderly relatives who have not seen anyone in months? Is an outdoor gathering with the neighbours worth the risk? 
Record COVID-19 cases are expected as we enter the winter season; and like everyone, I have no comparison or touch-point to prepare for it. 
I keep telling myself: as long as I can keep my children safe through this next season, we can get through this. My children are missing school, ballet, and their friends. Nevertheless, they are safe in a loving home, healthy and well-nourished. They ride bikes in the neighbourhood; have excellent teachers who have adapted to remote platforms, and enjoy an endless supply of books and activities from the public library. In the end, as a parent, I can sleep at night.
But in Venezuela, millions of parents, grandparents, and caregivers cannot sleep at night. Nearly five million people have fled the country since 2016. World Vision's surveys of migrants and refugees in neighbouring countries find that more than 80% have lost their source of income since the pandemic began. One in four children surveyed were away from their parent(s) during the pandemic, one in three went to bed hungry, and 63% were not in school. These children, displaced by no fault of their own, found even greater discrimination in their host communities once the pandemic began. The situation is so dire that thousands of families who had sought refuge in Colombia, Brazil, Bolivia, Ecuador, and Chile are again on the move. After losing their jobs in host countries and facing eviction, many are making the difficult decision to head home, usually on foot, only to be denied entry when they reach the border. 
Before the pandemic, Venezuela faced an unprecedented humanitarian crisis driven by political instability, a deteriorating socio-economic situation, and growing insecurity and violence. COVID-19 officially arrived in March 2020 on top of a collapsed economy and gutted public health system. Venezuela ranks among the least prepared countries to respond as two-thirds of health care workers lack even the most basic personal protective equipment (PPE) like gloves and soap. The education system was already collapsing with approximately one-third of teachers fleeing the country before the pandemic. 
Children inside Venezuela and in neighbouring host countries further suffer from a lack of documentation, impeding their access to what remains of health and education systems. Refugee, migrant, and returnee girls and boys face discrimination as displaced, disposable populations. Children suffer all types of exploitation and abuse, and inevitably, child labour and exploitation, child marriage, and early pregnancy are all on the rise. World Vision's research inside Venezuela at the end of August revealed that:
•            49% of respondents in Venezuela reported an increase in child marriage
•            21% reported an increase in family separation
•            20% reported an increase in child labour
Recently, a group of Venezuelan girls and young women took their plight to the international community to make their voices heard. The brave testimony of Judith, Mariangel, Antonella, and Daniela calling in from Venezuela, Colombia, and Ecuador demonstrated the threats these girls face every day: homelessness, early pregnancy, fractured families, violence and insecurity, and extreme hunger. They voiced their concerns for their parents' employment; their ability to access remote learning; their lack of ability to connect with displaced family members. They shared how other young women and girls are at this moment living on the streets without any protection. These girls and young women are warriors fighting for a better future for themselves, their children, and their sisters and I have no doubt they will prevail. 
Sadly, these are concerns that no child, parent, or caregiver should ever have to include in the list of worries, especially during this current pandemic.
My family lived in Panama for several years, and our youngest daughter was born there. Our closest friends were displaced families from Venezuela. As parents of small children, we all relied on each other, sharing meals, passing down clothes and toys, and resting in the knowledge that we had support. 
However, the major difference in the dynamics of our friendship group was that my family chose to be there; the Venezuelan families had no choice but to flee their own country, leaving their loved ones, resources, and possessions behind. They desperately missed their extended families and friends and would have given anything to go back. But they kept going forward, even when things seemed so bleak. Unlike them, I have one crucial advantage; I had – and still have – options.
Millions of Venezuelan children and their families are out of options. Their government and the international community has failed them. Inside Venezuela and in neighbouring countries, these children are living precariously on a double-edged sword where COVID-19 has exacerbated inexcusable violations of children's and human rights. We cannot sit idly by and watch the education, health, safety, and future of millions of Venezuelan girls and boys, dissipate before our eyes. 
Amanda, the Senior Director for External Engagement and Resource Development in World Vision's global Disaster Management team, called Panama home for a number of years. A recent encounter with four Venezuelan girls reminded her of the displaced Venezuelan families that became her own network while living there - and the suffering they left behind. Follow Amanda on Twitter @AmandaRivesA
Read the report: A Double-Edged Sword: Protection Risks Facing Venezuelan Children During the COVID-19 Pandemic
Subscribe to see more content like this