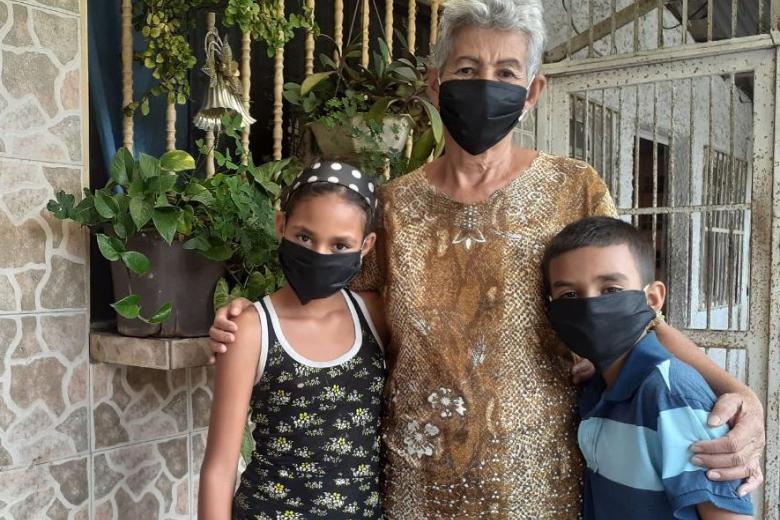 Fighting malnutrition in Venezuela
Tuesday, July 21, 2020
Danfred, 12, and his younger sister Jehisy, 11, live with their grandmother, Oly, in Miranda state, Venezuela, not far from Caracas, the capital. The three have struggled to survive the horrible effects of the years-long political and economic crisis here.
"Their parents did not care for them," says Oly, 69. "I have raised them since they were months old and I have had to fight hard for years, through Danfred's malnutrition, just to put one foot in front of the other." 
The economic crisis is reflected in the vast majority of Venezuelan families without excluding the children. In Venezuela 1 in 3 people are food insecure, according to the World Food Program (WFP).
Not enough to eat
This boy is small for his age. He weighs only 22 kilos at age 12, a weight that corresponds to a 7-year-old boy according to the World Health Organization (WHO). His sister and grandmother are also underweight. 
"This has affected me a great deal emotionally and I get depressed," says Oly. "I ask God to  overcome this malnutrition problem. The Christian church has been a great support."
In Venezuela, many children are abandoned and have to face life fearful and on their own. Many stop attending school because they don't have an adult in their lives to motivate them. Danfred and Jehisy study, do well in school, and also train in the Los Teques city Youth Symphony Orchestra. Danfred's discipline and passion as a mezzo-soprano have made him a valuable member of the group. 
Oly has exhausted herself and her resources to provide for her children and instill good values. She has gone many a day without eating so that the kids could eat what little they had. On many occasions she nearly fainted in church after walking several miles from home. But since her tight-knit church knows her family's needs, they have been able to help them with food and other necessities and provide a spiritually nurturing community.
COVID-19 makes everything worse
The COVID-19 health crisis has compounded the already painful economic crisis for Oly and the children. While they do receive monthly food portions, they often have to skip meals to stretch what little they have. They generally eat carbohydrates like flour, pasta, rice, and grains. Sometimes they can buy vegetables and fruits through gifts or money they earn by begging. 
The kids also lack resources to do homework, such as internet, a computer, or phones with WhatsApp, which means they are falling behind in schoolwork during quarantine. The suspension of classes also means less food. 
Water shortages prevent necessary hygiene measures. And a lack of public services interrupts travel and transportation, and puts people at risk of health issues. Increasing inflation also reduces the amount they can eat at home. Her pension is simply not enough for food, health expenses, transportation, and other necessities like clothing and shoes.
"We all feel depressed," says Oly, who says she takes refuge in daily chores to avoid crying in front of her grandchildren. "We are keeping quarantine, but it is difficult to see the weight we have lost. Since the children do not attend school, they cannot count on one of their meals a day." 
This family is among the 7.9% (2.3 million) of the population experiencing severe food insecurity, according to (WFP). Danfred and Oly each lost 3 kilos during a recent 2-month period. Yehisy dropped 2-kilos during that period.  
She cries when she can't get them food or supplies to study. Sometimes they cry together, she says. 
God provides help through the church and World Vision
Oly has reasons to be happy, too. She asks God not to abandon her. And in early May, God showed her help through a food kit that Centro Cristiano Los Teques and World Vision delivered to her house. She and the children had not eaten protein in about a year, she says.
"It is a gift from heaven that has allowed us to eat protein again after so long," says Oly. "We eat mostly flour, but now I have invested this aid in a balanced diet that the children need." 
Despite their circumstances, Danfred and Yehisy are resilient children. 
Danfred and Yehisy are aware of their reality. But they are also normal kids with hobbies and dreams. Yehisy enjoys participating in church life and would like to learn how to make desserts during quarantine. Danfred loves singing, helping others, reading the Bible and talking to God in prayer. 
And despite their struggles during quarantine, their faith remains strong.