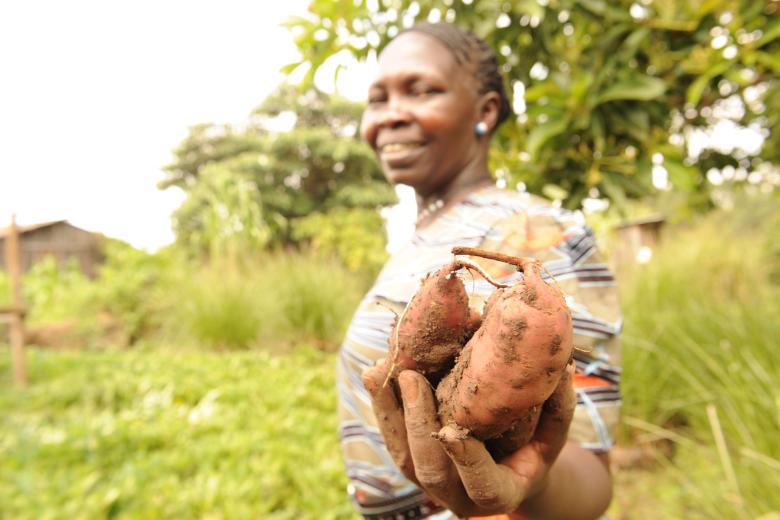 Want really effective malnutrition programming? Get transformative.
World Vision is working on a new nutrition framework that addresses gender equality AND empowerment through its nutrition programming
By Carmen Tse, Health and Nutrition Technical Advisor
Imagine you're told that you've got a condition that will lead to a disease that will make your condition worse! That is the reality facing millions of women and girls around the world today. A lack of gender equality is both a root cause of malnutrition as well as an outcome of malnutrition.
In examining all the immediate, underlying and basic causes of malnutrition in the UNICEF framework for malnutrition, you would find that every single one is affected by gender inequality at a variety of levels: societal, community,household and individual. For World Vision, ending malnutrition is a fundamental component to its mission. As a holistic humanitarian agency, ensuring children and their caregivers enjoy their right to adequate nutrition is not just the role of the health and nutrition team, or the emergency food team. The water, sanitation and hygiene; livelihoods; education team and even child protection team are all involved.  In light of the widespread, systemic gender inequalities, we cannot possibly realise the right to good nutrition without addressing and promoting the fundamental human rights for everyone.
Gender equality is vital to success
As with much of our programming, we have learned that without also working to foster gender equality, our efforts will ultimately fall short of the mark. Whether it's interventions for water and sanitation, microloans or now for addressing malnutrition: women and girls need to be equipped and empowered so that they share control and access to resources and decision-making power equal to boys and men.  We recognize that girls and women are powerful agents of their own change and empowerment.
When it comes to designing programmes to reduce malnutrition, without intentionally addressing gender inequalities, interventions and programmes may actually harm communities by exploiting or reinforcing gender norms to achieve programme objectives.
Be transformative
Gender mainstreaming interventions alone just don't cut it. The International Development Research Centre[1] agrees saying programming should go "beyond targeting women as beneficiaries to addressing barriers embedded in the underlying gender and social norms that keep both men and women from fully participating in and benefiting."
This is known in the industry as 'gender transformative' programming where promoting gender equality—the shared control of resources and decision-making—and women's empowerment are central to an intervention.
The potential of nutrition programmes to address gender inequalities can be unlocked by thoughtful analysis of gender and how it shapes the roles, relations, division of labour, access, control, power, beliefs, norms, rules and practices of families, communities, institutions, culture, and economy. 
What's more, analyzing results via careful gender-sensitive monitoring and inclusion of beneficiary groups (women, girls, boys and men) can support improvements of the project throughout its life-cycle.
A nutrition programming innovation
To support gender transformative approaches in nutrition, we have decided to adapt UNICEF's conceptual framework for malnutrition with a gender lens, to facilitate better design, monitoring and evaluation of multisectoral programmes. As far as we know, this gender transformative framework will be the first of its kind.
We're also working on a collection of tools for nutrition programme planners that provide the how-to for using the framework for programming:
·         Analysis of quantitative (gender-sensitive as well as sex-age disaggregated indicators) and qualitative data for gender analysis;
·         Gender-based results framework and related metrics;
·         Design of nutrition interventions with reference to gendered framework for malnutrition.
We hope this framework and guide will be a valuable resource for improving programmes for the rights of gender equality and adequate nutrition.
For more information and to contribute to the discussion about the framework contact Carmen Tse on carmen_tse@wvi.org
 [1] International Development Research Centre. 2018. Contributions to end global hunger: A synthesis of the Canadian International Food Security Research Fund *CIFSRF 2009 – 2018, Ottawa, Canada
Subscribe to see more content like this