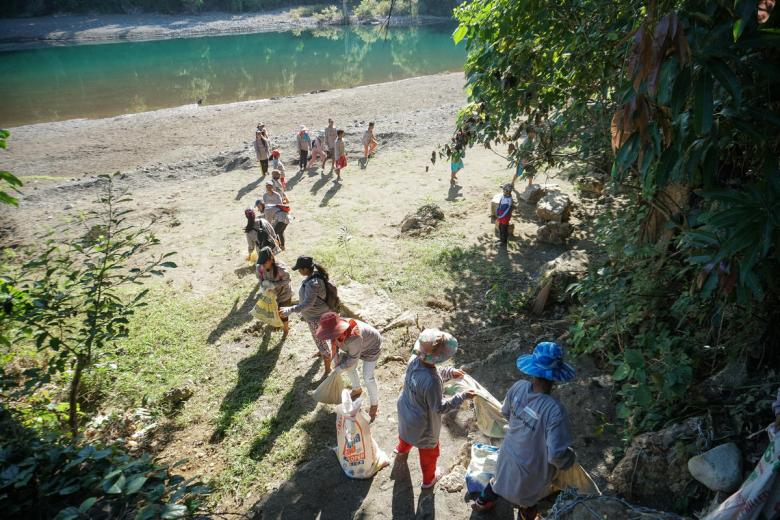 What are you doing on Sunday?
By Jason Garrett
So what will you be doing on Sunday? Like many people across World Vision I will be going to church. Or to be more accurate, I will be sitting down on the sofa in my lounge and watching the service on YouTube. This Sunday will be a normal service in my church, but across the UK more and more churches are focusing their services on the issue of climate change and looking ahead to the UN Climate Change Conference CoP26 in November.
An inter-denominational movement called Climate Sunday has been encouraging UK churches to host services that focus on the climate crisis, and has provided a lot of resources for sermons, prayers and songs - some of which are based on our work in livelihoods, resilience, disaster risk reduction and climate change adaptation.
I like it when the different parts of my life blend together like this, mostly because it means there's growing recognition of the devastating impact of climate change all over the world, but especially on the children in many of the communities where we work. Not only are children becoming more vulnerable to the disasters and catastrophes that are directly associated with climate change, such as more severe droughts, floods and storms, but climate change also contributes to other aspects of child vulnerability: the pressure on livelihoods for small holder farmers that comes from temperature increases; greater variability and unpredictability of weather can increase children's vulnerability to serious deprivation, which in turn leads to greater vulnerability to the worse forms of child labour and child marriage as families look for ways to cope.
A cynic might ask what difference Christians around the UK learning and praying together might make. Here are just five of the many reasons I think this is important – and monumental:
For a start, anything that helps people learn about the scale of this crisis, and to feel that they can do something, is incredibly valuable.

History is full of times when Christians coming together has resulted in real social, positive change, especially for the most vulnerable.

We need to get the word out that there are tangible things we can all do – supporting vulnerable communities to adapt to climate change and restore degraded environments, along with calling for global efforts to drastically reduce carbon emissions are all necessary to bring life in all its fullness to the world's most vulnerable children.

It is an outward demonstration of how important this issue is for Christians, in line with such theological concepts as "the earth is the Lord's", that we love our neighbours as ourselves, (and that "neighbours" includes everyone, even those who are different to us, as Jesus demonstrated in the story of the Good Samaritan), that we feed, clothe and care for those in need (Matthew 25: 35-40).

A Sunday service tells people of faith that action on climate change has the blessing of their church so there's no chance for them to think it doesn't matter or worry that the Church won't support them in acting on climate issues.
You can find resources here – although they are aimed at UK churches, they can quite easily be adapted and used with churches, community groups, and all faith communities. I particularly encourage you to look at these resources:
I'm looking forward to using them with my own church in September, but it won't just be the sermon that will be focused on climate change and environmental issues… There are now more worship songs that praise God for his creation but acknowledge the ways we have not taken proper care of our world, including If the Fields are Parched, Hear the Song of Our Lament, and Not the World You Created.
There really are no good reasons not to spend some time this Sunday reflecting and planning to take action, so what will you be doing?
Jason Garrett is World Vision UK's Senior Resilience Programme Adviser. Follow Jason on Twitter @JasonPGarrett
Subscribe to see more content like this