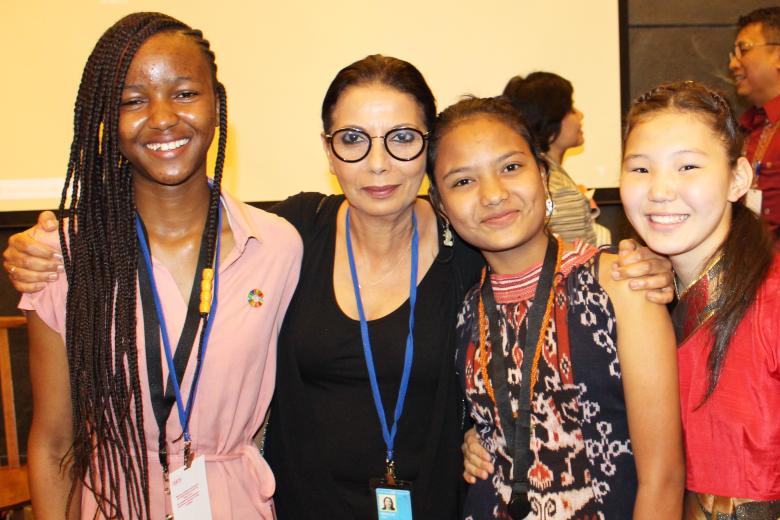 What young leaders are taking away from the High-Level Political Forum
Photo: Young leaders Liteboho, Roslinda and Nomurandi meet with the UN Special Representative to the Secretary-General Najat Maalla Mjid on violence against children during their time in New York
We sat down with our young leaders from Indonesia, Lesotho and Mongolia after a week of bringing their voices and the voices of children to the High Level Political Forum at the United Nations in New York.  Here are some of their reflections and thoughts based on their experience.
Liteboho, 17 from Lesotho
Twitter: @l_liteboho
At the United Nations, I was able to talk about the challenges children face in Lesotho. Two main challenges are child marriage and the need for good education. Presenting speeches and talking about these issues was a good experience for me! At the meetings I felt adults were listening to me. I only hope people will take action, especially governments. But first, people need to listen to the voices of children.  We cannot be ignorant.
Children are talking if you are willing to listen!  In Lesotho, children participate in the issues concerning them through a children's parliament.  In our parliament, we take on the roles of ministers of certain ministries.  We talk about our challenges there and we hope that our government will hear what we are saying so there will be change. Also one day, I hope children will have more say in the election process as well and that they will lower the voting age.
Together, we can do so much. We can think of more ways to end child marriage. We can end violence. We can make change.  



Nomurandi, 14 from Mongolia
Twitter: @Nomunda48381804
Being in New York at the United Nations was beautiful!  There were so many people who were open to what I was saying! And I was open too. I learned that every country is connected together and to each other.  Actually, we share a lot of the same problems even though our language and way of learning was different. Abuse and violence against children are very similar or even the same in many countries! Also, there is a lot of talk, talk, talk but not enough action. I want to know when we will talk less. Let's work together and make decisions together.
In Mongolia, we need to change that thought of punishing kids by hitting them as a discipline method. It is not a discipline method. People should get that out of your mind.  So we need to give information and news to everyone – to kids, adults, everyone. 
We have a lot of laws that protect children but apparently those laws are not working. When we give information to all sides – to kids, to adults, everyone - then people will start to understand what is wrong. Adults like teachers and kids need to know about the laws and what it means.  A lot of people underestimate children in Mongolia. That needs to change too. 
As I leave New York, the thing I take with me is information that I want to share – about the United Nations, about other countries, about my own country.  Let's stop underestimating children. 



Roslinda, 14 from Indonesia
Twitter: @InaRoslinda
A few weeks ago, I was only talking to my village. Now I am talking with people all over the world.  My happiest moments were when I was able to represent other children in meetings. We even met with the Special Representative to the Secretary-General on violence against children. She said she will carry our messages to others.
When I go back home, I will talk to my teachers and other students about what we can do to end violence against children. I am vice president of the children's council and I think we need more clubs that will focus on making change in our community. One idea is to make posters to stop violence against children. I want my village to know about the issues. I also want to expand the child forum so that children from other villages can join in.
To all the leaders and decision makers, please involve children on your discussions and government meetings.  I hope all the countries, all around the world, will have a united commitment to end violence against children.
Subscribe to see more content like this