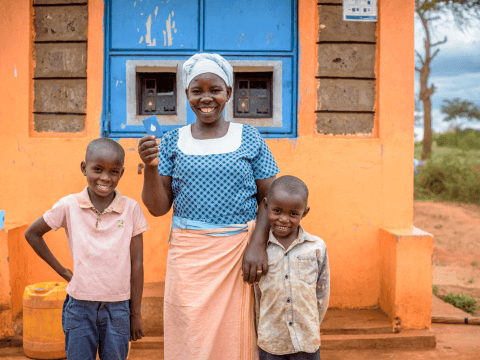 Grundfos Partnership
PARTNERSHIP PURPOSE & HISTORY
This partnership was called "truly historic and unique," by Rasoul D. Mikkelsen, director for strategic partnerships in Grundfos when it was announced in 2014. This is because not only were these two leaders in their fields – Grundfos, the world's leading pump manufacturer, and World Vision the largest non-governmental provider of clean water in the developing world – but because of their aim. Grundfos and World Vision planned to provide clean water to two million people in sub-Saharan Africa by 2020. In the first two years alone their partnership was responsible for clean water reaching 300,000 people in Africa and Asia. Only five years later the partners are well on their way to exceeding their original target.
 
OVERVIEW OF KEY COLLABORATIONS
Early on in the partnership, World Vision was making use of the Danish company's solar powered water pumps, mostly in sub Saharan Africa. The submersible pumps are particularly suited to work in remote areas of the world, where access to electricity is scarce, but sunlight is abundantly available. Then the aid agency worked with Grundfos to roll out one of its most innovative projects, Lifelink, in several countries across Africa and Asia. Grundfos installed self-service water kiosks called in locations lacking water infrastructure to serve families and communities. The kiosk is an automated water distribution point integrated with a mobile money payment facility in partnership with mobile phone companies. Lifelink offers real-time mobile data monitoring of water dispensed and payments made. This viable business model not only gave people access to clean, safe drinking water, but also allowed them to use water for other activities, like growing vegetables thereby improving people's health.
 
BETTER TOGETHER
The partnership builds on World Vision's extensive knowledge of the world's developing areas as well as their large network there, and on Grundfos' extensive technology and knowledge of water pump technology. But ultimately success is only possible with the additional contribution of grant donors and the local community members and leaders who are crucial in making any such project viable and sustainable.
"We are very proud to be part of this journey together with our strategic partner World Vision. Our partnership provides sustainable safe water for almost 1,7 million people in eight countries."


 
- Rasoul D. Mikkelsen – Grundfos.