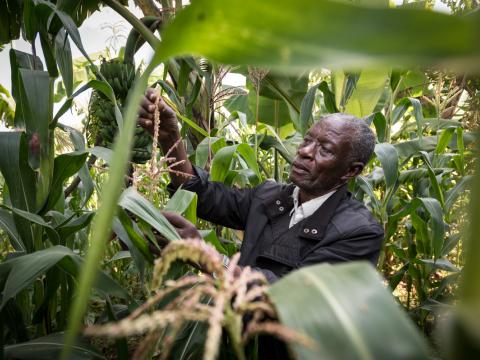 Joining Forces for Last Mile Nutrition
A Partnership with Purpose
We know that access to proper nutrition is at the heart of realising the Sustainable Development Goals: well-nourished children are 33% more likely to escape the vicious cycle of poverty when they grow up. This is why, in 2013, World Vision, Royal DSM and Sight and Life signed a joint agreement that would bring better nutrition to millions of the world's most vulnerable children. Royal DSM is a purpose-led global science-based company in nutrition, health and sustainable living. Over the years it has contributed to this partnership by leveraging its technical expertise and its vision for improved nutrition to develop needs-based nutritious foods. 'Think and do tank' Sight and Life has significant nutrition science and social entrepreneurship expertise and has worked to design, test and scale innovative, effective nutrition programmes. Global relief, development and advocacy organisation World Vision is a trusted presence in more than 100 countries and has decades of experience working with and in local communities. This, and its close collaboration with governments at all levels, means it has been a vital channel for the partnership to deliver training and nutritious food to local people.
"Combining Sight and Life's scientific expertise with DSM's nutrition solutions and World Vision's reach to the most vulnerable people makes this partnership highly successful."

- Klaus Kraemer, Sight and Life Foundation

Better Together
Over the past five years, the Joining Forces for Last Mile Nutrition partners have capitalised on the multiplier effect of working together. Their aim is to increase accessibility to, aspiration for, and availability and adequate consumption of nutritionally improved foods by populations at risk of nutritional deficiencies. The partnership has provided nutritionally improved food at the community level and worked to enable a national policy environment that encourages the same. The partnership works to influence powerholders and key stakeholders through engaging at the global policy level as well as via local-level media. It is also working towards generating income through impact investment and other innovative financing mechanisms, blended finance facilities and grant opportunities – all to support the partnership's aims.
Joint Projects:
Africa Improved Foods factory in Kigali, Rwanda
Egg-citing—better and more eggs for Asia
In Brazil: Last Mile Entrepreneurship
Our partnership helps builds innovative supply chains that benefit suppliers, producers, consumers and investors.
"Our unique partnership that combines DSM's expertise on nutrition with World Vision's outreach to the last mile, enables sustainable improvement of livelihoods. By joining forces and using our power to innovate through science in order to tackle malnutrition, we have a significant positive impact on human lives."

- Mauricio Adade, President Latin America & Malnutrition Programs and Partnerships, Royal DSM

Improving the whole chain
Projects to date have included supporting a successful public-private partnership in Rwanda, African Improved Foods (AIF), which makes fortified foods out of maize and soy bought from local farmers. AIF improves farmers' livelihoods and contributes to rural development by offering thousands of farmers training in post-harvest handling, as well as free transport, fair prices and free post-harvest services. AIF's objective is to address malnutrition and stunting in Rwanda and East Africa by manufacturing high quality nutritious complementary foods.
Other planned projects include replicating the success of post-harvest handling in Rwanda elsewhere on the continent and running projects to fortify poultry feed and increase egg consumption and consumer demand in Africa and Asia. The partnership is also launching a project in Brazil to encourage social business operated by grassroots entrepreneurs.


Investing in children
Evidence shows nutrition is the best investment the world can make to achieve lasting progress in global health and development. Every dollar spent on nutrition in the first 1,000 days of a child's life can generate an average of up to $45 in benefits. Tackling hidden hunger together will save lives while improving children's educational achievement and future earning potential. The world's children have the right to enough nutritious food and our partnership has shown that civil society, the private sector, think tanks, academia, funding agencies and governments must find new ways to work together to guarantee children everywhere a malnutrition-free future.
"Innovative partnerships like ours that leverage partners' expertise, collect evidence of what works and then scale that up will help the world realise the SDGs."

- Norbert Hsu World Vision
For more information about the Joining Forces for Last Mile Nutrition Partnership, contact Florentine.Oberman@dsm.com (Royal DSM), Marine_Adamyan@worldvision.ca (World Vision) and info@sightandlife.org (Sight and Life).