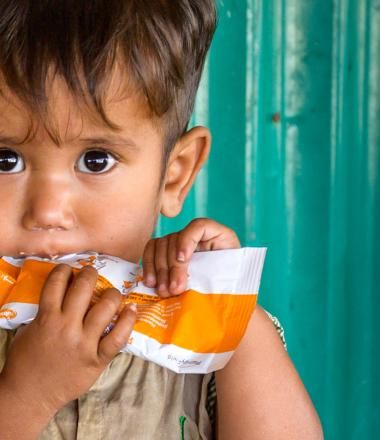 Nutrition
At World Vision, we envision a world where every child has the opportunity for life in all its fullness. Good nutrition is an essential foundation for health and development, yet malnutrition continues to be the world's most serious health problem and the single-biggest contributor to child mortality. As the largest private humanitarian organisation, World Vision has made addressing malnutrition a top priority. Our goal is to ensure that mothers and children are well nourished across our global programming reach.
Nutrition
7.5M
people received food support
225k
children treated for wasting
46k
pregnant and breastfeeding women supported
A world where all children are nourished
We are making progress.
In Sierra Leone, we have helped severely malnourished children make a full recovery. We have equipped parents to detect undernutrition in their children to prevent nutrition-related child deaths. We have supported the establishment of Women, Adolescent and Young Child-friendly Spaces (WAYCS), to support women to breastfeed in emergency contexts. We have seen vulnerable children's lives transformed through our work in nutrition.
However, there is more to be done. We see children dying from preventable issues because of violence, displacement, and poverty. We want hope to be restored.
We want to promote adequate nutrition for children. We want to strengthen health systems and communities to serve vulnerable people through the distribution of therapeutic food and community education on proper nutrition.
Learn about our Health and Nutrition Sector Approach (2020-2030): Time to Thrive.