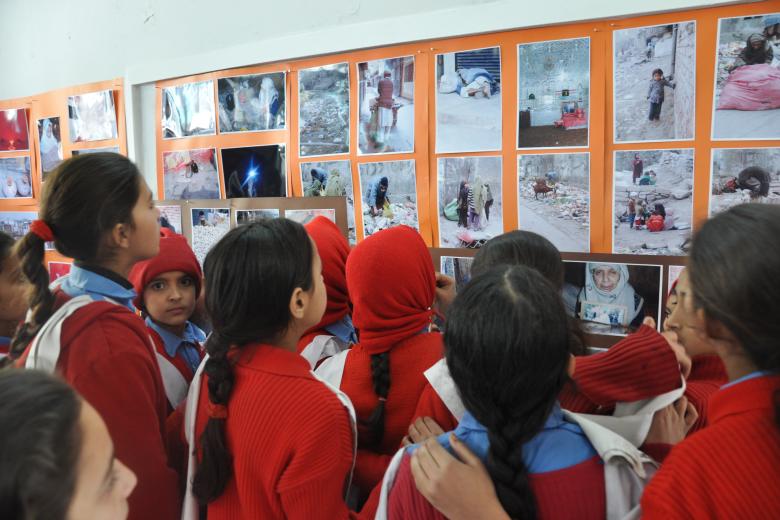 Using photography to fight child abuse and human trafficking
Thursday, July 26, 2012
A public photography exhibition displayed 100 powerful images captured by street children and youth within the "See it Our Way" project that was organized by World Vision and UK charity Photo Voice to advocate for their rights and raise public awareness around human trafficking in Pakistan.
The photographs and captions captured by the children were first displayed at an exhibition in the Pakistan National Arts Gallery (PNCA) in the federal capital Islamabad (on September 21, 2011) which attracted a large number of people from all walks of life.
"I never thought that our photos will be displayed and appreciated at such a big forum, I hope this will help in eliminating problems faced by us within our communities, especially child trafficking (Aghwa Karri)," said Waqas, while standing next to his photograph of a truck. He was speaking with an amused Shahid Rana, an ARY Television Channel correspondent, who was there to see the exhibition.
47 youth and children from World Vision's Manzil Drop in Centre (DiC) for street children, Saint Faith's Home (Shelter for children from broken homes) and Government Schools expressed their voices by capturing more than 250 powerful photos in their communities, following an intense 10 days training on basic photography.
Sharing the biggest scare of his life with World Vision's clinical psychologist, Waqas 16, revealed, "I was returning home from school when I was in class five, a man from a truck came out to me and started talking to me very nicely and offered me candies, When I refused to take the candies, he grabbed my arm and tried to take me to his truck. It was a hot summer day and there was no one around, I started shouting, kicked the man and ran towards my home. The man followed me to my street but fled away when my father came out of the house hearing my screams. This is the reason I am still afraid of trucks especially those which move around in our community for loading/unloading vegetables, etc. because that truck was loaded with potatoes."
The exhibition at the PNCA gallery was followed by a presentation of photographs and messages by the project children, on giant digital screens at several key locations of Islamabad to raise public awareness about trafficking issues in Pakistan.
Most of these children who work and or live on the streets have seen harsh realities of life at a very young age and are the most vulnerable groups to trafficking. They showed great interest in photography and participated in the training on photography to portray the issues that they or their friends face every day through the lens of their camera. The core issues highlighted after the training were the factors which contribute to human trafficking (mostly internal): corporal punishment, domestic violence, addiction, occupational hazards, unemployment, illiteracy and child protection.
Inspired by the success of the first exhibition in the Pakistan National Arts Gallery in Islamabad (on September 21), a second impressive exhibition was held in the Government Girls Elementary School (Khyabane Sir Syed) on January 26, 2012, which also attracted large numbers of students, parents and local community members.
"When I first sent my students (8 students who received training on photo voice) and accompanying teachers to the exhibition in the National Council of the Arts in September 2011, I did not expect this training to go this far. I am very glad to see the photographs of my school children making huge impact on National level on people from all walks of life, visiting the exhibition. So I wanted to hold this exhibition in my school to enable the remaining 300 children, their parents, teachers and community members who live in the slums of Pir Wadhi area to be able to see it and are made aware of the rights of children," remarked Ms Nujbha Hameed, principal of Government Girls Elementary School (Khyabane Sir Sayed).

"This is the first exhibition of its kind to happen in a government school, to empower vulnerable children living and working in hazardous environment, to speak up and raise awareness about issues that confront them every day through the camera lens. This exhibition has not only served as a powerful way of highlighting the protection and abuse issues rife within these communities but also changed the perception of the communities, parents and even the school teachers," said World Vision's Social Mobiliser, Inam Yasin. Most of these children have never used a camera before, the photography exhibition has not only helped develop their skills, but also boosted their confidence, he further said.
Looking through the lens caused them to see things in a different light; enhancing their confidence and self-esteem, and bringing a positive change in their life by making them more thoughtful, observing the lighter and brighter side of life.
The children feel less insecure now that they can depict sensitive issues like molestation and harassment through photography, which they previously could only share during individual counseling sessions, said Sana Mukhtar, World Vision's Clinical Psychologist. "Photography has helped children in doing their catharsis and bringing in them optimistic approach toward their problems," she concluded.
"I myself used to give corporal punishments to my students to ensure discipline in the class, but after seeing these photographs here today, I realized it is a wrong practice and no wonder a major cause of school drop outs," remarked Bashir Ahmad, a school teacher from Sargodha, visiting the exhibition at the PNCA in Islamabad.
According to the Trafficking in Persons report 2010, Pakistan is ranked Tier 2 in the report. But at the same time, the report pointed out that Pakistan remains 'a source, transit, and destination country for men, women, and children subjected to trafficking in persons'.
Trafficking of persons, especially children and women, has become a serious problem. The country's largest human trafficking problem is bonded labour, concentrated in the Sindh and Punjab provinces in agriculture and brick making, and to a lesser extent in the mining, carpet-making, glass bangle and fishing industries.
The Asian Development Bank estimates that 1.8 million people – one percent of the population – are bonded labourers. In extreme scenarios, when bonded labourers attempt to seek legal redress, landowners have kidnapped them and their family members. Boys and girls are also bought, sold, rented or kidnapped to work in organized, forced begging rings, domestic servitude and prostitution.
The Pakistan government is welcoming the role of civil society organisations like World Vision in the arena of anti-trafficking and is requesting them to develop a comprehensive way of information flow. Along with a few other organisations WVP has also been requested to step forward and ensure capacity building and rehabilitation programmes.