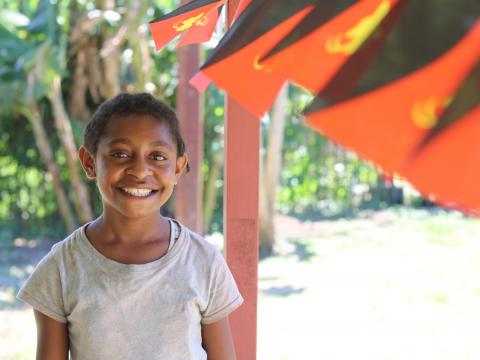 Regina conquers Tuberculosis
Wednesday, October 3, 2018
Regina, 10, took a deep breath, smiled, and then ran as fast as she could across the grounds of 6 Mile clinic in Port Moresby, Papua New Guinea. She was still smiling when she reached her goal post. Regina paused for a few seconds to catch her breath and then dashed back to where she started.
 "I like to run," Regina beamed. "In school, I am always first place in running," she said.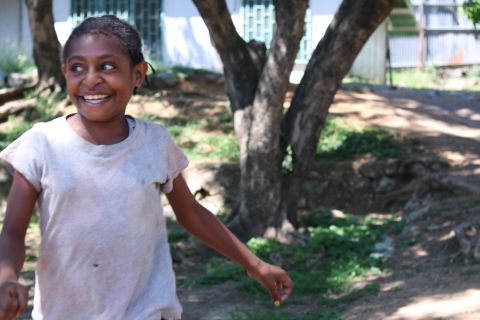 Regina runs as fast as she could across the grounds of 6 Mile clinic. (Photo: Tanya Hisanan/World Vision PNG)
Seven months ago, Regina and her mom, Ellis, 27, were both diagnosed with Tuberculosis and could hardly get out of their house, even their beds.
"When I was sick, I felt weak and slept a lot, I couldn't eat and I couldn't go to school," Regina recalled. In Papua New Guinea, around two out of 10 people with TB are children who often contract the disease from an infected adult living in the same home. In the settlement where Regina and her family lives, access to water and sanitation facilities is a problem, contributing to the spread of diseases such as TB.  
Regina and her mom were immediately put into a treatment regimen that involved taking antibiotics every day for six months under close supervision by a treatment supporter.  A treatment supporter is someone trained in administering TB medication following World Health Organization standards.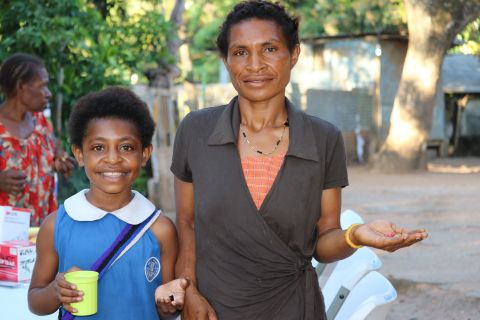 Regina and her mom, Ellis, would come to the outreach site to get their daily medication. (Photo: Nathaniel Kasi/World Vision PNG)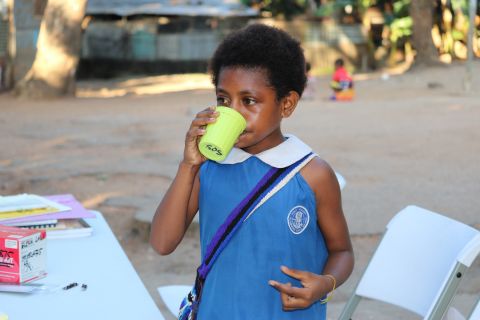 Taking daily medication is the only way to cure TB. With support from community volunteers, Regina took her medicine, without fail, for six months and is now cured of TB. (Photo: Nathaniel Kasi/World Vision PNG)
 "Every day, around six o'clock, Regina and I would walk to this outreach site and take our TB medicine," Ellis, Regina's mom, said.
 "It really helped that the site was close to our house and the market. I could still carry on with my usual chores and Regina could go to school after taking her medicine," Ellis said. "They (treatment supporters) would also come to our house to check on us," she added.
 The outreach site where Regina and her mom went to is one of nine sites in Port Moresby being managed by World Vision and the National Capital District Health Office, with support from the Australian Government. World Vision is running five other treatment sites in Daru, Western Province in close collaboration with the Burnett Institute, Daru General Hospital, and Daru Provincial Health Office. Daur is the country's hotspot for drug-resistant TB. These outreach sites were set-up to make TB services more accessible to communities. World Vision-trained TB treatment supporters with their supervisors run these sites supervised by the National Department of Health in partnership with the Australian Government and World Bank.
In Papua New Guinea, around 20 percent of people diagnosed with TB do not complete their treatment. A basic TB treatment regimen involves many months of daily intake of antibiotics to kill the TB bacteria. People start feeling well a few weeks after starting their regimen and often stop taking their medication thinking that they are cured of TB. Lack of knowledge about TB, and lack of consistent guidance and support are some of the main reasons why people drop out from the regimen.
 Treatment supporters play a crucial role in ensuring that people complete their treatment.
 "They (treatment supporters) treat me well at the site," Regina said.
 Six months after starting their TB treatment, Regina and her mom were found to be cured of TB.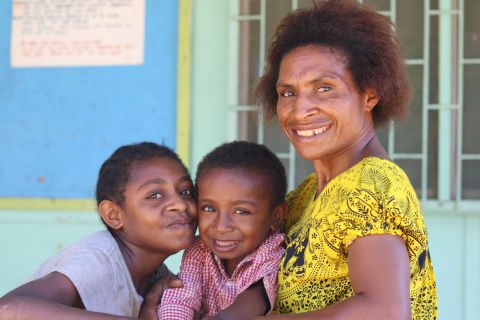 Regina and Ellis have stopped the spread of TB in their family. Regina's brother, three year-old Joseph, is happy and TB-free. (Photo: Tanya Hisanan/World Vision PNG)
 After her experience with TB, Regina feels confident imparting advice and encouraging her older cousin, who was recently diagnosed with TB, to take TB medicine daily. "I tell her to take her medicine and eat lots of fruits and vegetables," she said.
 "I don't want to be sick with TB again," Regina said. "I always sit near the window when riding the bus. I also avoid crowds," she added.
 "I want to be a missionary someday," Regina shared. "Our pastor, he often prays for me. I want to be like him and look after children and other people."
 Regina's favourite subject is English. "Every day, when I come home from school, I would teach Joseph, my brother what I learned in my English subject. I also practice my English with mommy and daddy," Regina said.
Regina and Joseph play around the grounds of 6 Mile clinic. (Photo: Tanya Hisanan/World Vision PNG)
Regina likes to teach Joseph English and spend time sharing what she learned from school to her younger brother. (Photo: Tanya Hisanan/World Vision PNG)
 "We all want our patients to get well," said Ronnie Kirokei, World Vision treatment supervisor. "Success stories such as Regina's and Ellis' motivate us to strive more and work harder to support our TB patients. It gives me great joy to see Regina and her mom happy and well," he added.
World Vision's Ronnie Kirokei, treatment supervisor, with Regina, Ellis, and Joseph. (Photo: Tanya Hisanan/World Vision PNG)