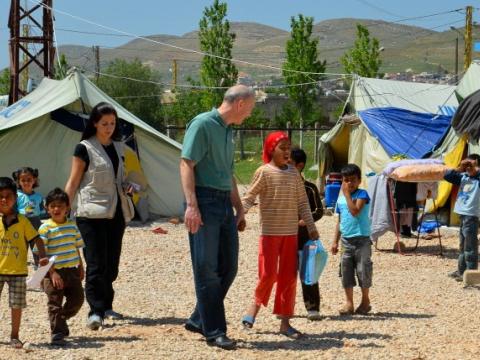 Davos, for good
Wednesday, January 29, 2014
There is something surreal about standing on a snowy Swiss mountainside among some of the world's leaders in business, politics and finance, and talking about the desperate need to do more for millions of Syrian refugees and displaced people.
Their situation is so urgent, and the opportunity of making a direct appeal so great, that I joined several of my peers from other charities and human rights groups at the World Economic Forum annual meeting last week to do just that.
Peace seems far off, yet the suffering continues for staggering numbers of Syrians, many of them children and women. While the civil war and the politics gets plenty of media coverage, those human needs do not. And so, we took the message to Davos, to try yet one more approach which might galvanise action.
As the crisis lurches into its fourth year, we and our colleagues in child-focused agencies recognise there is a huge threat of 'losing' a generation of children. No Lost Generation is our campaign to ensure that, whatever else happens in this crisis, the needs of the children for education, protection and stability are remembered.
The Davos meetings attract a lot of cynicism from commentators, but I was gratified by how many opportunities there were on the agenda to bring the needs of the most vulnerable to the attention of the world's most powerful. Here are a few of the highlights of the week for me:
Education: The 57 million children who are not currently being educated were considered in an event hosted by an accountancy firm, with a focus on "social impact investing" bringing new resources to efforts to get these children into school. This is a core intervention for World Vision, especially through child sponsorship
Nutrition: World Vision is an enthusiastic partner in the Scaling Up Nutrition movement, which joined the World Food Programme and the Global Alliance for Improving Nutrition in engaging corporate partners in discussing what more can be done for two billion people who suffer micronutrient deficiencies
Empowering girls: UN Secretary General Ban Ki-moon called for more investment in girls as a strategy for completing the Millennium Development Goals by 2015. Our own experience supports this; ensuring girls are well-nourished, in school and healthy is an investment in this generation which has measurable benefits for the next generation, too
Reshaping values: I was invited to be a discussion leader for a session which looked at the values which currently govern our social, economic and political life. This could only ever hope to be a short introduction to what must become a longer dialogue, but I did take the opportunity to reflect on the powerful good that has been done by people of faith in promoting health and education, women's empowerment, economic development and social stability
Better agriculture: In a small event of our own in Davos, it was an honour to sign a Memorandum of Understanding between World Vision and HarvestPlus, non-profit experts in breeding nutritious food crops. World Vision works with farmers in many places whose families and communities can benefit from the greater vitamin and mineral content which HarvestPlus breeds into staple crops, and we look forward to exciting projects as the year progresses.
How much difference can Davos make to huge issues like malnutrition, education and war? Only time will tell. But if the well-positioned people who gather for the World Economic Forum can turn the dial on even one of those issues, the results could be remarkable.
Learn more about World Vision's commitment to No Lost Generation in Syria.