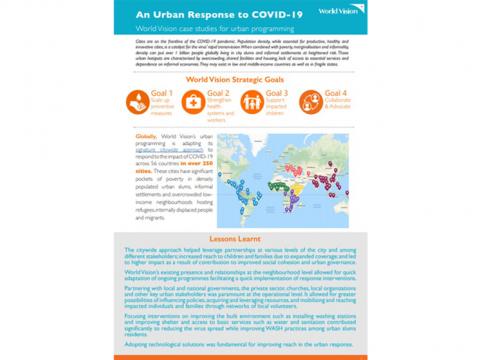 An Urban Response to COVID-19: World Vision case studies for urban programming
Wednesday, July 15, 2020
Cities are on the frontline of the COVID-19 pandemic.
Population density, while essential for productive, healthy and innovative cities, is a catalyst for the virus' rapid transmission. When combined with poverty, marginalisation and informality, density can put over 1 billion people globally living in city slums and informal settlements at heightened risk.
Globally, World Vision's urban programming is adapting its signature citywide approach to respond to the impact of COVID-19 across 56 countries in over 250 cities. These cities have significant pockets of poverty in densely populated urban slums, informal settlements and overcrowded low-income neighbourhoods hosting refugees, internally displaced people and migrants. 
These case studies from 11 of our offices look at how the city-wide approach is being implemented to maximize World Vision's contribution to the lives of the most vulnerable children in cities facing current COVID-19 challenges and predicted aftershocks.