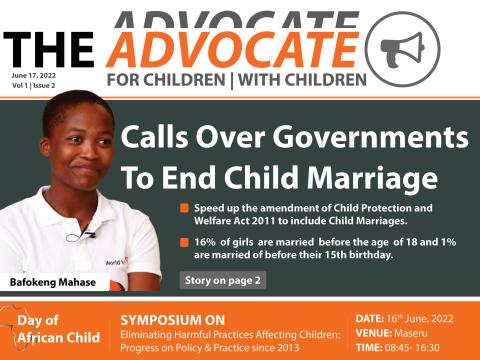 The Advocate - Issue 2: Day of the African Child
Monday, June 20, 2022
The Advocate is a publication designed to carry advocacy issues that children in Lesotho intend to share during the commemoration of the Day of the African Child at the symposium hosted by the African Committee of Experts on the Rights and Welfare of the Child - an African Union body to monitor the implementation of the African Children's Charter.
In this issue, children demand that the government pass the Child Protection and Welfare Bill 2020, which would put an end to child marriages. The publication's Opinion Poll section covers the issues of child marriage, child labor, and the initiation of children into masculinity. Members of the public discuss the negative effects of these behaviors on children.
Click-able videos have been embedded into the publication for you to watch and listen to how children's lives are affected by some harmful practices around their communities.