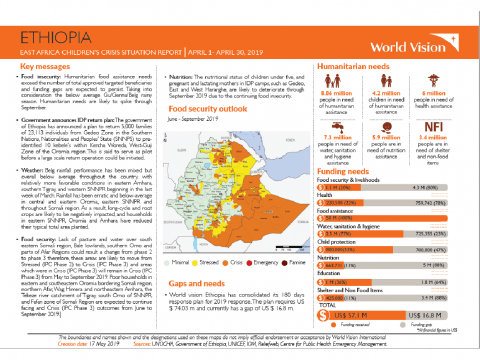 Ethiopia - April 2019 Situation Report
Thursday, June 6, 2019
Food insecurity: Humanitarian food assistance needs exceed the number of total approved targeted beneficiaries and funding gaps are expected to persist. Taking into consideration the below average Gu/Genna/Belg rainy season. Humanitarian needs are likely to spike through September.
Government announces IDP return plan: The government of Ethiopia has announced a plan to return 5,000 families of 23,113 individuals from Gedeo Zone in the Southern Nations, Nationalities and Peoples' State (SNNPS) to preidentified 10 kebele's within Kercha Woreda, West-Guji Zone of the Oromia region. This is said to serve as pilot before a large scale return operation could be initiated.
Weather: Belg rainfall performance has been mixed but overall below average throughout the country, with relatively more favorable conditions in eastern Amhara, southern Tigray, and western SNNPR beginning in the last week of March. Rainfall has been erratic and below-average in central and eastern Oromia, eastern SNNPR and throughout Somali region. As a result, long-cycle and root crops are likely to be negatively impacted, and households in eastern SNNPR, Oromia and Amhara have reduced their typical total area planted.
Food security: Lack of pasture and water over south eastern Somali region, Bale lowlands, southern Omo and parts of Afar Regions could result a change from phase 2 to phase 3 therefore, these areas are likely to move from Stressed (IPC Phase 2) to Crisis (IPC Phase 3) and areas which were in Crisis (IPC Phase 3) will remain in Crisis (IPC Phase 3) from May to September 2019. Poor households in eastern and southeastern Oromia bordering Somali region, northern Afar, Wag Himera and northeastern Amhara, the Tekeze river catchment of Tigray, south Omo of SNNPR, and Fafan zone of Somali Region are expected to continue facing and Crisis (IPC Phase 3) outcomes from June to September 2019.