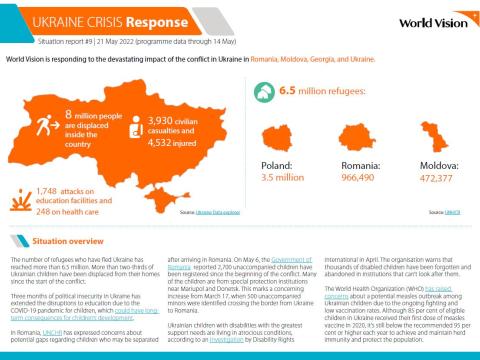 Ukraine Crisis Response SitRep #9- 31 May 2022
Monday, May 30, 2022
Currently, there are more than 6.5 million Ukrainian refugees taking safe shelter in neighbouring countries including Poland, Romania, Georgia, and Moldova. As well as this, over 8 million have Ukrainians have been displaced in their own country by the ongoing conflict in the region.
So far, the conflict shows no signs of abating as it reaches into other areas of the country, pushing more and more people into desperate decisions such as fleeing their homes, pulling their children out of school, and leaving loved ones behind.
World Vision's continued humanitarian programmes have reached 130,000 refugees thus far with safe shelter, nutrition, healthcare, and hygiene, with plans to continue this work until at least April 2023.