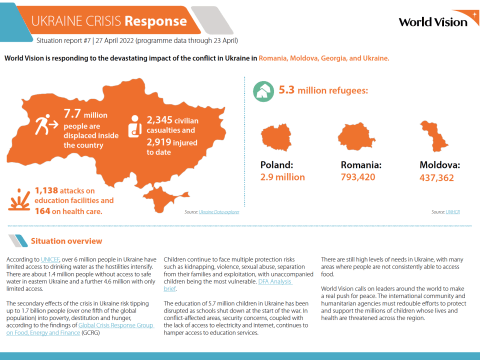 Ukraine Crisis Response SitRep #7 - April 28, 2022
Thursday, April 28, 2022
World Vision is responding to the devastating impact of the conflict in Ukraine with projects in Romania, Moldova, Georgia, and Ukraine itself, providing humanitarian support for the more than 12 million children and families who have been displaced by the ongoing crisis.
Our support currently includes shelter, health, nutrition, and education programmes for displaced people in the region, reaching more than 62,000 people so far, including more than 26,000 children.
As World Vision continues to respond to the crisis, we call on world leaders, the international community, and humanitarian agencies to redouble their push for peace to help protect and support the millions of children whose lives and health are threatened across the whole region.