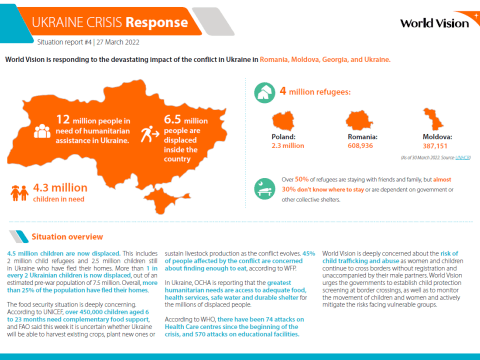 Ukraine Crisis Response SitRep March 27, 2022
Thursday, March 31, 2022
World Vision is continuing to scale up its response to the conflict in Ukraine, as the number of children and families displaced passes 10 million.
One month on from the beginning of the conflict, as of 27 March we have reached over 27,000 people with essential food, shelter and safe places to play, in Ukraine, Moldova, Romania and Georgia.
World Vision is deeply concerned about the risk of child trafficking and abuse as women and children continue to cross borders without registration and unaccompanied by their male partners. World Vision urges the governments to establish child protection screening at border crossings, as well as to monitor the movement of children and women and actively mitigate the risks facing vulnerable groups.
For more on World Vision's response to this crisis, please visit our response page here, or read our latest story, here.