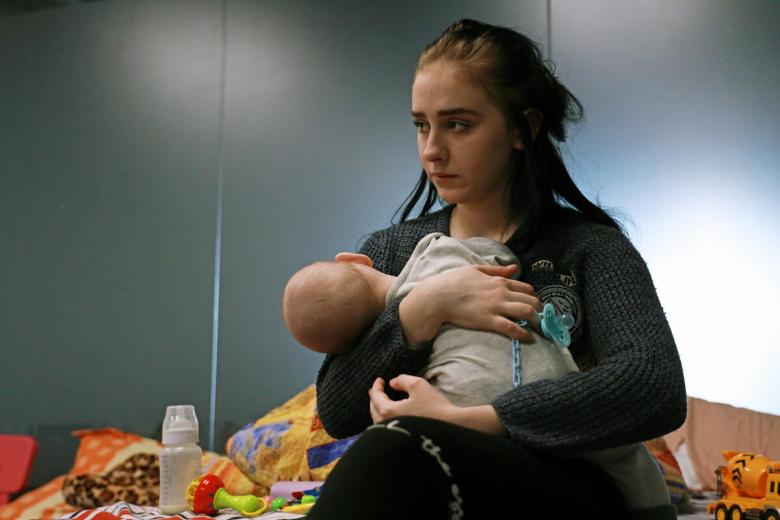 "There is nothing. We only have the memories on our phones" says young mother from Ukraine
Wednesday, March 23, 2022
Lisa, 19, is from Odesa and has wonderful memories of her life there. But those memories, a small bag of luggage and her 6-month-old baby boy, Leonid, are all she could bring with her when she fled the conflict in Ukraine. 
"It was very scary [in Odesa], there were sirens. Leonid is restless because I am worried. We are connected. It's hard because [he] was already unsettled at home, but now he sleeps more." 
Before the onslaught began, she says wistfully, "Everything was good. We were living in peace."  
"[Now], there is no Kharkiv, there's no Izyum, there is nothing. Only Lviv and Odesa are intact. That's all," she sighs.  
Traveling with her mum, Ira, and her 9-year-old sister Diana, Lisa left behind her husband and father.  
"My husband sent us here. He told us to leave, because if they call him to fight, I would be home with my mother, younger sister and the baby. It is not safe to stay there by ourselves. And that's why he told us to leave as soon as we could," she says. 
"We are in regular contact with WhatsApp and [messaging service] Telegram." 
She sits on mattress that will be their home for the coming days while they decide where to go next, in two hastily transformed floors of an office building in Iasi, Romania.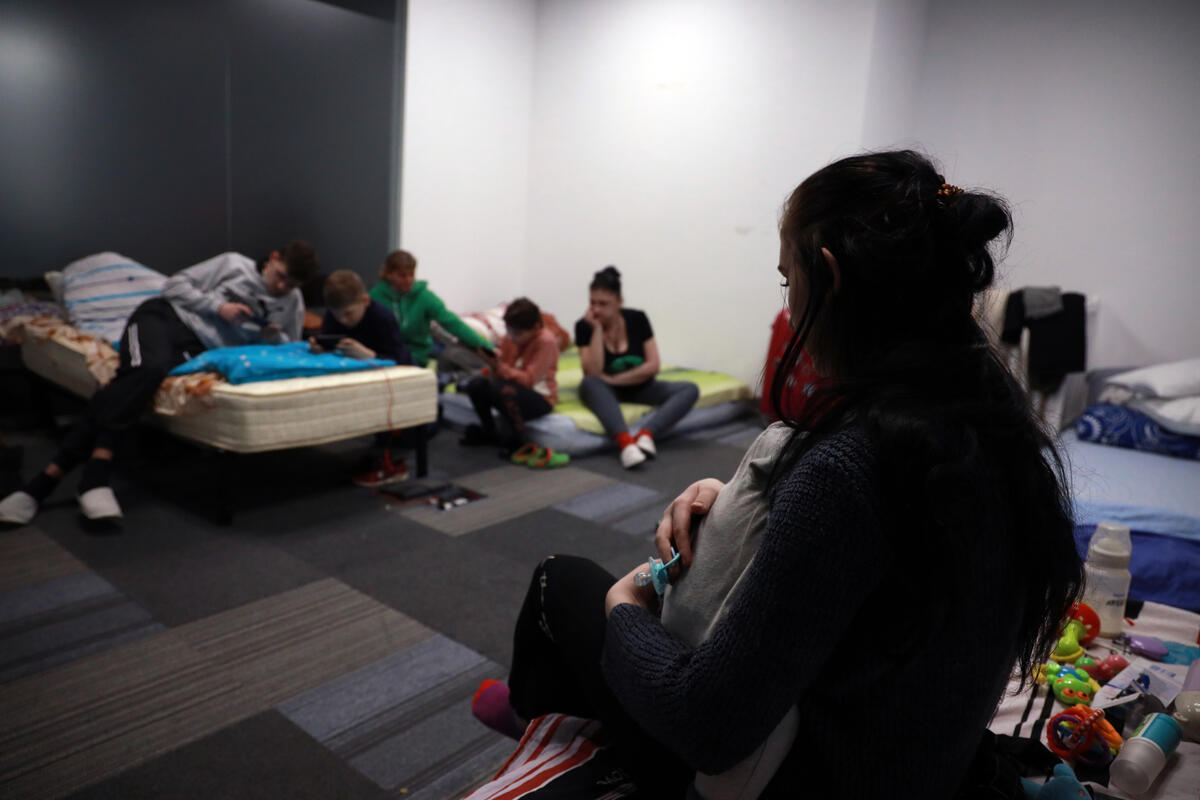 The refugee transit centre was pulled together through the compassion and solidarity of the townspeople, aid organisations and the generosity of the commercial centre – but there's no place like home.  
"We came on an evacuation bus; first to Moldova, then Romania. The volunteers welcomed us very nicely.... They always give us food [and] anything that's possible." 
Lisa says escaping with an infant was very difficult. 
"The luggage is hard to carry with a baby in your hands. My mum recently had a heart attack, and it was very hard for her to carry the luggage." 
"If we didn't meet the people here who helped us to carry the luggage, I don't know how we would get here."  
She looks around, at the rows upon rows of beds filled with the belongings of every family forced to flee. She admits, that though she's grateful to be safe, every hour offers a new challenge. "I can't even make porridge in normal conditions and even dressing him is hard. But we're really happy that we were able to get here." 
"We brought with us baby things, our own things. Baby food, diapers, all the essential things for the initial period. The only precious memories we could take are now on our phone," 
Her hope for Leonid is a wish for everything to stop and to be able to go back home. 
Lisa is very grateful to the people who are welcoming refugees. The refugee centre has tables full of donations, and a large shared kitchen where families can cook some food. World Vision has also been supporting the volunteers through child protection trainings and helping cover the utility bills at the centre. "Just a big thank you," Lisa says.  
How can I help children and families made vulnerable by this crisis?  
Donate to help children and families forcibly displaced by the crisis in Ukraine.  
Pray for peace to be restored quickly and that children and families will be protected from harm.  
Advocate add your voice to call for peace in Ukraine and protection for affected children and their families.