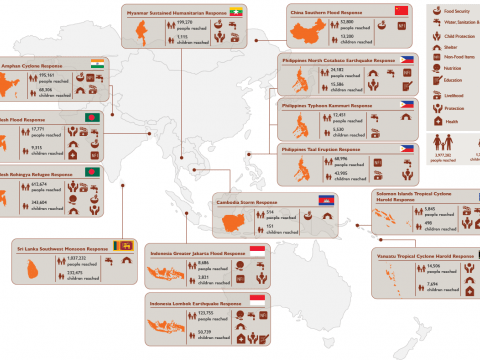 Asia-Pacific Humanitarian Response Overview 2020 (Non-COVID-19 Major Response Highlights)
Tuesday, January 12, 2021
While meeting the dire needs of communities severely affected by the global COVID-19 pandemic, WV deepens its commitment to the most vulnerable within the Asia Pacific Region by responding to 41 national and provincial level disasters (26 South Asia and Pacific and 15 East Asia). Embracing all the new challenges, World Vision works with stakeholders and partners at all levels to implement innovative, multisectoral and evidence-based programmes, reaching nearly 16,112,000 people, including over 6,906,000 boys and girls.

In the dynamic Asia-Pacific Region, facing increased climate-induced disasters, pockets of fragility and conflict, and the gapping socio-economic impact of the pandemic, World Vision shifts to a more agile, responsive and integrated disaster management approach. World Vision seeks to protect the well-being of children and families, impacted by natural disasters, health crises and protracted emergencies. World Vision emphasises green and sustainable recovery, and prioritises the strengthening of households and building community resilience.

Guided by the humanitarian standards and supported by 43 regional and over 550 national disaster surge team members, World Vision continues to prepare and implement robust humanitarian response, rehabilitation and post-conflict programmes, serving as advocates for the vulnerable children and their communities.