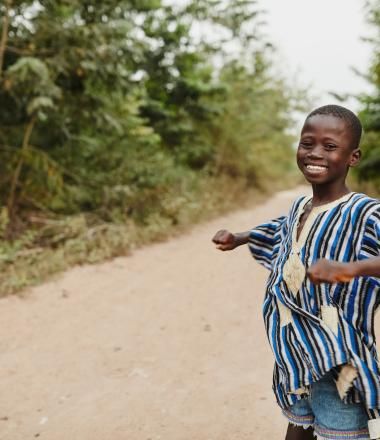 Our Approaches and Thematics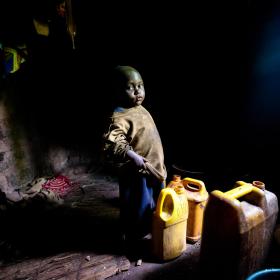 Fragile Contexts
Today two billion people live in countries where development outcomes are deeply affected by fragility, conflict and violence. Fragile contexts are some of the most dangerous places in the world to be a child. In these locations, children face extreme levels of abuse, exploitation, deprivation and violence, often for generations.
Welcoming the international community's renewed approach to addressing both root causes and consequences of fragility, we at World Vision believe that external and internal efforts are needed to achieve transformational change for children, families and communities in fragile contexts.
In our advocacy and programming collaboration with the EU, the World Vision EU Representation contributes to our global strategy by aligning humanitarian, development, and peacebuilding efforts. We showcase these particular efforts through our nexus approach with EU-relevant evidence from the ground. We also focus our work on fragile contexts engaging with EU mechanisms at all levels.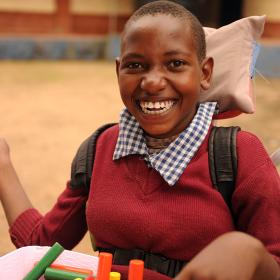 Child Protection
We believe in a world without violence against children. It has been 30 years since the United Nations Convention of the Rights of the Child (UNCRC), an international human rights treaty that grants all children and young people an inclusive set of rights was founded. The EU has made a strong commitment to promote, protect and fulfil the rights of children, according to principles set in the Convention.
We aim to address the root causes of violence against children on a systemic policy, social and faith-based level. By empowering key actors in creating a protective environment that cares for and supports all children, we have impacted the lives of more than 200 million vulnerable children. At EU level, World Vision EU Representation seeks to influence the EU to invest more and better in children and child protection.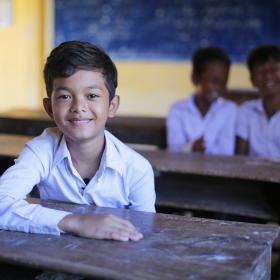 Sustainable Development Goals
The Global Agenda 2030 sets numerous targets for the rights and wellbeing of children that Governments and committed Civil Society Organisations, researchers and private sector actors need to achieve. The Sustainable Development Goals (SDGs) established a guiding international commitment, recognising that "more needs to be done" for every child to:
- Survive, adapt and thrive
- Learn, be protected from violence and harmful practices
- Live in clean and safe environments for a fair chance in life
Through our advocacy and programming efforts, World Vision EU Representation contributes to the joint efforts on protecting children and achieving the SDGs by working on:
- The external instrument of the new EU Multi-Annual Financial Framework by ensuring that it is an SDG implementation driven regulation and includes specific and concrete commitments to investment in children.
- The EU's contributions to the global SDG processes
- The EU Development Education Awareness Raising Project (DEAR) with a large consortium of European NGOs.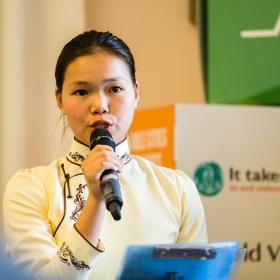 Child Participation
We believe that children and young people play a significant role as agents of change. No child should ever be left behind and the voices of the most vulnerable and marginalised children living in fragile context should be heard and taken into account in policymaking, shaping a better future for all.
The United Nations Convention on the Rights of the Child (UNCRC) underpins our work. Therefore, the EU Representation office works on creating opportunities and avenues for children and young people to engage directly with EU decision-makers so that their voices are regularly heard.
In our work to push for the implementation of the "EU Guidelines for the Promotion and Protection of the Rights of the Child", we strongly advocate for the full implementation of child participation, also in line with the UNCRC.
Thematics
Humanitarian Actions

World Vision EU Representation facilitates the interface between our World Vision offices and the European Civil Protection and Humanitarian Aid Operations (DG ECHO), the European Parliament and EU Member States' representation in Brussels.
We also engage on a wide range of issues that affect the most vulnerable children, families and communities in the context of emergencies and humanitarian crises around the world. The office seeks to influence EU policies on the use of cash in humanitarian settings, as well as the use of digital tools.
For more effective and efficient aid, the office also influences the implementation of the Grand Bargain and the humanitarian-development-peace nexus.
We are an active member of VOICE, the Brussels-based Voluntary Organisations in Cooperation in Emergencies network and the global humanitarian platforms.



Faith and Development

Addressing poverty or changing harmful behaviours may require that individuals overcome their most foundational convictions, which often are rooted in their faith. Religious values play a significant role in guiding the thoughts, priorities, and actions of communities. By engaging with influential faith partners to address the difficult issues of poverty, discrimination of girls, health, education, and injustice, we strive to effectively tackle deeply rooted problems such as stigma, abuse, and exploitation by directly engaging within the faith context.
Partnerships with religious actors and faith-based organisations (FBO) are often the key to making sustainable progress because of their long-term presence and commitment to the communities.
World Vision EU Representation collaborates with an interfaith FBO network in ongoing dialogues with the European institutions and other NGO partners. The focus is on the benefits of faith-inclusive programmes, models and approaches for concrete impact on issues such as inequalities, women's rights, peacebuilding, ending violence against children, children on the move, or the protection of vulnerable people's rights.



Food Security and Nutrition

We believe that every child has the right to access sufficient nutritious food daily, to be well nourished and free from hunger in order to reach his or her full physical and cognitive potential.
The World Vision EU Representation office calls on the EU and its Member States to play a strong leadership role at the global level. We advocate for strengthening political and financial commitments to end undernutrition, as well as for the EU to continue acting as a champion among donors. Our office joins forces with like-minded organisations to make our voice stronger towards the EU institutions. We are members of CONCORD and Generation Nutrition.
The office also ensures that World Vision's EU-funded projects appropriately address standards and principles made by the EU on Food Security and Nutrition.



Conflict Sensitivity

We currently coordinate the Conflict Sensitivity Hub, a global network of organisations and individuals working in the fields of development, humanitarian aid, peacebuilding, security, research and business that engage in fragile and conflict-affected contexts.
This platform of experts and practitioners work together to better integrate conflict sensitivity approaches at the policy, organisational and programming levels, by collecting lessons learned, exchanging best practices and gathering and sharing evidence. This cooperation contributes towards the collective efforts related to conflict-sensitive agendas for policy-makers and implementers.
As part of its localisation agenda, the Hub has identified the need to strengthen the connection with local grassroots organisations that are working on conflict sensitivity through the establishment of local hubs. A pilot model is currently being launched in Beirut, Lebanon. The Hub also delivers a variety of training opportunities on conflict sensitivity in order to improve staff capacity and conflict sensitivity programming at local level.



Development Education Awareness Raising programme (DEAR) – EU Funded Project

Together with 25 Civil Society Organisations (CSOs) from different sectors from 15 EU Member States, World Vision EU Representation has partnered-up to achieve the greatest impact in campaigning and raising public awareness for the Development Education Awareness Raising (DEAR) project. Through strong collaborations at EU level, the EU Representation office aims to enhance children's wellbeing by:
- Strengthening civil society's ability to campaign on sustainable development
- Raising public awareness and highlight to political leaders at European level that the implementation of Sustainable Development Goals is crucial for child rights and protection
The office contributes to various ongoing campaigns, publications and advocacy efforts on topics such as inequalities and nutrition in order to support making the Sustainable Development Goals a reality for children.