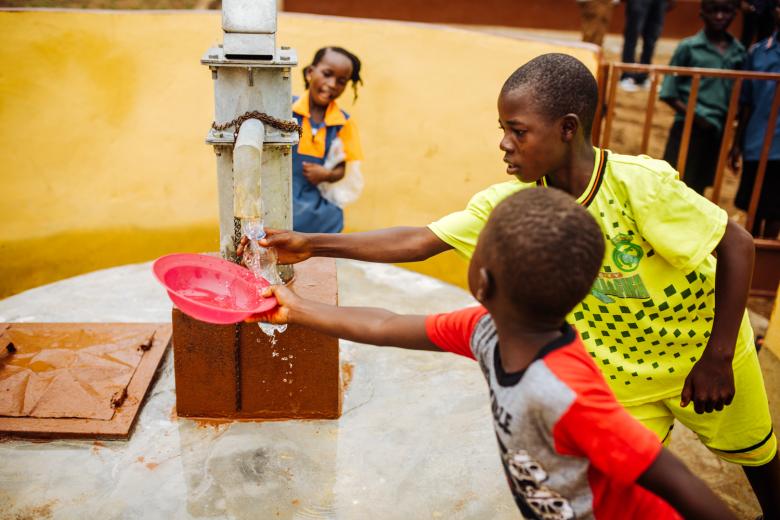 Every child deserves safe and affordable water!
Wednesday, December 5, 2018
Children in Sierra Leone, like all children around the world, have a right to basic facilities such as school toilets, safe drinking water, clean surroundings and basic information on hygiene.
At World Vision, we believe that water, sanitation and hygiene (WASH) programming in schools creates an enabling environment which secures children's dignity, safety, health and attendance in classes. Children are more receptive and quick to adopt and sustain change and they become agents of change among their peers, families and communities if they are provided with the basic amenities they require to learn and grow.
While thanking World Vision and its partners for the WASH facility constructed in his school in  southern Sierra Leone, Head Master, Mr. Matthew Sitta, noted that "helping out a school in a community which is in great need of WASH facilities is an approach in the right direction but also a recipe for disturbance," he said as he went on to explain, "community members will be crowding at our school grounds to use the facilities, which may disturb the children in their class," he noted.  
To help the students focus on their studies while the school provides the community with access to clean water, the school management committee made an agreement with community elders, to open one tap every evening, when school sessions are over.
"World Vision not only provided us with this beautiful water and sanitation system, they are also equipping us to share the facilities they provided with other less-privileged families in our community. We will share this clean drinking water that God has provided for us through World Vision and its partners and we will ensure that our children benefit the most because it is for their well-being," he said.  
In Sierra Leone, together with the government, World Vision has committed to ensure inclusive access to WASH facilities in schools by building on strong political commitments to promote the use of clean water and proper sanitation and hygiene practices in schools. The ministry is focusing on addressing the gap in service delivery, by empowering deprived community schools to improve and maintain their water and sanitation facilities because of our belief that every child deserves safe and affordable water and a conducive learning environment.